The Reason Behind Demna Gvasalia's Kering-Branded Balenciaga Hoodie
"It was also a kind of symbolic thank you from me, for them allowing me to build a new story at Balenciaga."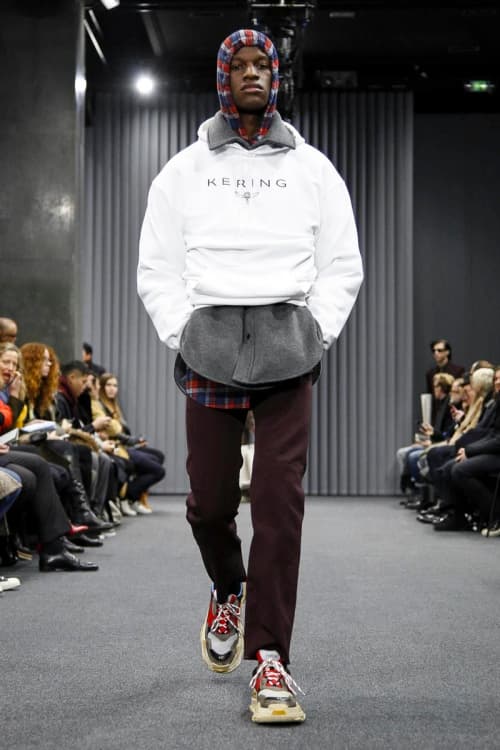 During Demna Gvasalia's Balenciaga mens' runway show yesterday, one look stood out — the Kering-branded hoodie worn over several layers. Of course, Kering is the parent company of Balenciaga (among other names such as Gucci, Saint Laurent, Alexander McQueen…), but it's never been at the forefront of actual fashion until yesterday. But of course, leave it to Vetements' Demna Gvasalia to surprise and do the unexpected. Speaking to Business of Fashion, "I actually didn't think [Kering] would agree with it, because it was kind of a different company. But I always do this sort of thing. I just have an idea that's kind of impossible and I think: let's try. What's the worst that can happen? And they just straight up did it. They were surprised, I guess. But they were more than open-minded," said Gvasalia.
I don't believe in monobranding. If you look around, go to stores, on the internet there are so many brands. There are so many images linked to the brands and the message: whether commercial [or] political. That to me is the reality today. Everything is branded. Everything has a logo. That is also present in my work, because I absorb what's around me and filter it through and it becomes — it goes on clothing. Our whole research was based on businessmen on Wall Street and where they go to work and come back from. So, when that connection was formed I was very much for the idea of using a Kering logo because it was linked to the corporation and us being next to and a part of it. Today, Kering and [Balenciaga] are literally one, both located in the Kering headquarters. It just made total sense for us to have the branding. It was also a kind of symbolic thank you from me, for them allowing me to build a new story at Balenciaga."
Marking Balenciaga's second-ever menswear show, the Kering-branded hoodie stood alongside a range of other familiar graphics — most notably, one that riffed off of Bernie Sanders' presidential campaign logo. Asked about his pervasive use of logos, Gvasalia said, "Fashion has the power of communicating certain visual messages. Putting [logos] on a T-shirt or a raincoat. I had this experience a couple seasons ago at Vetements — where we printed the DHL logo, only because it was so prevalent in our lives back then. And DHL became kind of fashion. The logo of a delivery service — a courier — it became a fashion statement for some people. It had an impact by being related to a fashion brand and that is quite interesting, I think. But for us it's an art form." Read the entire article here.
Check out Balenciaga's whole menswear collection here.
Join Our Discussions on Discord
The HYPEBEAST Discord Server is a community where conversations on cultural topics can be taken further.