Portia Doubleday From 'Mr. Robot' Talks Sam Esmail, Fan Theories and Last Season's Finale
Angela Moss fills us in on the details.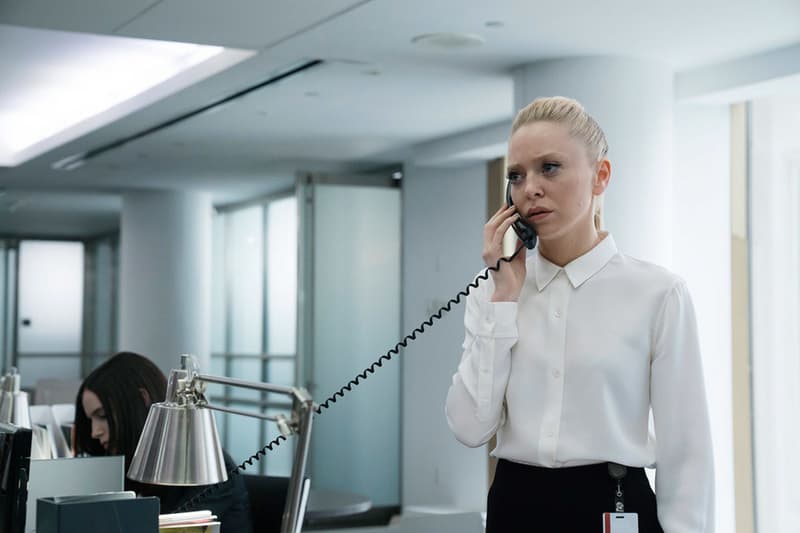 In a new interview with GQ the Mr. Robot actress discusses her character arc, the complex dynamic between Angela and Phillip Price and zany Reddit theorizations that all the characters time travel and are the same person. Contextualizing her character within the deep web of power relations that pervade Evil Corp, Doubleday offers important insight into the inner turmoil that shrouds Angela Moss. The detail with which Doubleday carries out her performance comes to the fore when she reveals "I wanted there to be something very structured about her. Her ponytail is slick—there's not even one hair sticking out. I wanted that in the beginning, especially, because you kind of see that unravel." Read on for highlights from GQ's interview; examine the full piece here.
We still don't know the exact details of Angela's new deal with Whiterose, but it certainly looks like she's taken a new place of great importance for the Dark Army. How would you describe Angela as the season ends?
"Transformed" is the first word that comes into my head. Obviously, I'm not really sure of the plan for Season Three yet, but there is definitely something that transpired in the last episode—whatever Whiterose said to her. There's a switch that has flipped in her. Something has drastically changed.

So when Angela says she wants to make sure she's the first person Elliot sees when he wakes up—is that coming from a place of affection, or a place of manipulation?
I think you're gonna have to tune into Season Three to know that.

Fair enough. Let's talk about Season Three in general. How much of Angela's arc did you know when you started filming Season Two?
I knew pretty much of all it. [Mr. Robot creator Sam Esmail] calls us beforehand and tells us everything about what we're gonna do, which I love. It's great for how I work. I like to know what's going to go on, and plan some things, and have an overall idea what the arc is. The show is very unpredictable, and it's nice to be keyed in on all the crazy stuff he's gonna have us do. From the very beginning, he called and told me pretty much everything that Angela was gonna be doing this year. And I mean, it's nonstop talking for over an hour. It's pretty amazing. I don't know how Sam… Sam's definitely the encyclopedia for this show, and the mastermind. Literally, there are no pauses, and he knows every single thing about what you're going to be doing. And you're just scribbling and writing as fast as you can.

Do you know as much about the arcs for the other characters?
Somewhat. I mean, we're all pretty close, so it's kind of hard for us to keep our mouths shut. Carly [Chaikin, who plays Darlene] doesn't like knowing. I do like knowing, I always try to figure out what's going on. But a lot of our story arcs cross each other, so we kind of need to know a little bit about what's going on.

You recently mentioned that you read fan theories on Reddit. Are there any in particular theories that stick out in your mind?
There was something really weird on Reddit about… all the characters are each other, and time travel, and I'm really my mother in my body? My mother is in my body, or my mother is somewhere… I don't know! I'd have to read it again. It was really weird. It was a very sci-fi take, which I don't necessarily think is Sam's style. Of course, I didn't explain it right, and I apologize to whoever wrote it. I feel like I completely misquoted it. I'd have to research it again.

But when I was reading it, I thought, "Whoa! That is a really interesting take." I think what's so fascinating about Reddit is that there are some really smart people that are very attentive to the show—and when they come up with a hypothesis, they really clear it. They go throughout the season and check to see if it works. So even though that [theory] has a sci-fi aspect, I kind of started seeing it when I was reading it.