We Break Down Drake's Obsession With Billboards
Why is the artist communicating exclusively through cryptic bulletins?
In today's Internet-centric era, news and announcements can spread in a matter of milliseconds thanks to social media outlets such as Twitter, Instagram and Snapchat. With half the world's population having Internet access and about 2/3 of users active on social media platforms, this equates to around two billion people on social media globally.
But with Drake's fairly recent binge on the old school advertising method, it's got the world and his fans wondering if this is going to be his new medium of communication. With his bulletins popping up right and left these last couple of days alone, it seems like the literal meaning of "If You're Reading This It's Too Late" will start to apply to Drake's cutting edge news form. In fact, Aubrey's obsession with taking out billboards went so far that someone pranked the city of Toronto back in 2014 on April Fool's Day by posting a fake Drake "T6R6NT6 The 6" billboard with area codes 416 and 647 placed on each side. However, the Canadian rapper's love of the customizable medium has long existed before this week. Starting back in 2011, we'll take you down memory lane of The 6 God's craftiest work.
Toronto Take Care November 15 (2011)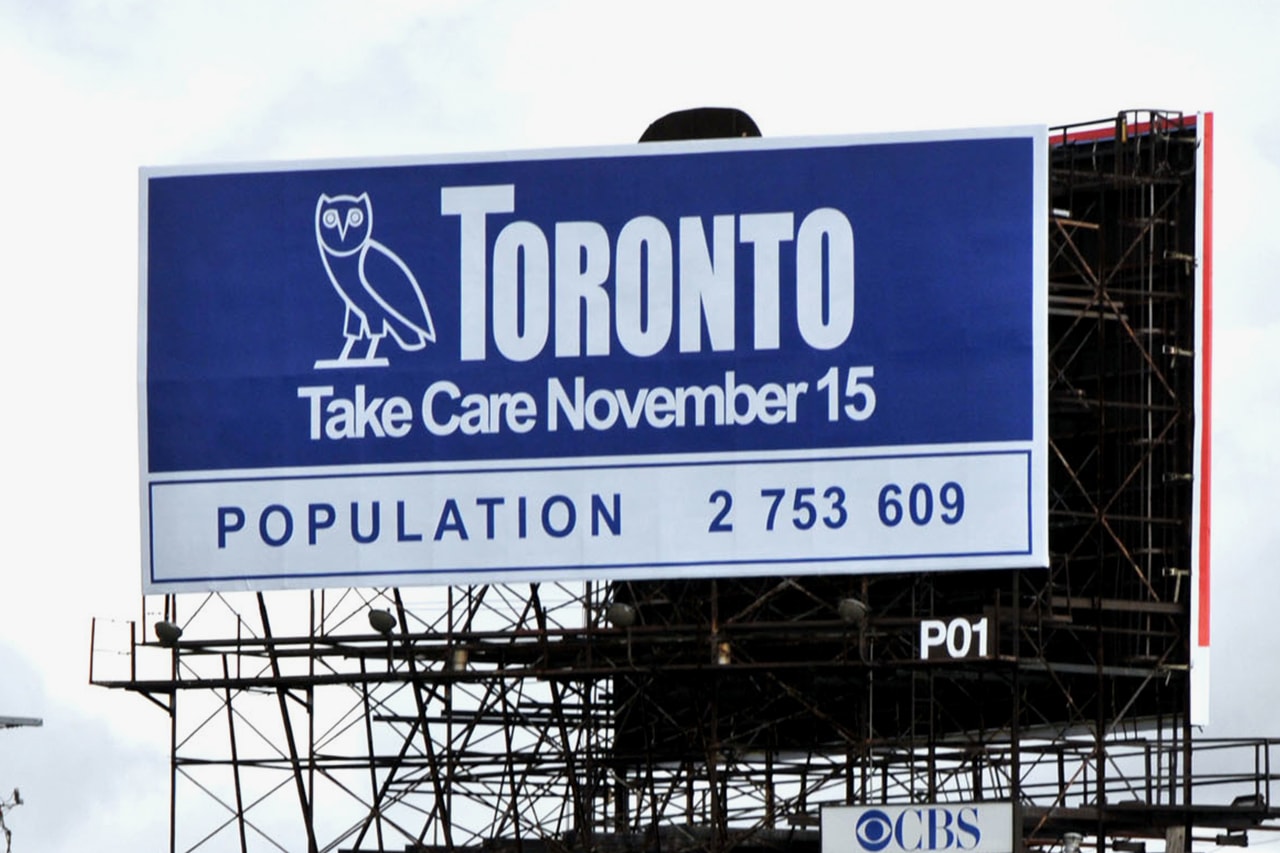 Drake's now infamous inaugural billboard came in the fall of 2011. Serving as a charming reminder for the release date of his sophomore album Take Care, the billboard succeeded in peeving off city councilors in the process. Located near the intersection of Dufferin St. and Springhurst Ave. in Toronto, the similarities between the rapper's and the city's design cues looked decidedly familiar with "Toronto" being in the same distinct style. Complete with a "POPULATION: 2,753,609" note, the sign was only discovered in early December of 2011 by city officials though it had gone up in early October of that year.
Started From The Bottom (2013)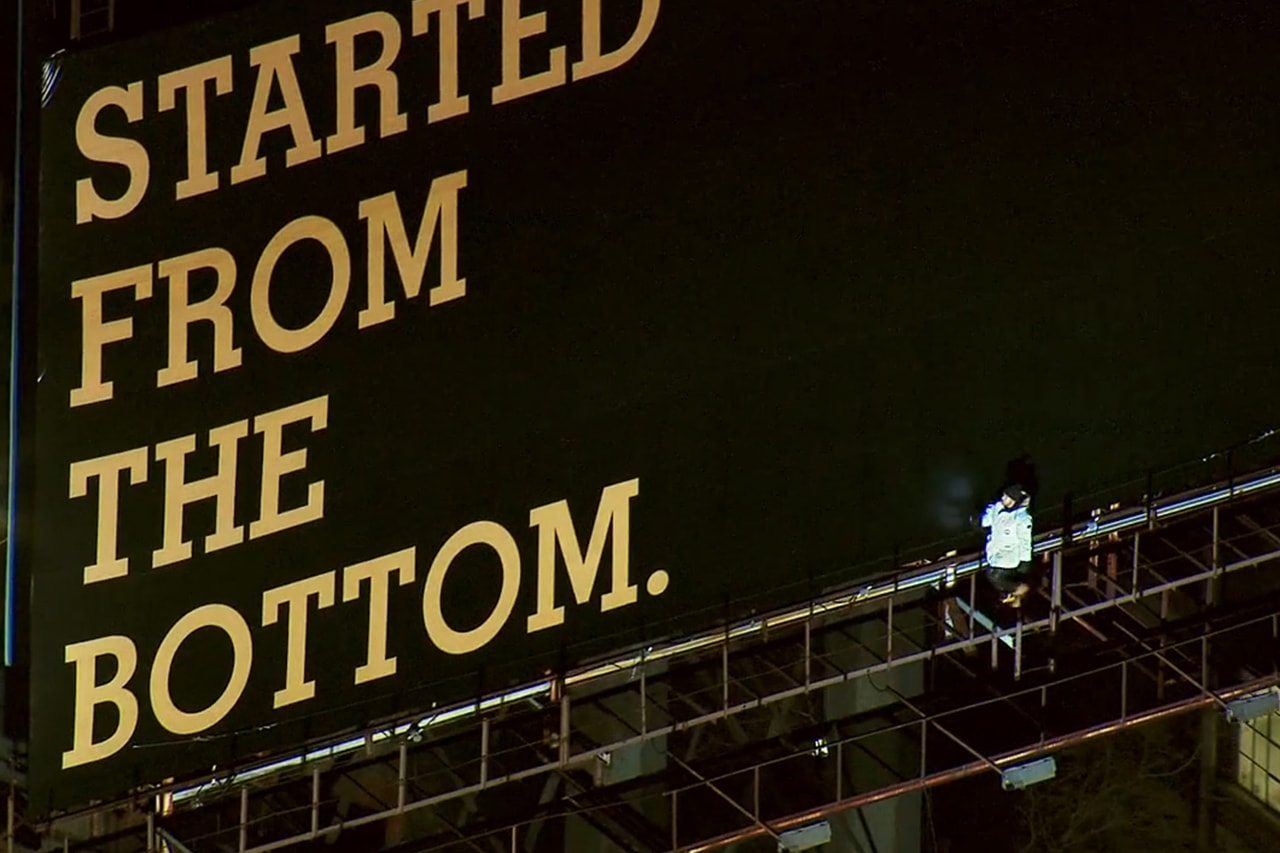 After a two year hiatus, Drake then went on to adverting his own billboard within his own music video. The iconic "Started from the Bottom" MV showcases the real Drake strutting across the billboard which aptly reads "Started From The Bottom." Located on the Gardiner Expressway on your way to Downtown Toronto, the simple billboard was in part to get his fans excited for his Nothing Was the Same album, which was later released in 2014.
The 6 God Is Watching (2015)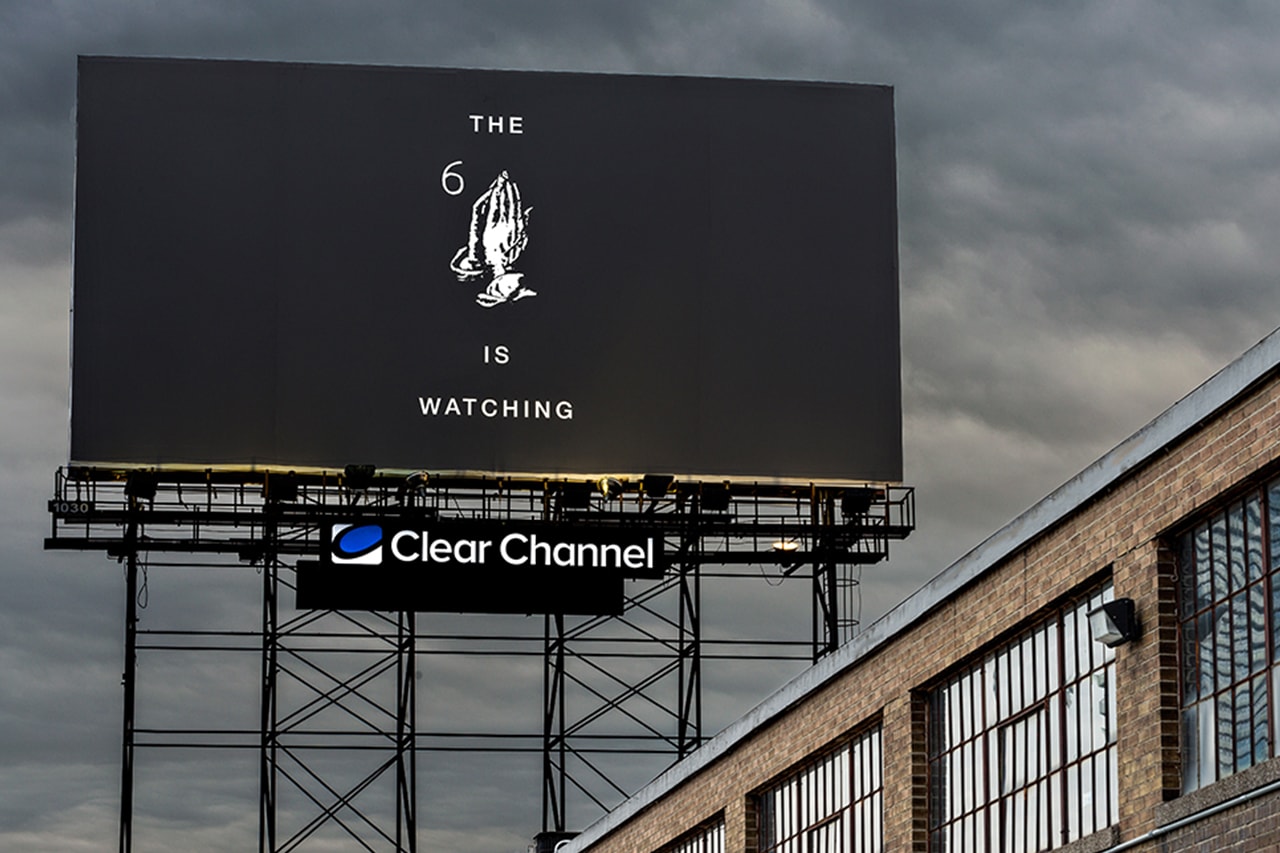 Popping up again in his hometown of Toronto on the Gardiner Expressway which overlooks the city, Drake played on his self-made moniker by placing a "The 6 God Is Watching" billboard up in early November of 2015. After the hit single "Hotline Bling" was released earlier in July, something clearly bigger was on its way. With Drake's previous two works, it clearly meant an album announcement was arriving soon.
VIEWS (2016)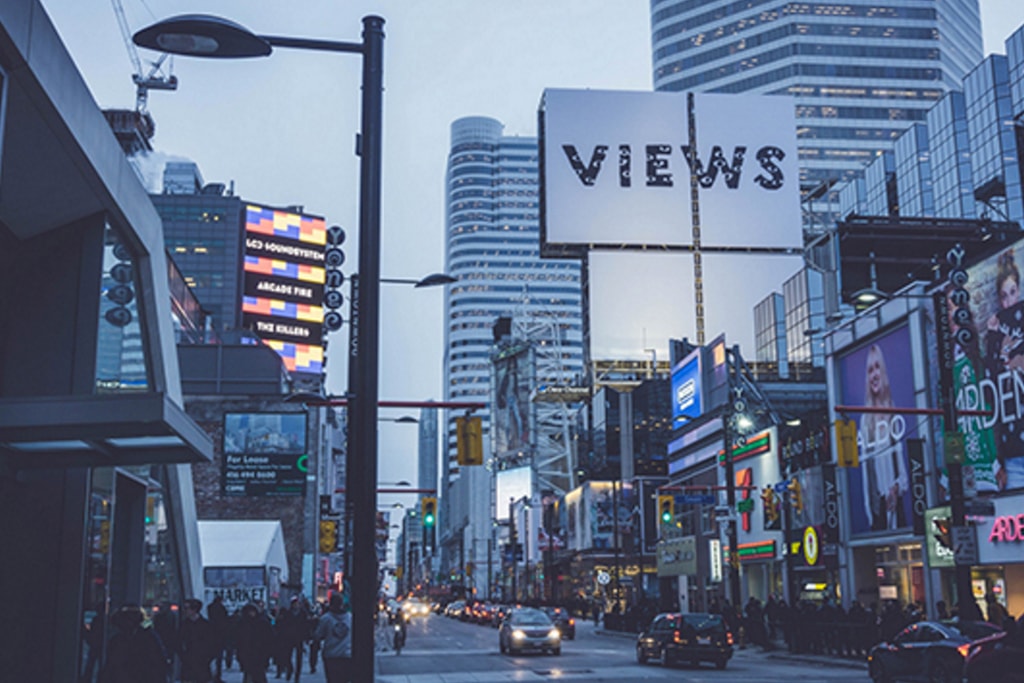 On February 10, 2016, Drizzy constructed another massive billboard at the corner of Yonge and Dundas just ahead of the NBA All-Star weekend being hosted in Toronto. Visitors to the city were given a warm welcome by the giant "VIEWS" billboard used to tease his forthcoming album Views From the 6, which was later released in April that year. To follow in suit, other minimalist billboards around the city started appearing as well.
Four Plus Two Equals 6 (2016)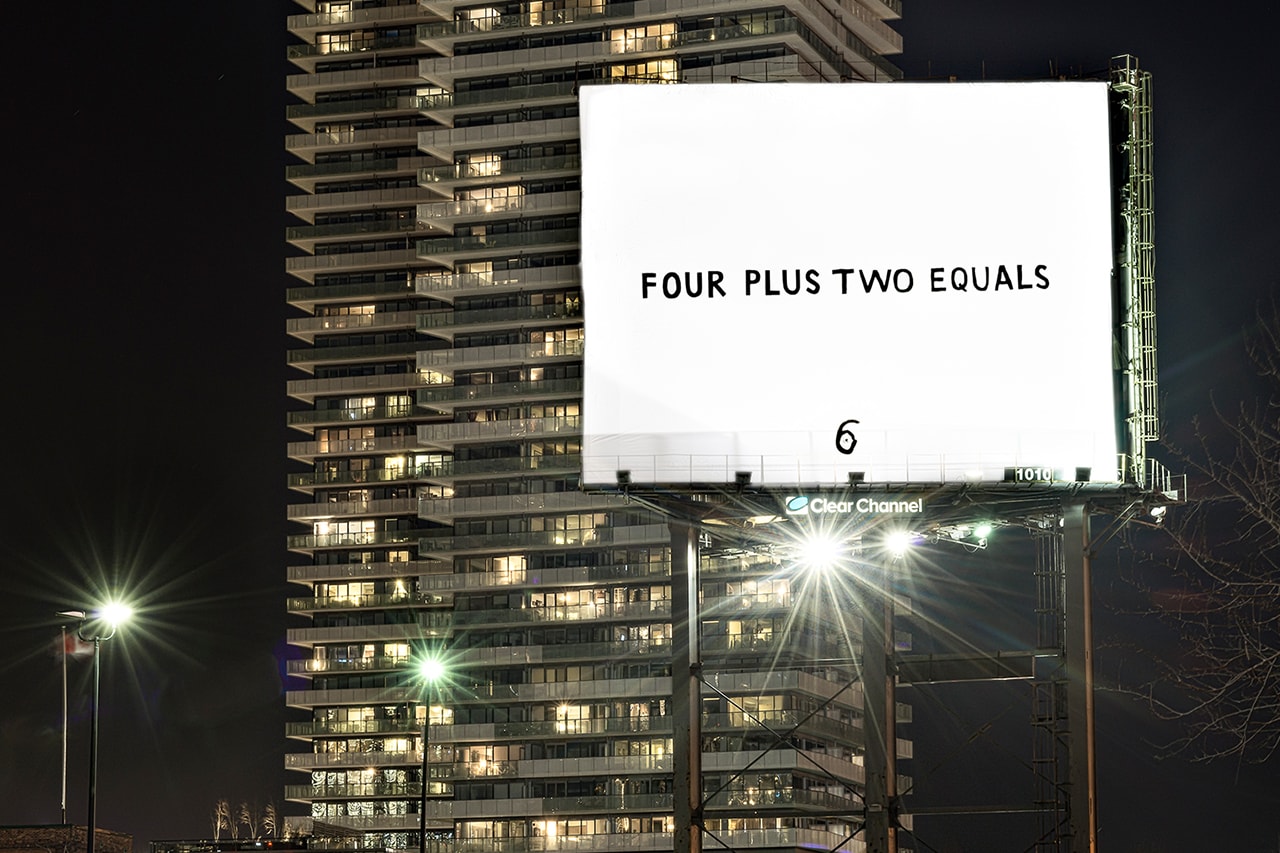 During the same time of early February, other billboards were showing up at Toronto's Billy Bishop Airport. Stating a cryptic "Four Plus Two Equals 6," some fans believed that the former Degrassi High star was just showing off his math skills, while others believed it was Jimmy Brooks' way of announcing the album would drop on April 2. Previous rumors guessed the new album would drop on April 16, making an homage to Toronto's area code of 416. VIEWS ended up dropping on April 29.
Congratulations To Rihanna From Drake and Everyone at OVO (2016)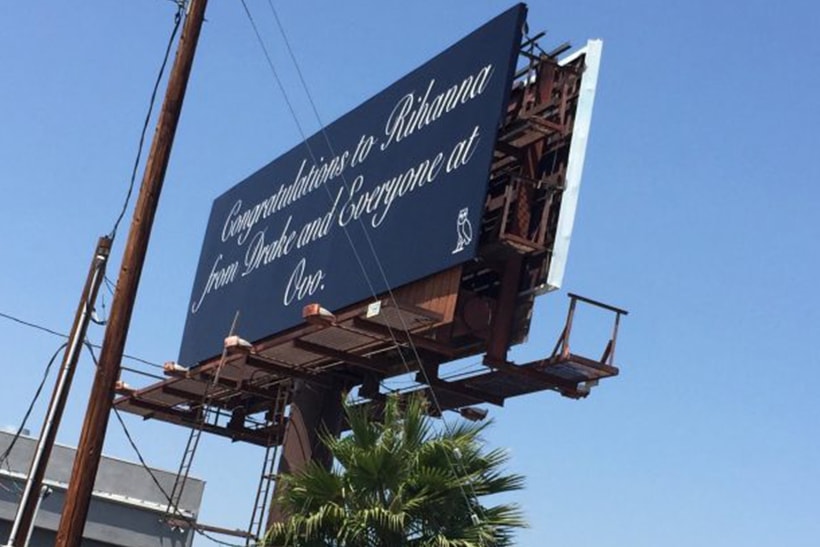 Taking a break from advertising his own projects, Drake stayed true to his brand of faux-sad boy romanticism as he dedicated a congratulatory billboard to "someone [he's] been in love with since [he] was 22." In lieu of Rihanna receiving the Michael Jackson Video Vanguard Award at the recent 2016 MTV VMA awards, Drake placed the billboard in Los Angeles before the event. The gesture of course didn't go unnoticed by the Barbadian star as she took to Instagram to give a shout out to his "extra" displays of affection. This show of love definitely had everyone tweeting #relationshipgoals.
Calabasas Is The New Abu Dhabi (2016)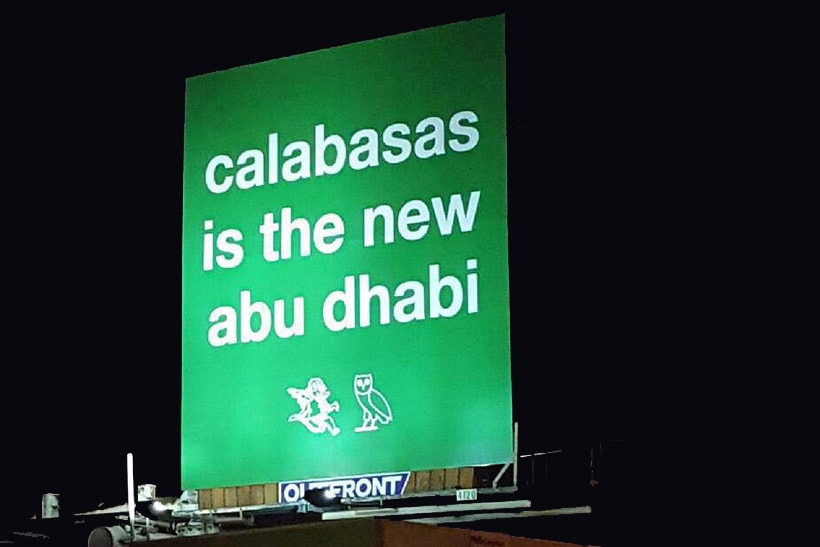 After the 2016 MTV VMAs, another billboard popped up in the SoCal city, this one however was a bit more cryptic than his shout out to RiRi. The Los Angeles billboard featured the logos for West's G.O.O.D. Music and Drake's OVO Sound with the caption "Calabasas is the new Abu Dhabi." It has been speculated that the appearance of both emblems hints at an upcoming collaboration from the two. During the second day of Drizzy's annual OVO Fest he stated, "Toronto, I got one question for you. Is y'all ready for this album?" If you're still confused, Calabasas is the Californian city in which both Kanye and Drake own homes.
Views Was Actually Pretty Good (2016)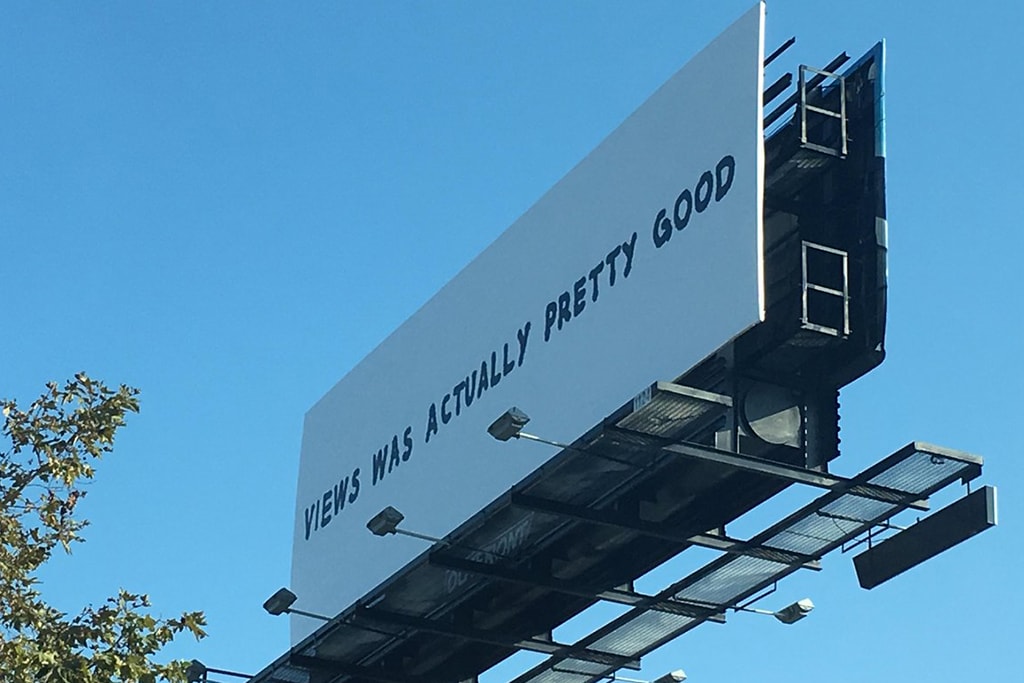 In the midst of his "Summer Sixteen Tour," a billboard (presumably also from Drake) emerged in Venice, Los Angeles on August 29, reminding the world (and the haters) that "Views Was Actually Pretty Good." Drizzy moved from The 6 to his Calabasas resident, so it makes sense that LA is the new ideal location for these pop-up messages. And just in case we forgot, VIEWS went on to break a number of records.
Top 5, Top 5, Top 5 (2016)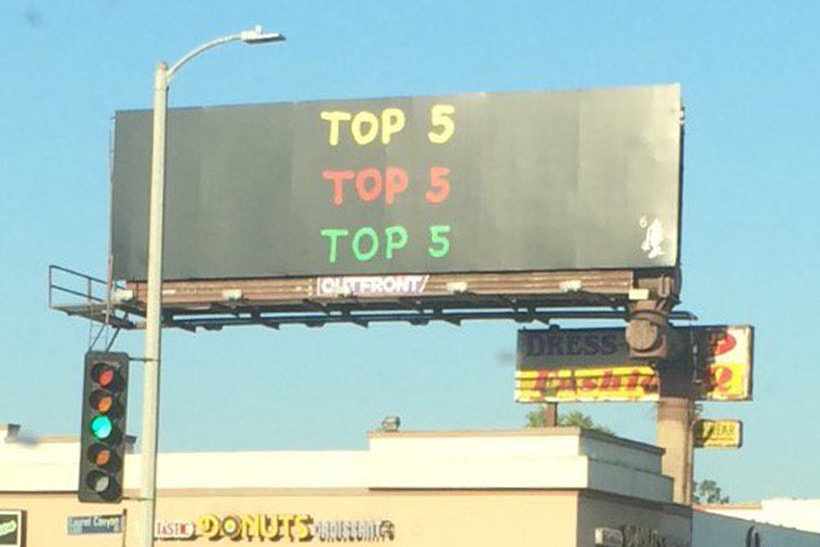 Following the Kanye-related post, and again popping up in Los Angeles, another VIEWS dedicated billboard emerged. This time the focal point are his lyrics from the album's cut track "Grammys" featuring Future. In bright red, yellow and green letters, the words "Top 5" are repeated three times. The lyrics are also a reference to the shirt-hating Toronto rapper, Top5.
Let's All Get Along Like They Do In Canada (2016)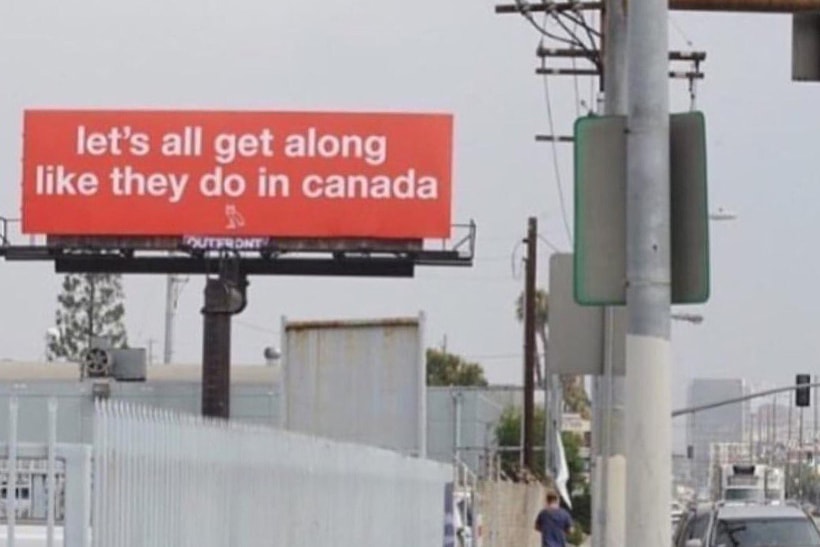 For any normal human being, purchasing this much ad space would be satisfactory. But we all know, Drizzy does what Drizzy likes. On Septemer 1, Aubrey posted a look at his Canadian color-themed billboard to his Instagram. With the recognizable OVO owl logo underneath, the harmonious message suggests we should all adapt the spirit of Canada and live in unity.
Virginia Black, Please Take Me Back (2016)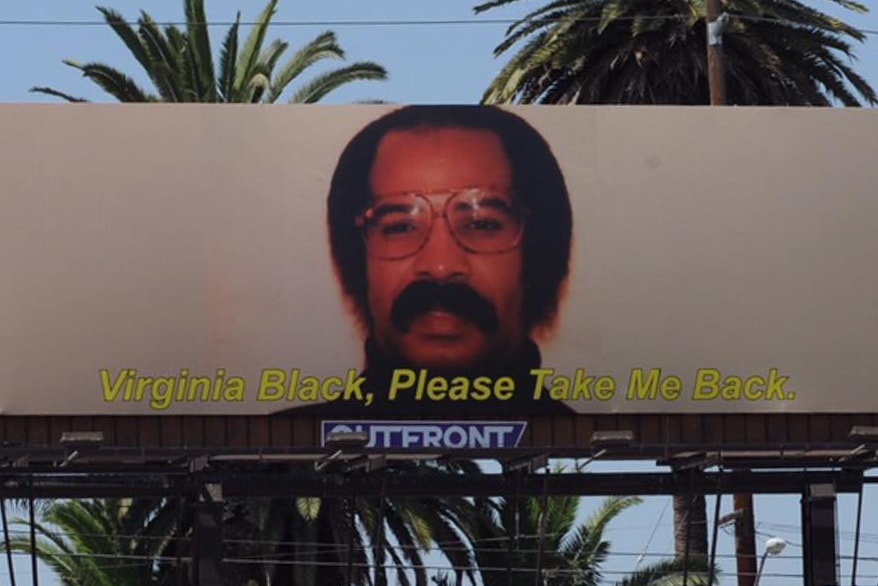 Quickly after his Canadian billboard shout out was spotted, a new one appeared on September 3 which might be considered his best to date. The visual features a picture of Drake's dad Dennis Graham, along with the cryptic sentence, "Virginia Black, Please Take Me Back" printed below. Virginia Black Whiskey is Drake's venture into the world of alcoholic drinks. Looks like Drake is back to doing his own propaganda.
With the purpose of billboard advertisements designed to catch a person's attention and to create a memorable impression very quickly, we honestly hope this isn't just a phase for The 6 God. Drizzy's take on billboards have reached a whole nother level and has elevated the roadside sign game forever. With his ostentatious form of communication, it might be soon when he deletes his social media accounts and exclusively channels his feeling through billboards.