Garment Customizer Val Kristopher Reveals His Unique Technique
I want to make art, not just clothes.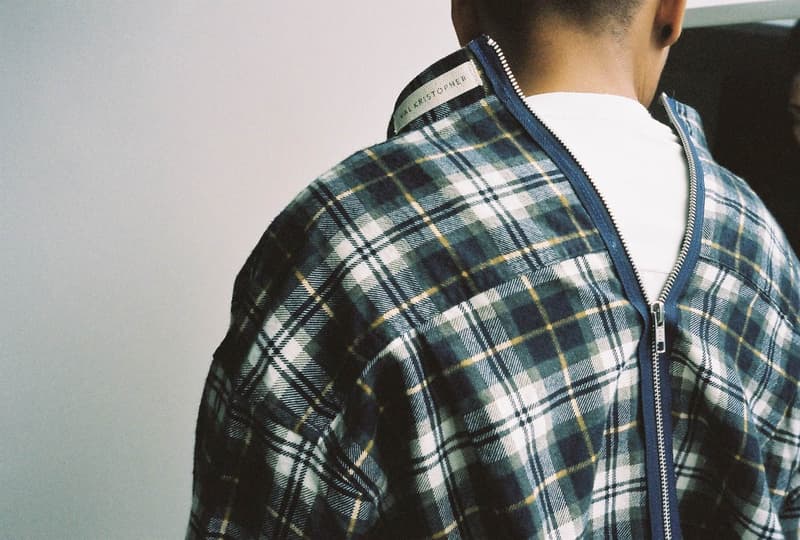 Manchester-based Val Kristopher Galbo may be fresh out from his first year of fashion school, but his eponymous label is already making waves. Even though DIY fashion has been catching on in the past few years, the 23 year-old designer takes garment customization to a whole new level, artfully reworking denim and flannel garments with hand painted designs and extreme distressing. Forget about standard-issue "distressed" jeans with rips at the knee – Galbo's one-of-a-kind, experimental creations include jeans charred by real flames and paint-splattered denim jackets covered in text. Val Kristopher's Fading Knowledge jeans just debuted on HBX, so we sat down with the emerging designer to discuss how he brings new life to vintage garments.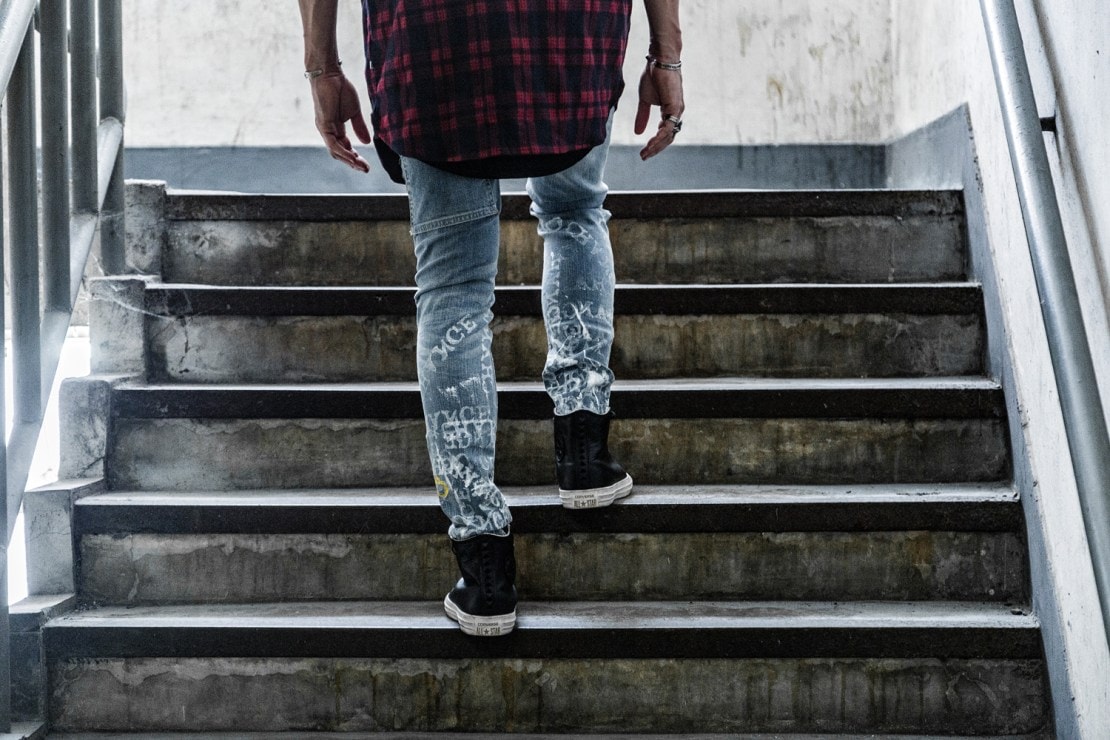 How did you first get into fashion?
I've been distressing denim way before I dropped my first collection. I was 14 — that's Year 9 of high school in the UK — and I had just quit playing basketball. After that, I didn't know what else to do. Everyone I knew said that I dressed well, so I started customizing and making my own clothes. From that point onwards, I wanted to be a fashion designer.
Did your athletic background influenced your designs?
A hundred percent. I'm still interested in basketball now, and I basically grew up around hip-hop culture, so I base my designs on that. No matter what the trend is today, I still apply hip-hop influences to my designs.
Has growing up in Manchester impacted your style?
It's actually the complete opposite — I went against the norms of where I grew up. I grew up going to a mostly white high school, where I was completely different to everyone else. They were more into football and rock 'n' roll style, whereas I was into basketball and hip-hop.
What inspired you to create distressed and handpainted garments?
I was interested in art since I was little, but every art piece or drawing that I did never looked right. In high school, I decided that was just going to make art from imperfections – with distressing, mixed media, paint splashes, and definitely no straight lines. It's kind of like I'm turning my negatives into positives.
Where do you source your denim from?
I started off sourcing from vintage shops, and then I started finding my own manufacturers and suppliers. But I still heavily rely on vintage shops, because the pieces have more character.
Your denim jackets often have text written all over them – what's the significance?
When I do text on garments, it's when something is going on with my brain that I need to let out. Back in the day, I had anger problems. To control them, I just put everything I had in my head onto the garments.
What is the one garment you're proudest of?
The burnt denim. They're naturally burnt by fire and not artificially painted, so it's not something that everyone can wear. I liked the fact that some people people loved it and some people hated it. I don't just like people agreeing with my clothes, I want people to go against them too.
What designers do you reference in your work?
I looked up [Maison] Margiela because he did a lot of construction work, and I also looked at old Yohji Yamamoto couture pieces. They almost look unfinished, which is what I'm going for.
Could you describe your design aesthetic in 3 words?
Broken, unfinished and unseen.
What inspired the hand-printed Fading Knowledge jeans from your collection this season?
They were inspired by a millionaire called Tai Lopez. He said that if you want to be successful in something, you have to always change and adapt. I called these jeans "Fading Knowledge" because people know they need to change or adapt to make something better, but they just kind of ignore it and it fades away.
How would you style these jeans for everyday wear?
I would wear the trousers backwards so that the two pockets would be visible. I would style that with a casual hoodie and a vintage flannel. And for shoes, something white and simple to make the jeans pop.
Would you ever consider moving into cut-and-sew garments rather than reworking vintage pieces?
I've actually done a hoodie from scratch that's on my website right now. But right now, I think that customizing and distressing is my best bet, because it's what I'm really good at.
For the future, are you planning to stick to small-scale artisanal production or mass produce your garments?
I'm starting off like this just to build my image and put myself out there. I don't want to start big and have people know me as a brand — I want people to know me as an artist.
What makes your work unique among the many streetwear labels out there?
I try to make sure I'm not like anyone else. I see a lot of labels popping up here and there that are exactly the same as OFF-WHITE and Fear of God. They're not bad from a business standpoint and will make a lot of money regardless. But for me, I want to make art, not just clothes.
Shop Val Kristopher now on HBX