This Chopstick and Fork Hybrid Could Be Coming to Panda Express
The 'Chork' is an eating utensil that symbolizes both American and Chinese cultures.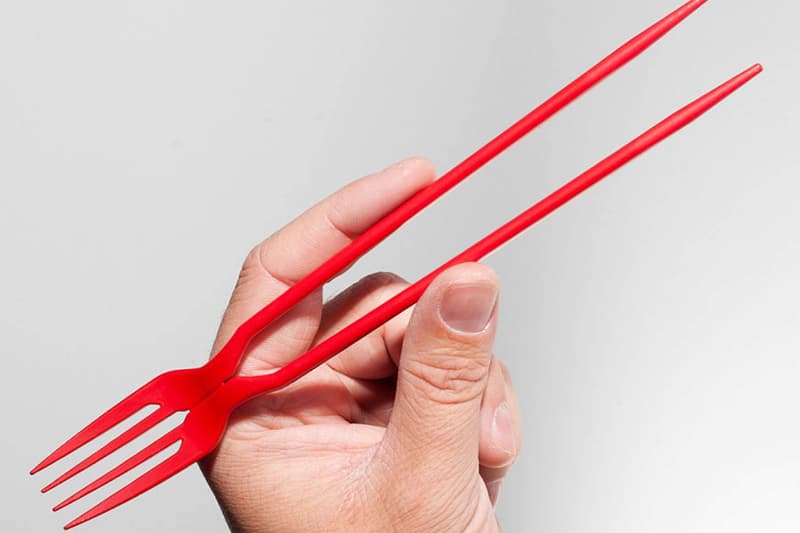 The eating utensil widely known as the 'Chork' could find its way to your nearest Panda Express location. The popular food chain recently rolled out the tool as part of the unveiling of its General Tso's Chicken menu item at a Glendale, California location. Customers who ordered the dish also had the chance to eat it with a 'Chork,' making the dining experience more effortless, especially for those unfamiliar with chopsticks. Unlike the spork, this hybrid tool also acts as a fork, a pair of beginner chopsticks, and as conventional chopsticks, so it's quite versatile. Plus, if you're known to be a hoarder of Chinese takeout chopsticks, you'll probably want to consider bringing a plastic bag full of these for your own home.
"Chorks are a unique utensil that elevate the way people experience their food," Panda Express told First We Feast. "While Chorks are not currently available at Panda Express locations, there is a possibility that they will make their way into stores in the future."
And BREAKING: @PandaExpress is considering a move toward the "chork," or the chopsticks/fork pic.twitter.com/s1hOQhxWKT

— Lisa Jennings (@livetodineout) August 10, 2016