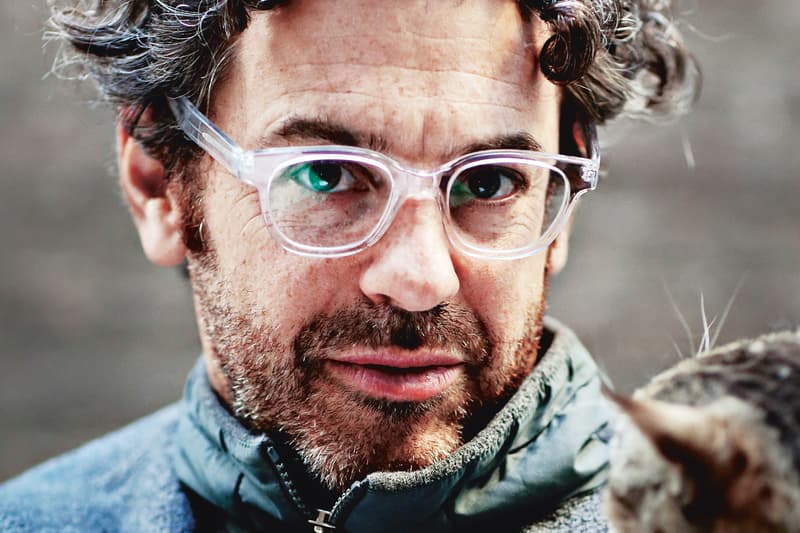 Bullets, Boomboxes & Bricolage: A Beginner's Guide to Tom Sachs
Everything you need to know about your favorite artist's favorite artist.
---
Tom Sachs is not quite a household name in the art world, but he damn well should be; the New York artist and maker has been working manically in his SoHo studio for years, churning out work that has ranged from his collection of diminutive Nuggets all the way through to a recreation of a NASA Mars mission.
These handmade projects have all been guided by a steadfast philosophy that celebrates work ethic and order and his creative output is unparalleled and unrivaled in the contemporary art world. His own mother-in-law described him as a cross between Albert Einstein and Bart Simpson and it's a fitting description for an artist who has offered humorous takes on the McDonald's value meal and the hallowed Japanese Tea Ceremony alike.
With Frank Ocean's recent reappearance alongside one of Sachs's beloved boomboxes, HYPEBEAST thought it was right to offer a crash-course on the artist, so without any further ado, here are "10 Bullets" you should know about Tom Sachs.
10 Bullets
10 Bullets (or Working To Code) is Sachs's definitive guide to studio decorum and a perfect introduction to his aesthetic. While the film certainly satirizes workplace tutorials, there are plenty of legitimate lessons and valuable nuggets to be gleaned from the documentary. While many have noted Sachs's cult-like obsession with order, Sachs himself has dispelled the myth by saying that the rules themselves are "flexible. We're always breaking them. Bottom line is, I don't really care as long as it gets done." 10 Bullets has also transcended satire: apparently, the video has been passed around Fortune 500 offices as an example of practices that should be upheld. Frank Ocean would be wise to pay closer attention to Bullet #3 (Be On Time), and most certainly owes Leatherface a hefty sacrifice (Bullet #8) for the multiple delays he has put his fans through in the lead-up to Boys Don't Cry. If that last sentence sounds like gobbledygook, press play and remember: always be knolling.
Knolling
Knolling is the process of organizing like objects in parallel or at right angles as a form of organization. Sachs has adopted "Always Be Knolling" as his studio's mantra, borrowing from Alec Baldwin's iconic "always be closing" monologue in Glengarry Glen Ross. 
Aside from being an obvious organizational tool, knolling is also a meditative practice with aesthetically pleasing results. HYPEBEAST's own Essentials grids are nearly all examples of knolling.
Boomboxes
Sachs has a longstanding obsession with analog technologies, namely boomboxes and turntables. His most recent retrospective at the Brooklyn Museum featured a wide spectrum of 18 creations that focused on the boombox as a cultural artifact that is both functional and worthy of preservation. He has built small boomboxes like Clusterfuck and Model One, as well as huge installations like the Bodega, Presidential Vampire Booth and Toyan's, a hulking mass of speakers that stretches 8 feet tall and 12 feet across. The piece is inspired by Jamaican dancehall and soundclash culture. It is very, very loud: Sachs boasts that it has the same sound reinforcement as a stadium. It is built with an emergency hatchet attached, in case police shut down the party. Toyan's is perhaps best known for its appearance in the background of Frank Ocean's ongoing video-stream event, but the speakers have yet to be put to the test (as of this article's writing, at least).
A Space Program
Sachs is also obsessed with outer space, so much so that one of his most ambitious projects is A Space Program, an art installation-turned-film that consists of a scaled recreation of a NASA mission guided by the philosophy of bricolage, or the construction of things using available yet limited resources: think handmade Tyvek spacesuits, plywood landers, and a rover built on the chassis of a chopped-up golf cart.
All of these sculptural pieces bear the imperfections and Sachsian scars: smudged epoxy, pencil-marks, uneven cuts. The result is an endeavor akin to the mission from The Martian, albeit thrown together on a shoestring budget. There is most definitely scientific grounding to these pieces, though: Sachs and his NASA team went so far as to consult with experts and scientists at the Jet Propulsion Laboratory (or JPL), forming a think-tank that bridged the divide between art and science.
NikeCRAFT
One of the fruits of A Space Program was that it yielded an ongoing creative relationship between Sachs' studio and Nike, hence the Swoosh branding found throughout his astronauts' uniforms, but Mark Parker also took an interest in Sachs's work and the two spent a night in Paris in 2004 debating the ethics of mass production versus handicrafts. When Parker challenged Sachs to try his hand at balancing the two, NikeCRAFT was born. Sachs' capsule featured bags made of ripstop airbag material (some of which Sachs scavenged himself from car-wrecks in Brooklyn); hooded bombers with adjustable cinched sleeves; and a fishtail parka named "Chester" whose inner lining bears all sorts of crucial scientific information, like the period table of elements, a map of the solar system, and the electromagnetic spectrum.
The collection's centerpiece was the Nike Mars Yard Shoe, a performance sneaker built for mechanical engineers working in the JPL's eponymous Mars Yard. Aesthetically, it borrows from Nike's LDV design from 1980 and Mark Parker's Escape color palette. The limited-edition sneakers went on sale on Sachs's website and sold out nearly instantly and are now revered as art objects. You can find pairs on eBay reselling for upwards of $3,000 USD. The collaboration was so well-received that Mark Parker recently confirmed the two would be revisiting NikeCRAFT sometime soon.
You can read more about the collaboration in Sachs's zine.
Brands & Logos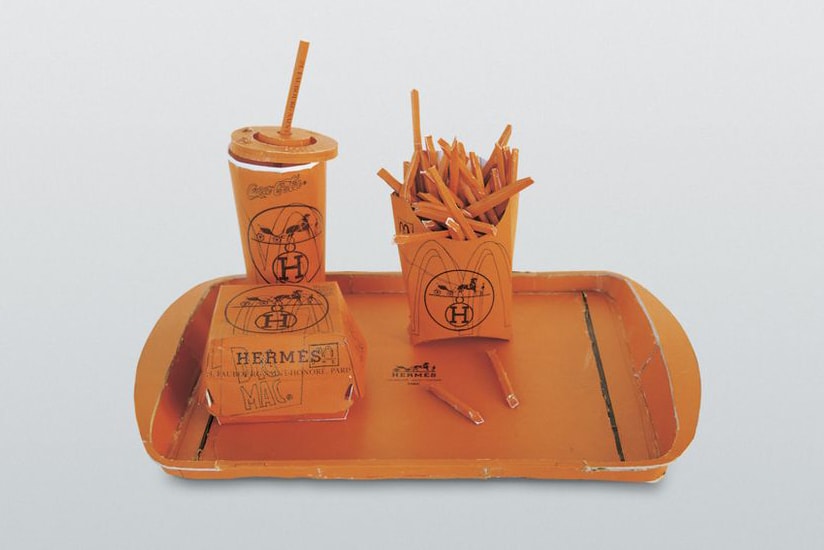 The New York artist has always toyed with the ideas of consumerism and branding. Sachs created a surfboard with a Chanel monogram on its underbelly sixteen years before the haute couture house did. McDonalds and Hermés were spliced for his Happy Meal sculpture; SONY Outsider slapped branding  onto the side of the atomic bomb. Sachs' homages range from the iconic—Hermés' orange, McDonalds' Golden Arches, et cetera—to the obscure (he has created statutes of the McMaster-Carr hardware catalog, for example. Sachs even explains his love of NASA is in part an admiration of its branding: "NASA is the Chanel of science."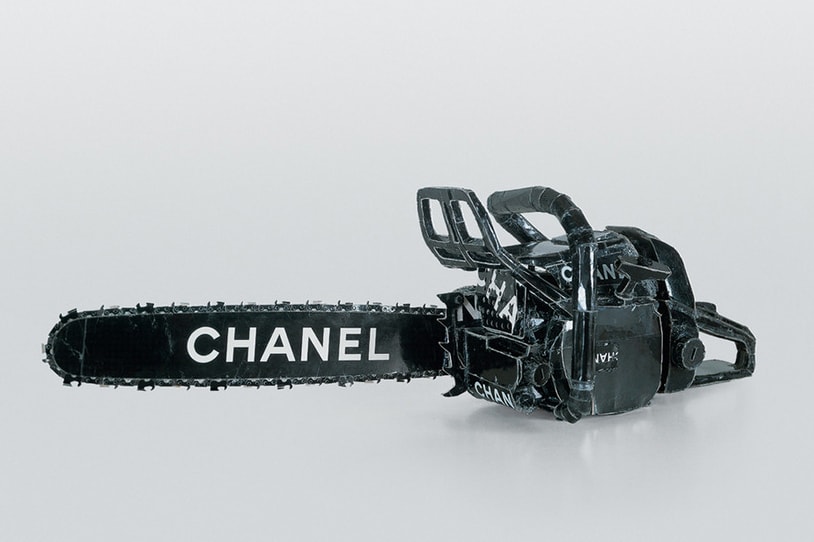 The Neistat Brothers
Casey and Van Neistat are brothers and filmmakers who have released over 200 films in their collective careers. Their most controversial film was definitely 2003's iPod's Dirty Secret, which shed light on the faulty battery life and planned obsolescence built into Apple's iconic MP3 player. The duo were also assistants in Tom Sachs' studio for four years—Ten Bullets and A Space Program were both directed by Van. Later, Casey challenged their former Jedi Master to a model boat-race in a performance piece dubbed The Nautical Challenge. The race was televised on the Brothers' HBO show and Tom even turned the competition into a commemorative photo-book. For proof of Sachs's influence on the Neistat Bros, look no further than Casey's immaculately knolled studio, located just blocks away from Sachs's Centre street clubhouse.
The Tea Ceremony
Aside from NASA, planned obsolescence and knolling, Sachs has also long held a fondness for chanoyu, or the Japanese Tea Ceremony. In the ultimate act of cultural hybridity, Sachs took over the Noguchi Museum's courtyard (the first artist to do so since the museum's namesake), building a tea-house and several pieces of sculpture, including: variations on traditional Japanese lanterns, gates, washing basins, a koi pond, an airplane lavatory built entirely out of plywood and sheet-metal, etc. Elsewhere, Sachs presented several of his hyperbolic 5,000 attempts at crafting the perfect chawan (or tea bowl), each of them adorned with NASA's red Worm logo.
Sachs also offered his own irreverent take on the actual tea ceremony: the menu consisted of tea, the "brown wave" (a Ritz cracker with peanut butter), and "the sun at midnight" (an Oreo cookie).
He's A Maker
In the age of mass production and planned obsolescence, Sachs's work speaks to the beauty of handicrafts and bricolage. The artist himself proudly proclaims many of his works "fucked up" and he elevates and celebrates each sculpture's unique scars. Sachs's work is so tied up with manual labor that his worst-received work was also his one experiment with glossiness and perfection: SONY Outsider is, according to the artist:
"A perfect full-scale model of the atomic bomb that was dropped on Nagasaki, but I'll make it Sony. It's like cargo-culture shit. We don't just drop bombs, we drop culture, and that's how we erase culture. So instead of using bomb parts I made it like a capsule, but deluxe, with a DVD player. It was a huge failure because it was so expensive and had all these moving parts and lights and heating and air conditioning and plumbing.
Sachs's charm lies in his work's lack of pretension: the artist himself spent years working as a welder; the only professional experience required of all studio assistants is having worked either as a dishwasher, a waiter, or both. Any attempt at perfection renders the work charmless, devoid of its Sachsian charm. As for consuming his work, the artist said the following:
When I went to the Met, I figured out that every object there was made by someone like me for a dead rich white guy. Someone pays Rembrandt to paint a painting. And then I went to the African department, and I realized that the people who made those things were the same people who used them. The relationship was not commerce. Everything was made as power objects, to represent authority, spirituality, or ritual. I'm not saying I'm outside the economic structure of the art world. But I'm interested in how these things function differently than just "for sale."
He's Your Favorite Artist's Favorite Artist
Sachs's New York studio means that he has all sorts of creative types passing through his doors, dropping in to collaborate or admire his handicrafts. Kanye West is a fan. Heron Preston is a fan. Virgil Abloh is such a fan that he recently used some of Sachs's NASA chairs in his newly-updated Selfridges space:
In addition to curating playlists and DJing, Abloh and Preston were also guest employees at the Bodega, selling coffee, loosies and rare tees to anyone who happened to stop by 245 Centre Street.
All of these collaborations and cosigns pale in comparison, however, to the nod given to Sachs by the ever-reclusive crooner, Frank Ocean. In fact, the only snippets we've heard of Ocean's incredibly anticipated sophomore album have come courtesy of an impromptu listening session held at Sachs's Bodega boombox back in February. When Ocean did resurface with his now-infamous woodworking video stream event, he did so alongside Toyan's. Apart from his aforementioned negligence vis a vis Bullet #3, Ocean seems to be working according to Sachs' studio rules, constantly knolling his workspace and materials and maintaining a Zen-like focus throughout his work. And when images leaked, reportedly showing some of the contents of Boys Don't Cry's zine, a Tom Sachs zine is clearly visible. Both Ocean and West have previously contributed playlists to Sachs' SXSW Boombox installation, held in 2015.
According to an interview with The FADER, Sachs have numerous other projects that they've been "dicking around with" as a result of their "ongoing creative dialogue."
Nothing Ever Really Ends
Much like a Zen master continually crafts chawans in pursuit of perfection, so too does Sachs's creative process continually develop. Far from slowing down, Sachs has hosted a bevy of events this year and shows absolutely no sign of slowing down. He is constantly building new pieces, tinkering with old ones, and finding new ways to engage fans and newcomers alike.
Now if only he could get Frank on the phone.