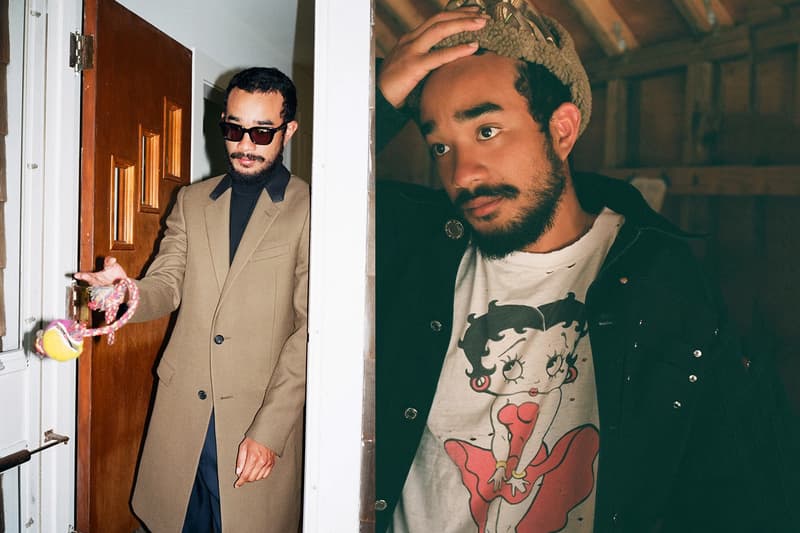 1 of 5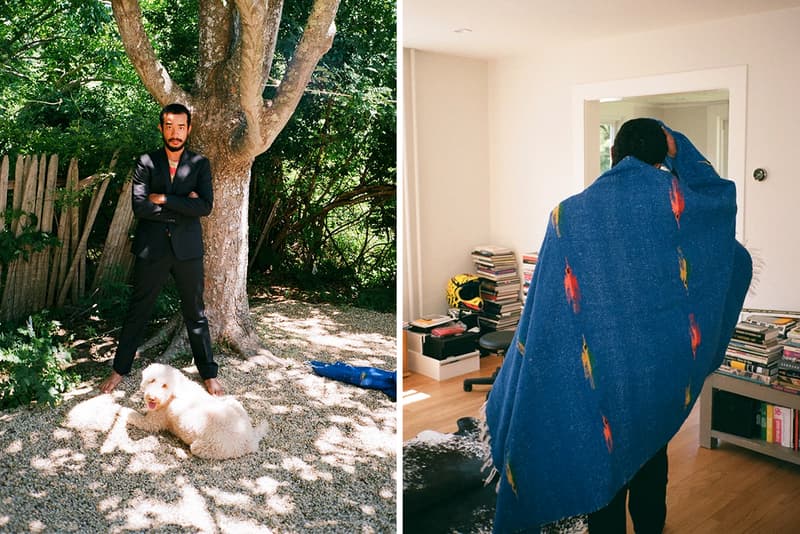 2 of 5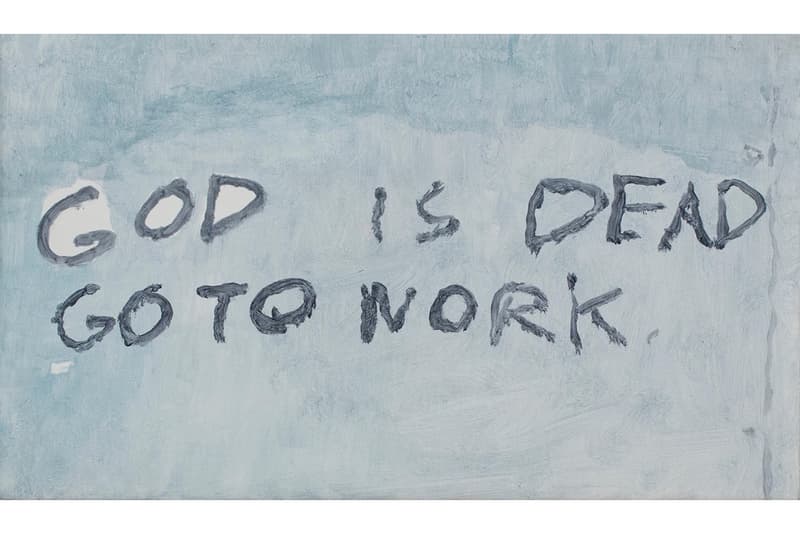 3 of 5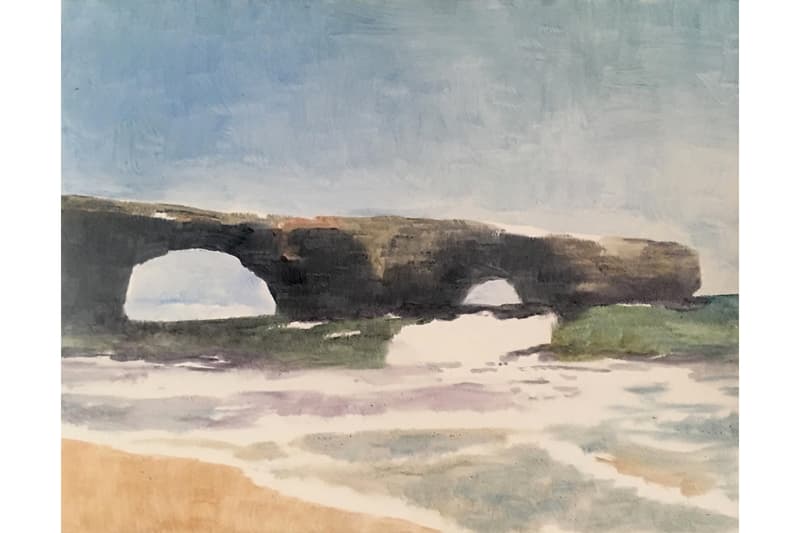 4 of 5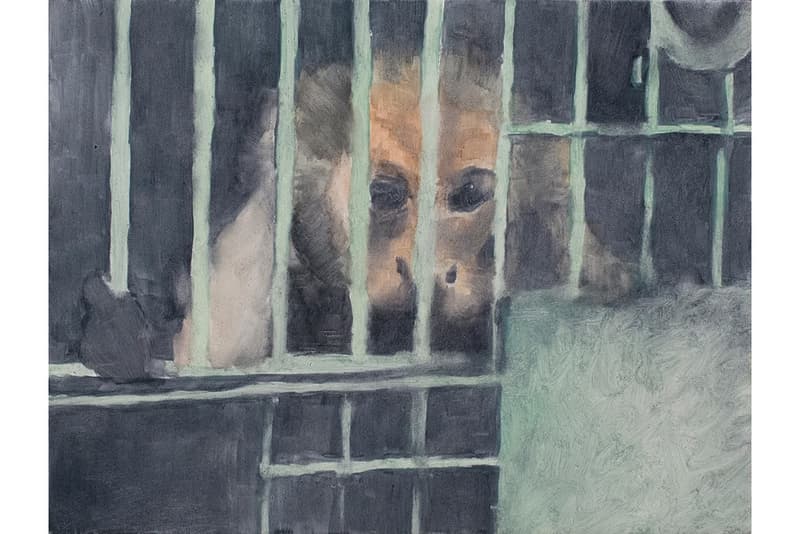 5 of 5
Lucien Smith Doesn't Want to be Another New York Artist, It's "Pretentious and Unhealthy"
"For the first time, I feel like a real artist."
---
Los Angeles-born, New York City-based painter Lucien Smith had already achieved millions dollar sales before he had reached the age of 25. Today we see the 27-year-old artist leave behind the bustling city's organized chaos that spawned his career for the quiet countryside — a move he considers necessary for his growth as an artist. Canadian retailer SSENSE caught up with Lucien at his humble home in Montauk, where the weather is agreeable and the peaceful Hamptons seaside serves as a haven for his thoughts. In this feature, Lucien dons pieces pulled from Maison Margiela, Lanvin, Rick Owens and Dolce & Gabbana in a shoot captured by photographer Angelo Baque.
Find our favorite excerpts from the conversation below and read the full piece over at SSENSE. Explore more of Lucien's artwork and portfolio over on his website.
We normally think of cities as the place where modernity happens. But, as a young contemporary artist, you've gravitated towards spending your time in the countryside. Why is that?

I mainly began coming out to Montauk because I was sick of the city. When I was younger and going to college, New York City was a good place for me to meet other artists and get inspired. But at a certain point it became really counterproductive. I realized that everyone in the city is trying to be famous or something. And I was subscribing to this idea of what a New York City artist was that was really pretentious and unhealthy. After the first four years of me showing, it became evident to me. I'm not interested in being a New York art star. I'm not interested in being a Dash Snow or a Dan Colen. It all kind of just came to a point where I couldn't take it anymore.

Your recent work focuses a lot on landscape. In what ways does nature inspire your work?

It connects to my exodus of moving out here, which also has a lot to do with an existential crisis about trying to figure out why I even make art. If nothing matters, then what's the point of making anything? To satisfy some art market? Or is it because I take pleasure in making paintings? I've been trying to understand what the point is. Lately, I've just understood that if my time here is limited, I should enjoy my experience, enjoy nature, and enjoy people. Which is why I've spent most of my time going on trips and photographing and developing interests that bleed into what I'm painting.

I mean, it resonates with this old school, 19th-century idea of how we understand painters. As guys sitting out in fields with canvases.
Yeah, but I don't necessarily consider myself an impressionist or plein air painter. I wrote an essay that I published called "The Accidental Tourist," which is kind of about the evolution of this process. With the Internet and phones today, there's this thing about escapism. We're constantly looking at images to try to teleport ourselves from whatever situation we currently are in. But back in the 19th century, they didn't have that. The reproduction of images wasn't as accessible as it is now. So they actually had to travel to the countryside to find these picturesque settings. But most of the images that I paint from today are from photographs.

So you're in the countryside and painting other countrysides from your phone.

Also publications, magazines, and books. Scanning these images. I live here, but I'm not necessarily going out to the bluff painting that view. I'm maybe painting views of things, places that I wish I could travel to but I can't, and then also places that have a more conceptual significance. So some of the last paintings that I made were of volcano eruptions. It wasn't necessarily about me wanting to go to these places. It was about the idea of a volcano, and the creation of land, and its relevance to landscape.

So do you feel like you're giving something up by not being around?

Generating sales is not really the most important thing for me. Especially living out here, the money that I spend day to day is significantly less than it was in the city. I don't have a humongous overhead on my studio and my apartment. I don't have assistants. I don't need to be making art sales to keep my studio or my business alive. And without that pressure it really creates a freedom for me. For the first time, I feel like a real artist.

And what does that feel like?

It's liberating, man. It's something that I want to share with other artists. I want to teach that to a younger generation eventually. I want to open up my studio to be able to do open critiques with other artists out there and really try to set a model. Because the model that was set for me when I was younger, it wasn't a healthy model. It was about sucking up to collectors and trying to sell for the highest prices. That stuff isn't real. That's not art. For the last four years, I've been trying to create this nonprofit called STP [Serving the People]. It's about spreading awareness about health and how to make a creative environment. I want to provide a place for people outside of school and people who haven't gone to school to be able to talk about and share their work before it goes out into the world. So they can get critique and positive feedback from their peers.