Sprite Launches Second "Obey Your Verse" Campaign With Tupac, Missy Elliott & J. Cole
Obey this trio.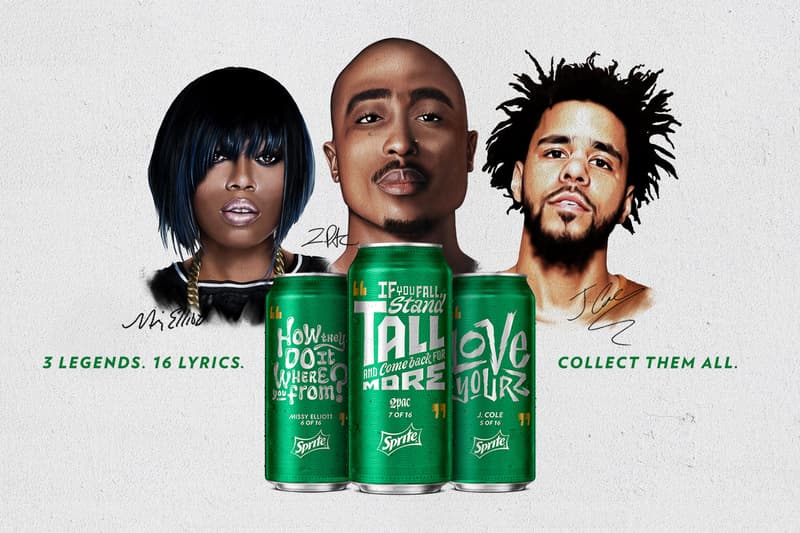 For Sprite's second "Obey Your Verse" campaign, the prepossessing faces of Tupac, J. Cole and Missy Elliott will be emblazoned on its cans. The special edition cans will also highlight 16 influential lyrics from each of the three rappers. Several examples include: Tupac – "The gift of speech the power to reach" from "When We Ride" off All Eyez On Me, Missy Elliott – "Me I'm supa fly, supa dupa fly" – from "The Rain" off Supa Dupa Fly and J. Cole – "We ain't picture perfect, but we worth the picture still" – from "Crooked Smile" off Born Sinner.
The quintessential lemon-lime soda company spawned its first "Obey Your Verse" campaign last summer, which also featured 16 lyrics and portraits of renowned music artists such as The Notorious B.I.G., Nas, Drake and more. Sprite will apparently make its second campaign more millennial-friendly by enticing fans to snap photos with the cans and upload them to the company site to win prizes — varying from signed collectibles to concert tickets.
The campaign will begin on June 20 up until August 15. Check out the full collection on Sprite's official Tumblr page.