Lucas Puig Weighs in on Fashion's Obsession With Skate Culture
The French skater also offers his take on skateboarding's core vs. corporate debate.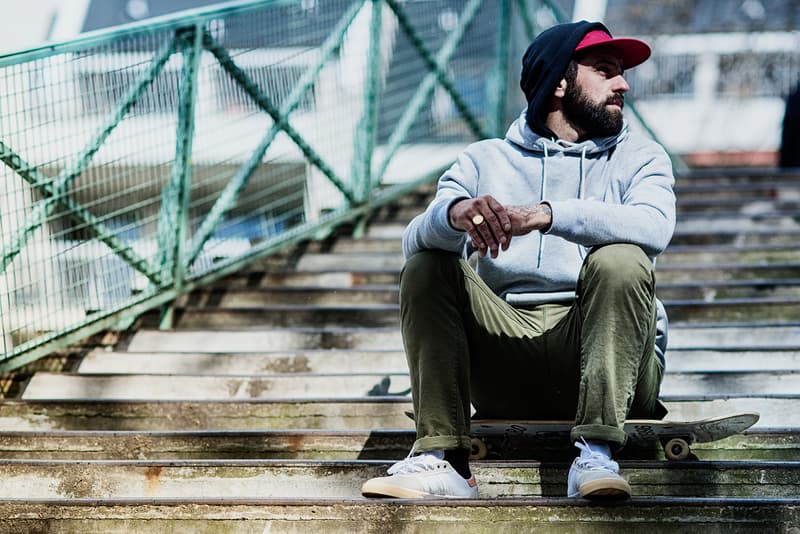 Lucas Puig is currently in recovery mode. The French skater and adidas team rider tore his ACL on one of the last days shooting Away Days, the Three Stripes' latest skate video opus, just weeks before we speak on the phone. But he is in good spirits and he speaks bluntly and candidly about the recovery process; his current routine is "physio, more physio, and a lot of patience."
It's a bit of a bummer for the 29-year-old Puig, who just landed the opener in Away Days, to spend months off the board, but he has plenty of other ventures to keep him busy. Namely, Puig is the face of his own cap company, Hélas, which has garnered a cult following of its own since its launch. adidas, meanwhile, has supported Puig's independent ventures at every turn, even going so far as telling Puig to bring his own company's gear on tour to wear for filming. No one was surprised by this more than Puig: "I was really tripping out because I would think they would do the opposite and push only adidas."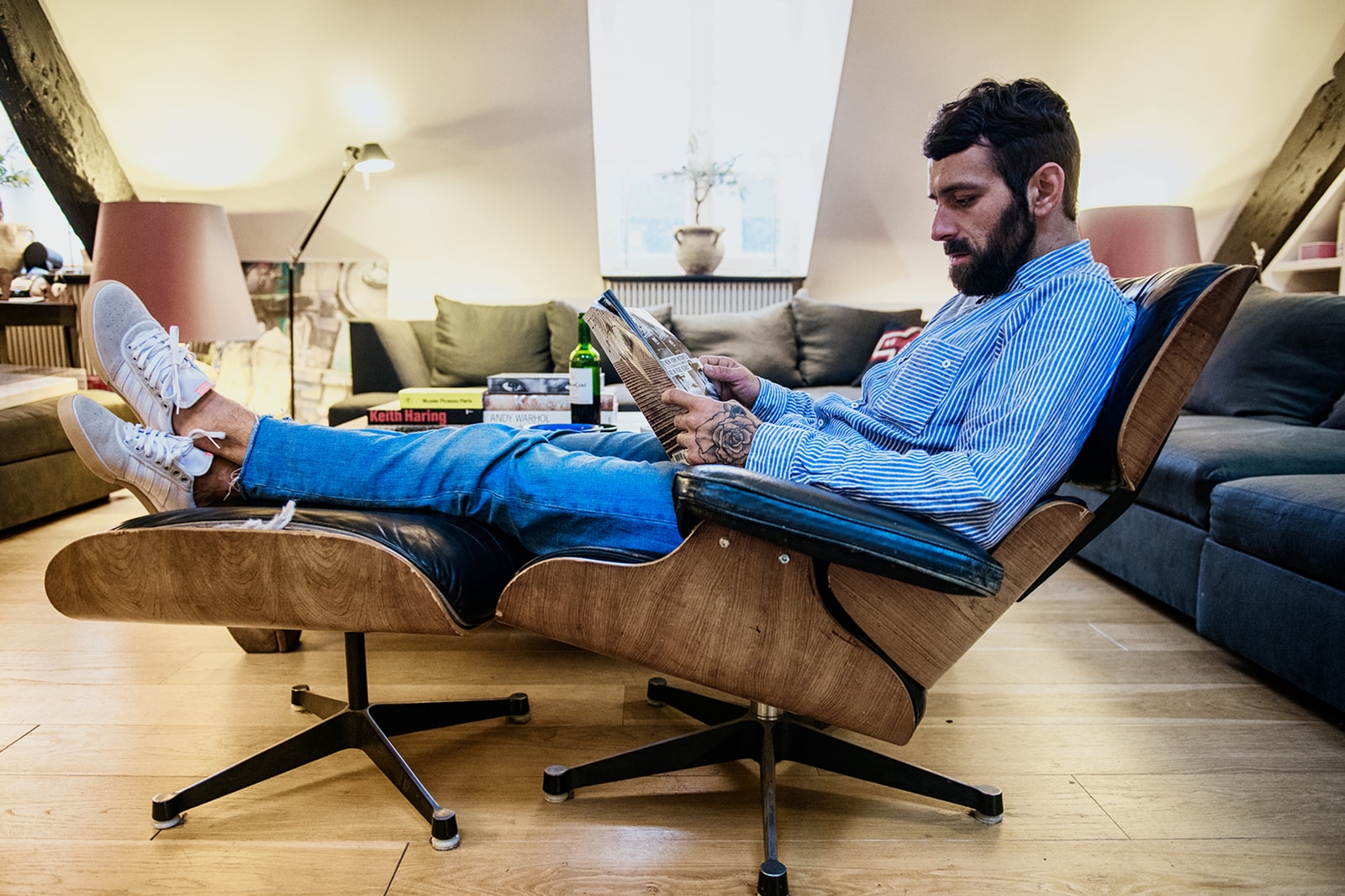 This news comes in the wake of adidas' surprise signing of Daewon Song and Marc Johnson, formerly of DVS and Lakai Footwear, respectively. Song and Johnson, both Thrasher Skater of the Year winners, were power-play acquisitions for a big-name footwear company to make, especially on premiere night. The event sparked a fierce core vs. corporate debate amongst skaters about the ethics and efficacy of leaving independent skate companies for huge corporations. Lucas made the move from Lakai to adidas back in 2010, so HYPEBEAST hopped on the phone with Puig to discuss his rationale behind moving to the Three Stripes, staying with Cliché instead of moving to Palace, and his new signature kicks – the tennis-inspired Lucas Premiere ADV. He also weighs in on fashion's current obsession with skate culture.
1 of 2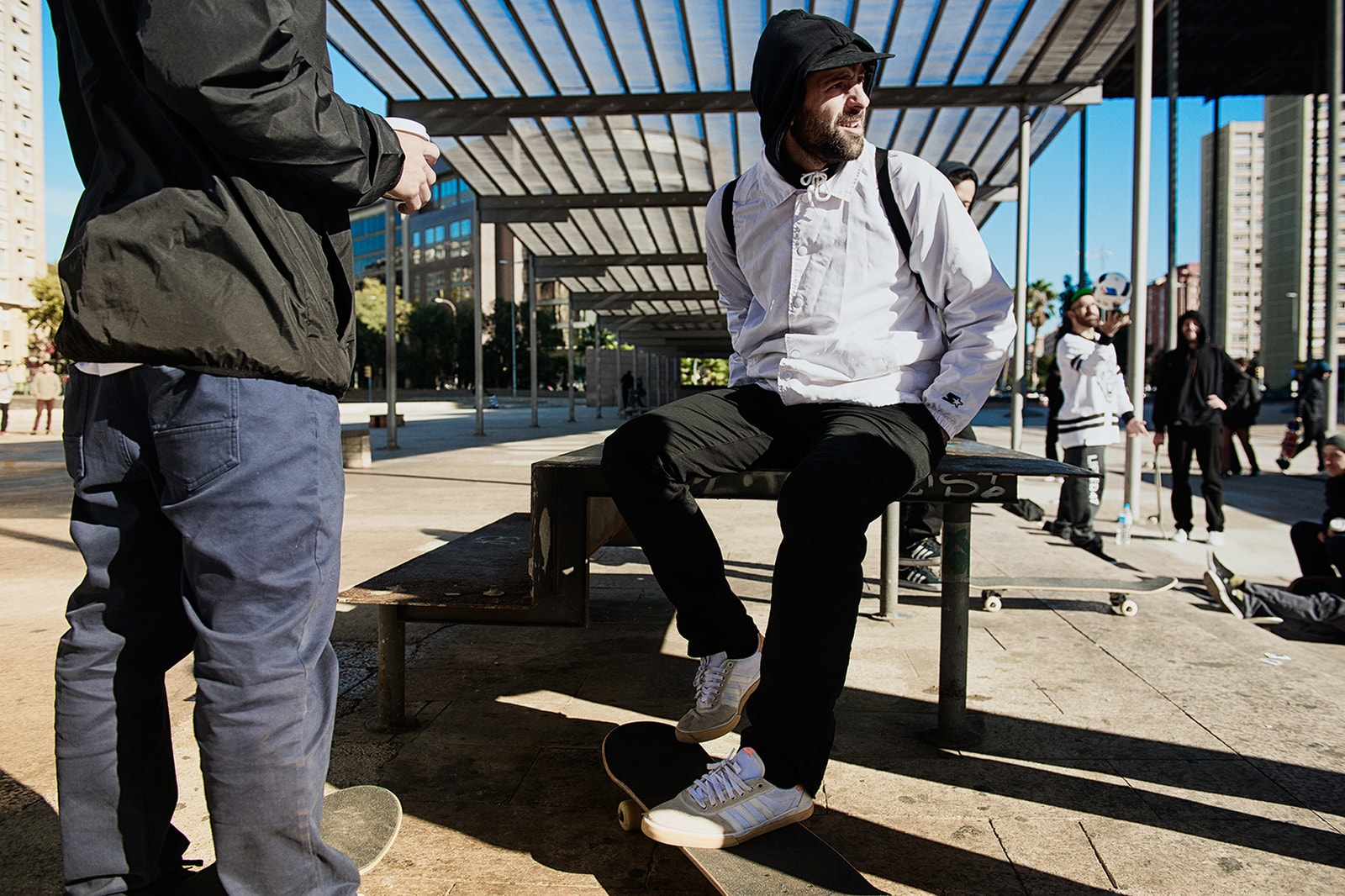 2 of 2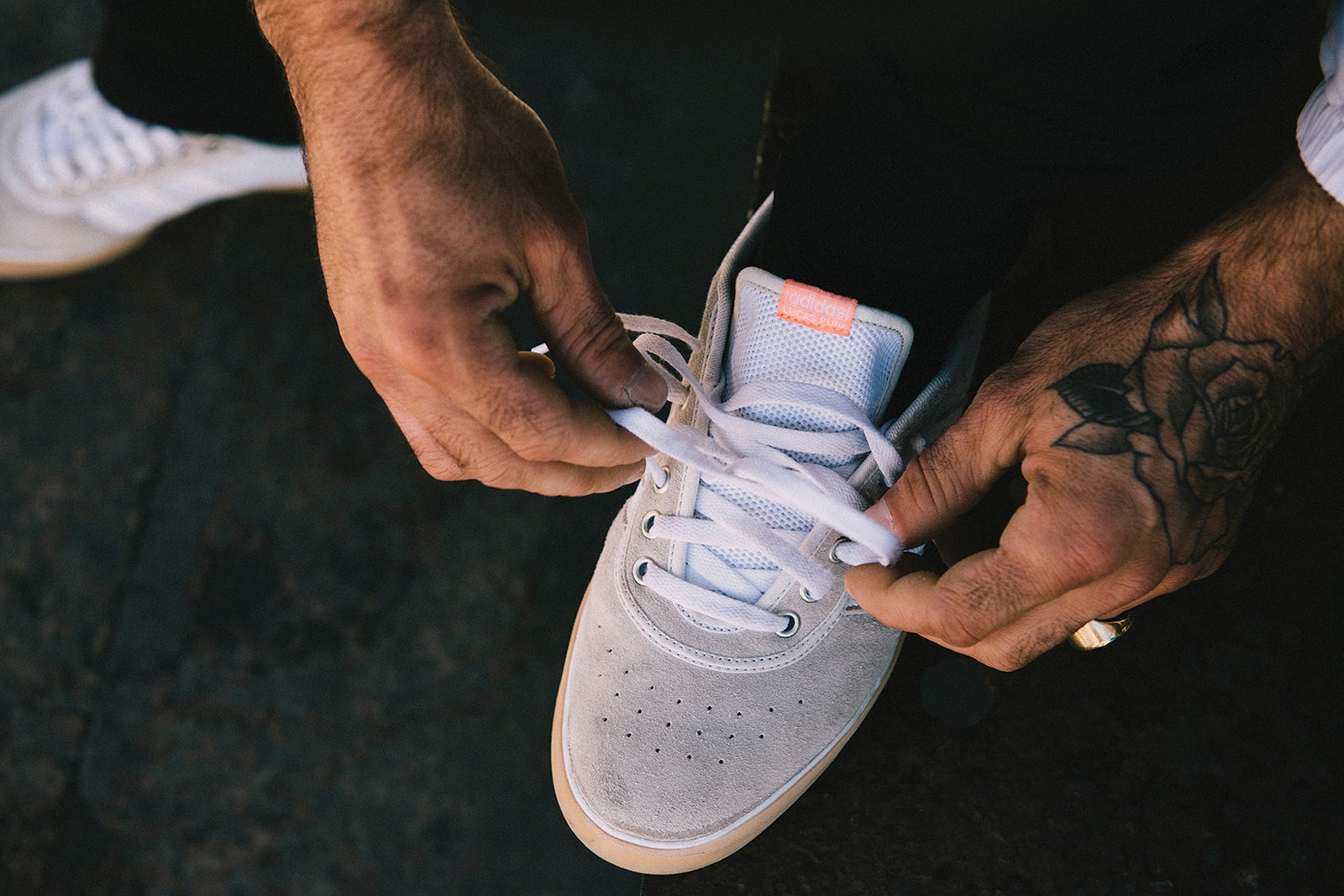 I wanted to start off with something pressing; how's your knee healing? I saw that you were in the hospital recently on Instagram.
Ah, shit, yeah. Now the other part — the surgery — is past. That happened two weeks ago and now I'm starting to do the physio, bending my knee. I'm gonna walk in 10 days.
So what's the recovery process on that like? Did that happen skating or what happened?
It's a lot of physio, a lot of physio, and a lot of patience. It happened here; we were skating in LA at the very last part of the adidas Away Days video and I fucking fell with all my weight on my left leg and my knee didn't stay. If you do skateboarding, your knee, your ankle, that's what happens. It's okay — I'm keeping positive.
How do you go about balancing skateboarding and handling the business side of Hélas?
Well, Hélas is not only me; it's me and my two good friends. So we all have our positions in the company. Me, my position is to be the mainstream, the image and everything. I don't have to deal too much with the marketing and making, so I'm just here on the back and I know everything that's going on and say what I think about it. For the moment, we'd rather have me as a skater and have me be focused on skating.
So you're the face of the company, more or less?
Yeah, exactly.
How has adidas supported you as a person that also has independent business ventures?
I was really tripping out on this, because Yasha (Puig's manager) called me and Matt (director) and they told me, "Make sure you bring a lot of Hélas product, we wanna push it in the intro, we wanna push your company!" And I was really tripping out because I would think they would do the opposite and push only adidas. But they were like "no, nonono, we wanna push you, your style, your company." So I was really, really lucky and I feel blessed to have those people around to push us.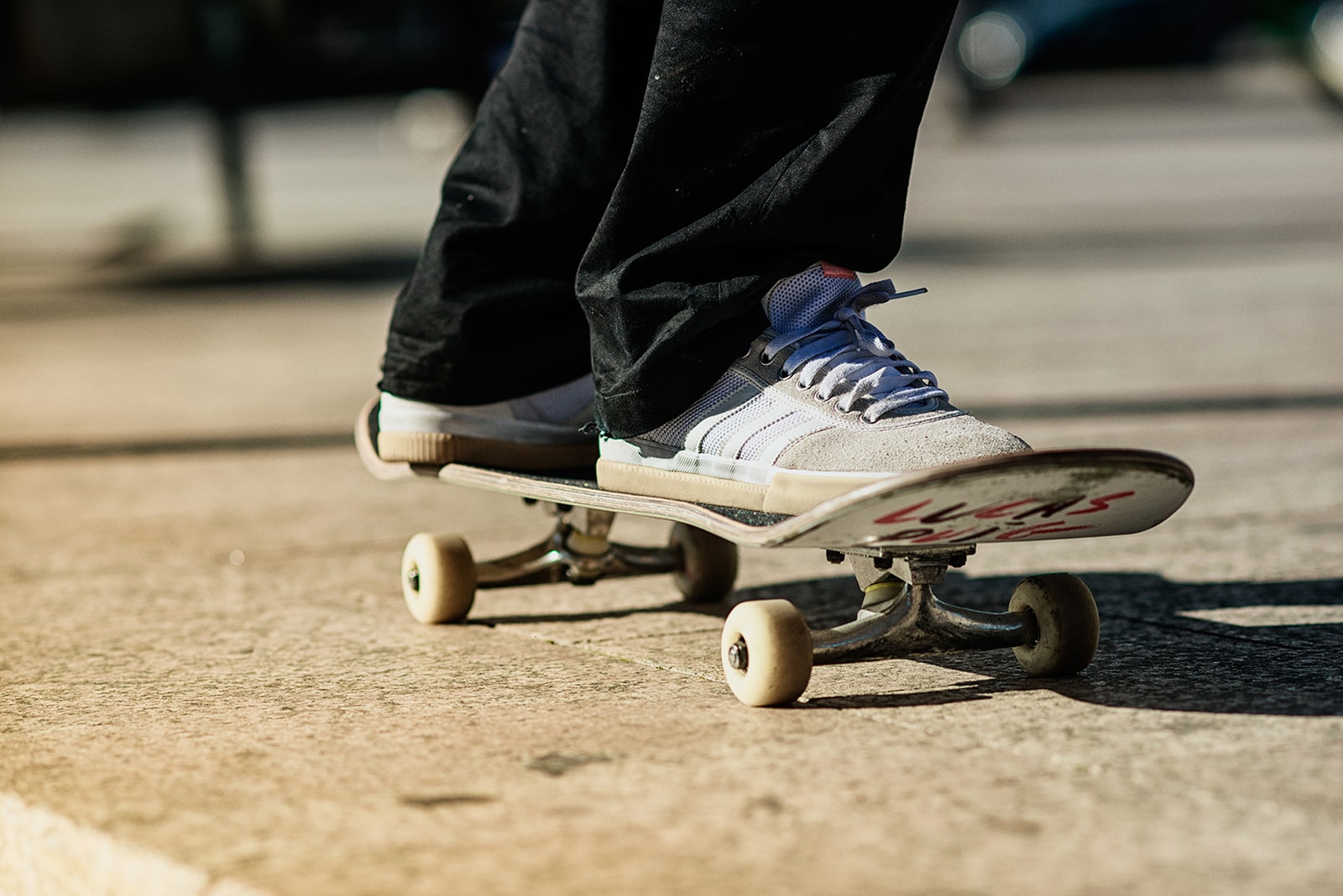 I was super-proud that I was someone that [adidas] chose. There are a lot of skaters and they are a fucking big company! So if they choose you, that means a lot.
To talk about the new sneaker a little bit, I read in Thrasher that you take the insoles out of your skate shoes. Did you take that into consideration when you made these? Do the sneakers not have insoles?
At first, we wanted to do a shoe with no insole and super-clean and shit, but after I was thinking that I am the only person who does that. Why should we make a shoe where I'm the only one who likes it? So I told them just to do as usual: just a regular insole so I can just take it out and not fuck everybody with shoes that nobody can wear or skate.
I noticed a lot of tennis shoe DNA — it's a very European sneaker. I was wondering if you could tell me a little bit more about the design cues that you guys were using?
Luckily with adidas, they have such a story of shoes from their background, from the '70s or whatever. So we just looked through all of those old models and we found a lot of tennis shoes, football shoes, and we found this pair of old tennis shoes that looked like perfect skate shoes. So we started from this turf and they made a lot of changes, they made it more for the times. At the base, it was a pair of old tennis shoes from the '70s or something. Really, really banging shoes.
What were some of the changes to the old tennis shoes that you made to make them more skateable and modern?
The OG one was really short and the materials were not that strong, I think. It was 40 years ago now, so there's been so much evolution. You make it more solid, more like proper shoes that can last a little bit, since people are going to skate it. We tried to keep the look the same, though. Just stay focused on really good materials with the same, old-school look.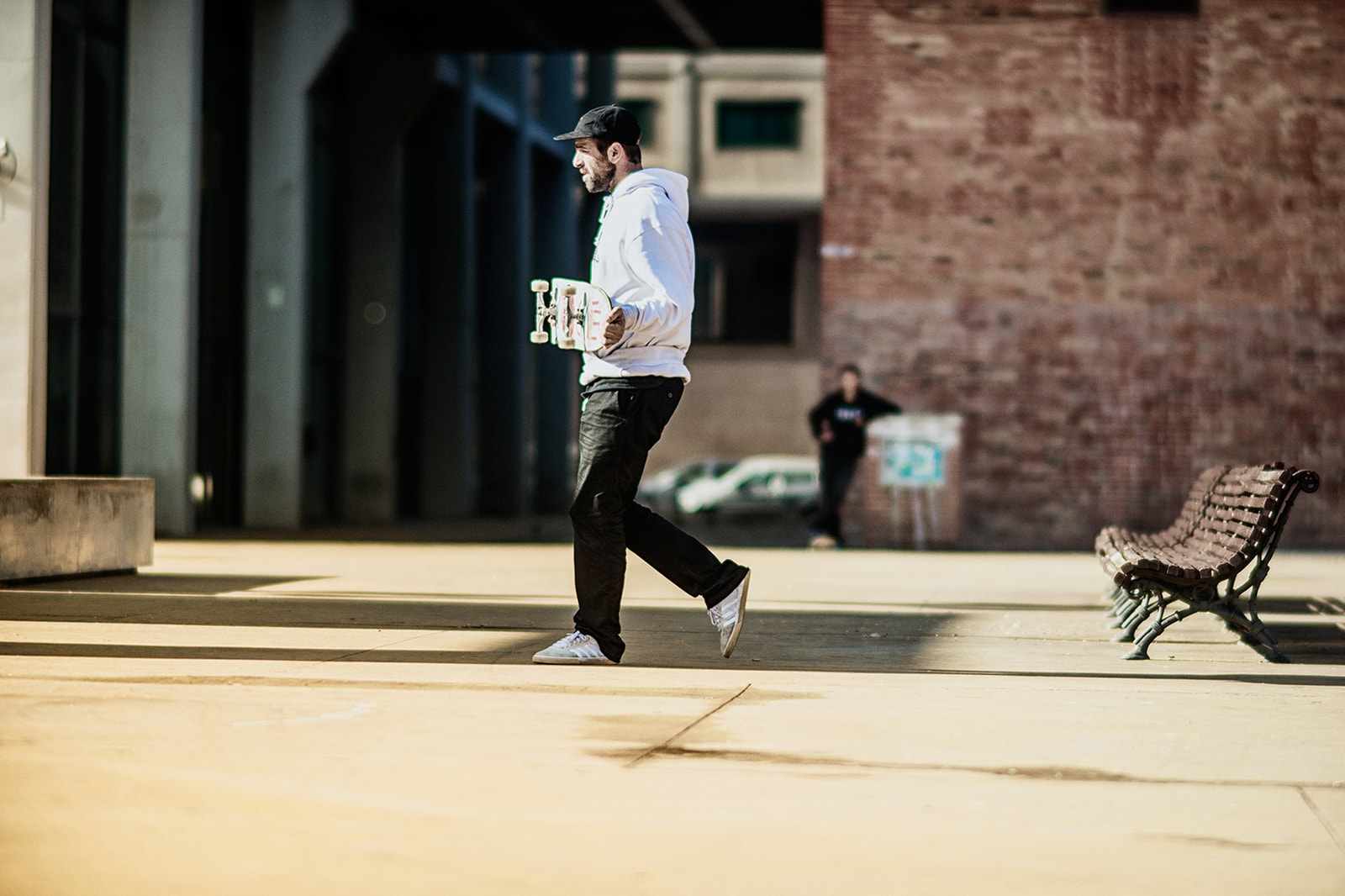 There was a lot of talk after the Away Days premiere, what with Daewon (Song) and Marc Johnson leaving smaller, independent companies to go to these bigger shoe companies. You've been with adidas for a while now and seem to have a great relationship with them. I was wondering if you could give me your take on this whole core vs. corporate debate in skate culture and business?
First of all, times change. I'm more about following the times and for the passions there. I take what's now. Even six years ago when all those big companies were here and I had the chance to meet some of the adidas team, who were really skating people, they've all been skating all their lives. Nowadays, they work for a big company, but in their mind they're still skaters. So I really liked that.
I was super proud that I was someone that they chose. There are a lot of skaters and they are a fucking big company! So if they choose you, that means a lot. Then it's true, I'm growing up, I have no backup with parents. I need money. If I wanna sketch and make outlines of what I'm gonna do in 10 years; with them, it makes it easier. They're a bigger company, they can pay you more. It's more of a job. I'm really happy to work for them. I go skate and I'm so happy and I don't think of what I'm going to do in five years. Because it's hard to make good money skateboarding. Everybody has a wife, I've gotta eat, I've got so many bills. Everything was made for me to go skate for them and they're, like, the best people to me in this big company. They're really taking care of the skater.
If you want to live your passion then you have to learn to live with it, or you find a regular job and you go skate on the weekend.
So how does that compare to the relationship that you have with Palace? Because you almost made the move from Cliché to Palace.
Yeah, that was a really hard one because since I'm on adidas I've been doing a lot of tours with [Palace] and I've been skating a lot with the British and it's Palace, y'know? At the beginning it was just a bunch of friends from London or whatever, but now the company is so big and they needed another rider and they said, "We have so much respect for you, we want you on our team." I considered it because I'm the only one that they asked. They could've asked anyone in the world, pretty much, any Street League skater, any good skater and they just asked me and I was like, 'Fuck… that's really big.' It's not only for good marketing.
So I considered that for a while and what with all these adidas and Palace collabs and shit, they all made sense. I have to make the clothes that I'm wearing the type of style they like. Their fashion is kinda my style, y'know? But it was really hard. I was a little bit lost. In the end, after a lot of nights of thinking, I was like, 'I'm 30. I've been skating for Cliché for more than 15 years… everything's been good.' They're the best people, too. They've always been there for me, so I realized I cannot do that. That's not me — even if I want to wear some Palace gear and look good and hang out with the British and whatever — that it was too crazy for me to make that move.
So for Lakai, I didn't have the choice. I had to make the move; that kind of opportunity, you only have that one time in your life. If you say no, you're gonna regret after for sure. So I said yes, and I'm super stoked to be a part of adidas and it's been brilliant. But for the rest, it's different. Cliché is still here, still doing the same shit that they did at the beginning. I trust them, and I'm sure the future is gonna be good.
What do you make of fashion's current obsession with skate culture, skaters and skate style?
It sucks. At one point, I hate it because I started skating because it was really different from everything else and I felt, like, unoriginal but different because all of my friends at school were doing boring sports and they have no passion. Now you see every brand doing this and it's like 'Fuck… c'mon. I live this. It's our passion. Don't fucking use this with your mall-grab or whatever.' And on the other side, it's good for the mainstream. We always complain because we think that people think skateboarding is just kids, but maybe after that they might think it's a little bigger than they thought. So maybe it'll open some doors for the business and get some more money put into skating. Maybe the skater will make more money in the end, instead of us. It's 50/50; it's hard to see, but if you want to live your passion then you have to learn to live with it, or you find a regular job and you go skate on the weekend.