Essentials: Raoul Shah of Exposure
As CEO of one of the world's top communications agencies, Shah keeps it cool.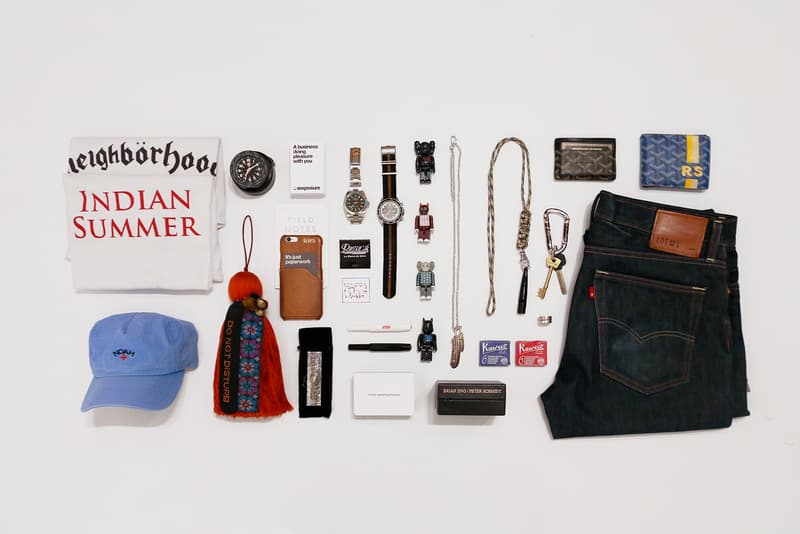 In 1993, Raoul Shah founded Exposure, a communications agency that leads with the notion of "making brands relevant." They did so by harnessing the simple idea of networking — connecting the right brands with the right people. Exposure now counts the likes of Nike, Coca-Cola, Converse, Uniqlo, Dr. Martens, Tudor, Netflix and Levi's as clients. The agency specializes in PR, product placement, experiential marketing and brand collaborations. At a time when the right exposure will catapult your brand to success, the agency's name is a reminder that reach is as important as output. Now in 2016, Shah isn't just a CEO that sits back and watches his employees do all the work – he still lives and breathes the life that inspired Exposure, with an unprecedented touch for art, culture, and the youth.
He's got an eye for relevancy honed by his own tastes, shown here. In his everyday wardrobe he gravitates towards his NEIGHBORHOOD T-shirts which he praises for its longevity, "[NEIGHBORHOOD T-shirts] have smart and clean graphics and they never lose their shape or size. The first one is a subtle nod to our dog named Summer. The other is a great tribute to one of the best band logos ever." Shah also loves his Noah cap and classic Levi's jeans, this pair made extra special as it's a custom order for Exposure's long relationship with the storied denim brand. A frequent traveler, Shah takes his Luminox pocket watch, his signature Kilian fragrance, a pack of matches from Raoul's Steakhouse in NYC, and a card that says "Happy Days" from his son's Bar Mitzvah along with him. As for souvenirs, he keeps it simple by taking Do Not Disturb signs from hotels.
Other essentials of his includes a Shinola leather iPhone case dressing his most important device, along with Kaweco pens and a Field Notes notebook. His business cards are always on hand, and each Exposure employee has a different saying on theirs. Shah's says "It's Just Paperwork." Two favorite watches on rotation are his Rolex Milgauss and Tudor Heritage Chronograph: "The Milgauss that still looks as good as it did the first time I saw it in 2007 and [both watches] cover every occasion and have stood the test of time." As for monetary essentials, "Goyard is the place to put your money, your cards and your family photos."
For his home and office, Shah keeps a collection of Medicom Toy Kubrick figures with covetable collectibles including collaborations with KAWS, Futura, Stussy, colette, DRx and more. Set beside this enviable collection is an inspiring box of cards called "Oblique Strategies," written by Brian Eno and Peter Schmidt. If he's ever in need of advice, Shah picks a card and it usually has the answer. "Today the card I picked said 'Accept Advice.'"