Meet the Only Chinese Model to Be Cast for a Yeezy Season Show
One in 1.3 billion.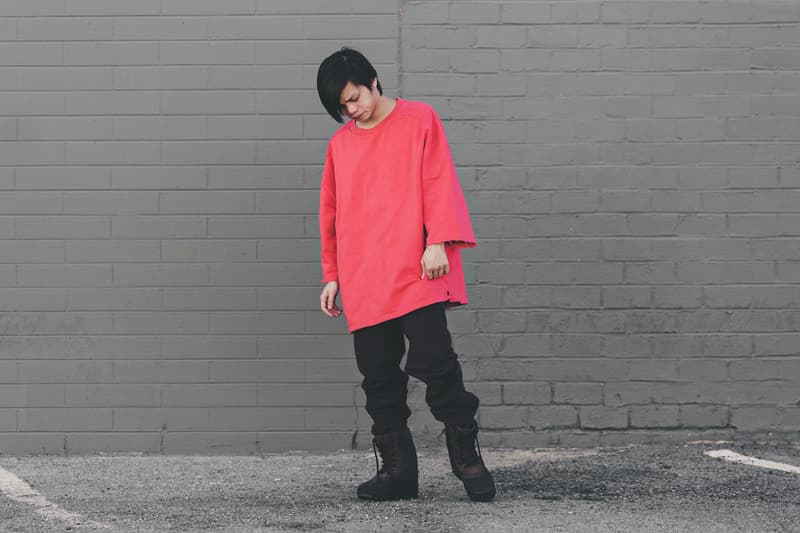 1 of 3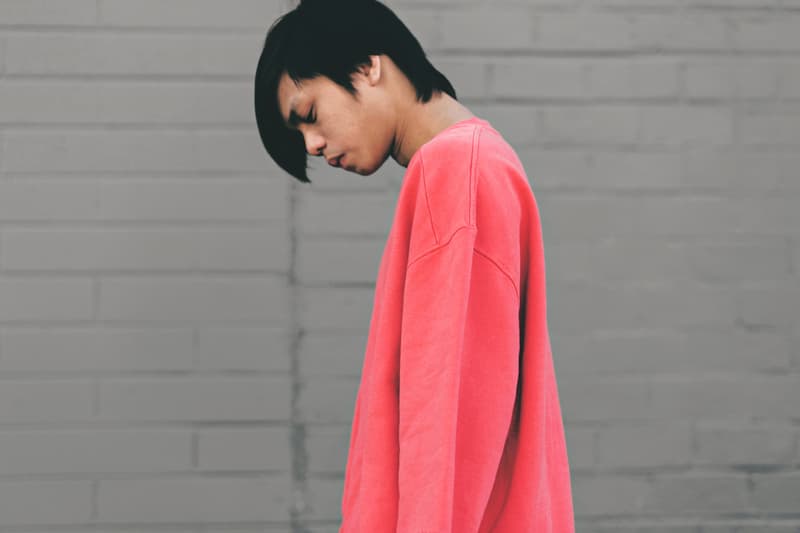 2 of 3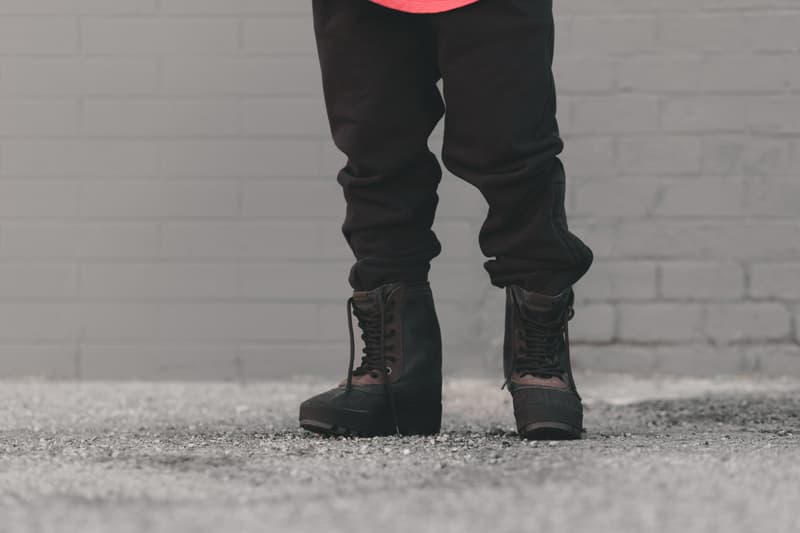 3 of 3
Upon its debut, Yeezy Season 2 was seen by many as a fashion show that functioned more as a commentary on the current state of American racial politics — the scientific arrangement of the models on the floor was carefully gradated from the palest to the darkest of skin tones, hinting at the racial hierarchy within modern American society. However, for all its insistence on racial diversity within its casting, the model lineup for Yeezy Season had all but one sole individual of Chinese descent.
Hailing from Hong Kong, Ho-Yee Li moved with his family to Las Vegas and began working for Fruition Las Vegas as a stylist and model after an encounter with founder Samantha Jo Alonso. From there, Alonso's husband Chris Julian introduced Li to DONDA, where he was invited to attend a casting in Kanye West's residence. The rest, as they say, is history. We caught up with Li at the most recent Agenda Las Vegas, where he spoke about the process of being cast, his preparations for the show, and his plans for the future.
How did you get scouted to be in the Yeezy Season show?
I was scouted into Yeezy through Fruition. I met Chris Julian at Fruition, he had a vision for me and he brought me to Kanye. Then everything else fell into place.
Where are you originally from?
I was born and raised in Hong Kong, from the hood in the New Territories.
Why do you think Kanye selected you to be a model? Do you know what he was looking for specifically?
To be honest, I think it's because he saw a piece of me in him and a bit of the future. Kanye gave me an opportunity to model, which I really appreciated, and I just did that to the best of my ability. I look forward to expressing more of my gifts.
What was it like being the only Asian model in the show?
I actually saw quite a few Asian models during [casting], but they didn't make it in to the show. I'm really grateful for how it turned out though, letting me represent the new China and all the kids without a voice. Now I can be a light to all the Chinese youth who want to do more and be more in this world.
Describe the most challenging part of the performance.
After trying on my outfit for the first time, I just felt something. I felt my character coming coming alive. I gotta put my mind and body into it, along with the clothes, to give it the character the clothes deserve. So you know what I did? I didn't sleep, shave, or shower the day before the show to give it an edge and a reality I wanted. That's what I did. Like Robert De Niro in Taxi Driver. Before he could play the character well, he had to become a real driver and study his role. That's how things come out perfect.
1 of 2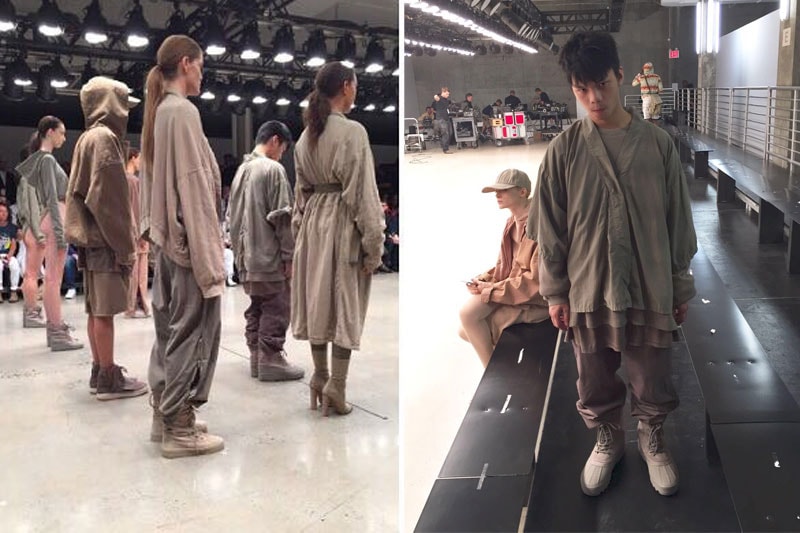 2 of 2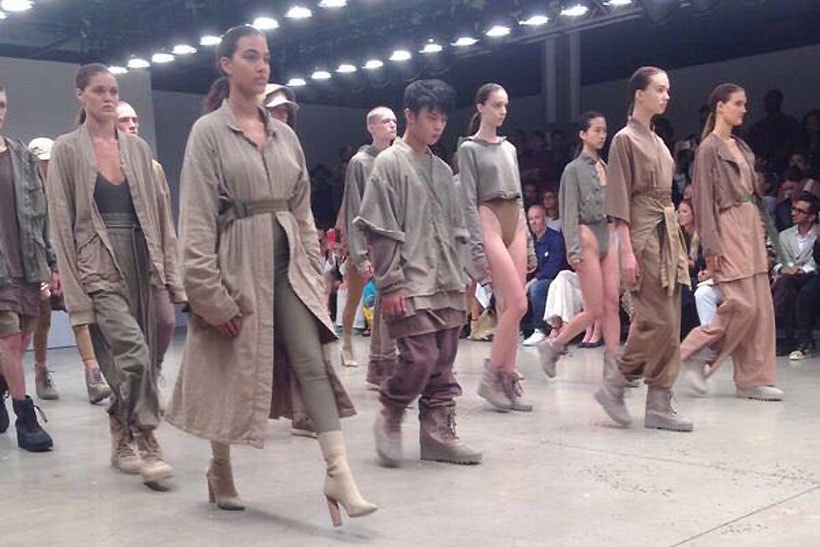 How were you compensated? Did you get to keep the Yeezy Season apparel?
I repped the Chinese youth and at the same time, the people that I cared about are really proud of me for what I did. I felt that was worth more than any money I received. I'm really proud of what I did and this is just the beginning.
What is your background in fashion? In modeling?
You know, I wasn't truly in the fashion world until I went to Fruition. From around 11 or so, I started becoming really interested in fashion, in different clothing items. I would try on all of my parents' clothes every night and look in the mirror to see how I looked in them. Not my mom's panties though, those I didn't try on. Then last year after I got hooked up to Fruition and met Chris, that's when I got my chances. I met quite a few stylists and models there and really started to get a feel of the industry.
What did you think of the Yeezy Season 3 show?
Epic. To me it's not even a fashion show anymore. It's a movie, some next level shit.
What do you want to be in five years' time?
The number one fashion icon in Asia. Speaking for all the underdogs and all the Chinese, they can be something they want to be too. "The best way to repay those who love you is to soar in your sky with wings that they gave you." To Chris Julian, to the Yeezy team, to Kanye, to the Fruition fam, and to the people who love me and trust me, I'm gonna be flying.