Y-3 SPORT's Debut Collection Will Feature New Versions of BOOST Technology
Senior Design Director Lawrence Midwood tells us what to expect.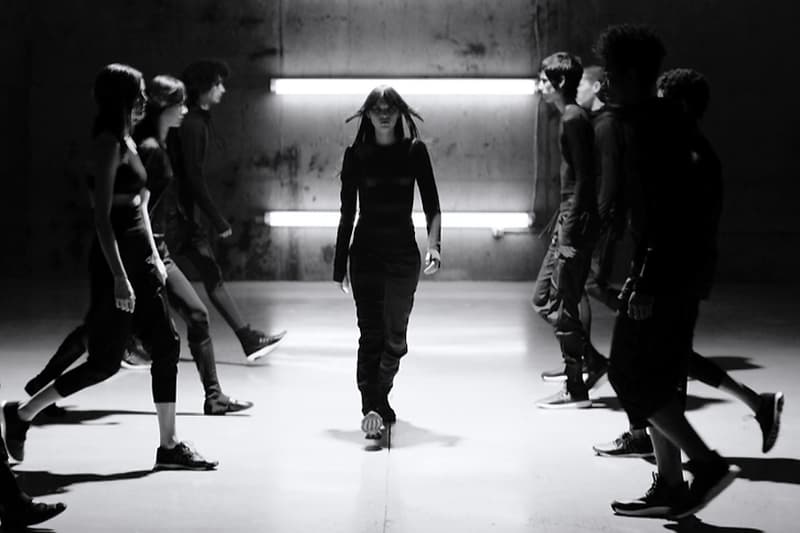 Launched in 2003, Yohji Yamamoto and adidas' collaborative venture Y-3 has bridged the seemingly disparate worlds of high fashion and sportswear. Proving that functionality and quality can coexist without compromising style, the 13-year project offers high-tech athletic-inspired garments each season. Its sought-after footwear line has also culminated a loyal following in the streetwear arena. Yet, the brand has never fully committed to creating designs exclusively for performance, until now. The idea was first discussed seriously towards the end of 2014, before its prototyping phase throughout 2015. For Spring 2016, Y-3 SPORT unveils a range pivoted by the latest wearable innovations: bonded construction gives the collection a streamlined, modern look that differentiates it from its main line, seamless knits will reduce weight for a better fit, and laser cut ventilation through heat mapping allows for greater breathability. Aside from a sleek apparel range, fans of the Herzo giants BOOST category will also be pleased to know that three variations of BOOST technology will be incorporated into Y-3 SPORT. Check out the interview with Senior Design Director Lawrence Midwood below where he speaks on the line's aesthetics and new BOOST technology featured, in addition to a first look at the line via a short film created by i-D. The collection will drop April 15 at select retailers such as Barneys and SSENSE.
Why did you decide it was time to launch a sport specific collection?
It is something we have talked about for a long time. Together with Yohji and his team. The idea of bringing Y-3 into the arena of sport was something that we often considered or discussed as an exciting challenge for the brand. We have flirted with that at times over the years with a great sense of satisfaction and pride in what we achieved. In 2015 we felt the time was right to approach it holistically in the form of this first capsule collection.
What makes Y-3 SPORT so distinctive?
Three things. Firstly it has been designed and manufactured without compromise. We took the position that our consumer is absolutely NOT willing to compromise their look or style to do sport. Whatever that sport may be. We naturally benefit from decades of adidas's innovation and expertise but we set out to push those technologies and features as far as possible without ever compromising the look and aesthetics of the products.
Secondly we approached the manufacturing of the garments as seriously and boldly as we did the design. We sought out factories and construction techniques that are at the cutting edge of manufacturing. Working together with both adidas and factory technicians to collectively push each garment or shoe as far as possible. Many of those discoveries changed the whole look of the product and resulted in the extremely distinctive look the products have.
And last but not least Yohji Yamamoto and his team. Together we worked and reworked each idea over and over again, challenging ourselves and constantly asking the question 'Is this idea good enough?'
To us as a team it was very important that if Y-3 was to enter this arena we had to do so in the right way. Pushing the limits of all elements of the products.
What statement does the collection make?
The Y-3 SPORT ideal is really about finding an alternative to the established sportswear staples. Offering our consumer something different, something created purely with them in mind and not conforming at all to the established rules or methodologies.
What led you to design the collection for wider pursuits, rather than pre-determined sports activity?
Very simple: We didn't want to preach to people. "Oh ok, you are a runner so you need to dress like a runner, because that is how runners dress…..right?"
Well perhaps no… at least for our consumer we wanted to offer a different perspective on that. Something they may identify with more, than looking like everyone else.
Because of this and a belief that people today want sportswear that they can do multiple sports in whilst looking and feeling great, we decided to focus on the function of the garments alongside versatility instead of putting our consumer into a box.
How closely did you work with Yohji Yamamoto and his team on the development of Y-3 SPORT?
Very closely. From the first conception of the brand as an idea and an ideal through to the many many prototypes we made. Yohji also directly challenged some of the first ideas. Asking very early on in the process when we got too caught up in a particular detail on the initial prototypes: "But why? Why do we need this? " Which in turn, led us to relook at that particular facete of the collection and remove it entirely to not overcomplicate the garments…
Can you tell us about the key innovations in the new collection?
The collection showcases the best of adidas' technologies and functionalities and redefines them for the Y-3 SPORT consumer with innovations such as bonded construction, seamless knits and laser cut ventilation through heat mapping being incorporated.
What are the key technologies and materials used across the Y-3 SPORT collection?
Y-3 worked with various adidas divisions to offer completely new versions of: Terrex Boost, Boost ZG and adidas Boost. Primeknit, Adizero, tech fit, laser cut ventilation, and bonded constructions are other design attributes seen in the range.