Kanye West's First adidas Sneaker Collaboration Was Supposed to Be a Tennis Shoe
Named after one of the sport's greatest.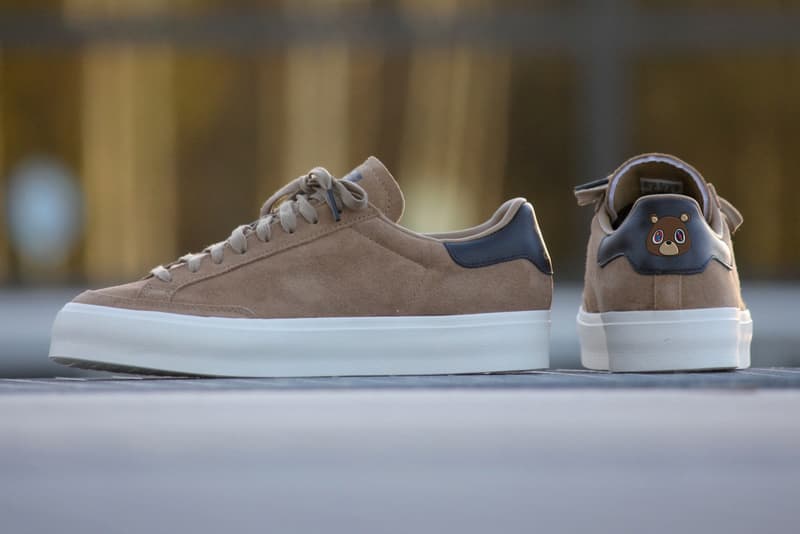 We are all well-versed in the lore of Kanye West's adidas Originals Yeezy Boost 350 and the seismic changes it caused in the industry and culture surrounding footwear. However, unbeknownst to many, this was far from the first time that Yeezus had linked up with the Three Stripes. For that, we must travel all the way back to 2006 where the two parties met to discuss a collaborative version of the Rod Laver Vintage court sneaker, as revealed in a feature written by adidas Creative Consultant Gary Aspden for the recently published second issue of fledgling sneaker publication Crepe City.
Touching on the Kanye-branded tennis shoe that never was, the subsequent timeliness of the Yeezy Boost line, and Kanye's commendable attitude throughout the design process, read an excerpt of Aspden's words below and buy an issue online here for £10 GBP (approximately $14 USD). Please note that the mock-up above is a rendering conceptualized by our in-house design team.
In 2006 there were meetings held between Kanye West and adidas, back before he had ever done a trainer collaboration with anyone. As I was in charge of adidas's Entertainment Division at the time I was asked to lead those discussions along with one of the team who was based over there. We met with Kanye in the studio in L.A. where he was recording – I was impressed by the fact that he had no big entourage, just him and his manager Don. He was immediately welcoming and respectful when he realised I had been instrumental in that first adidas x BAPE collaboration (at the time he was a big fan of A Bathing Ape and adidas Originals). The discussion revolved around working with adidas on versions of the Rod Laver Vintage which was his favourite shoe at that time.

After much to-ing and fro-ing between Kanye's team and the then head of adidas Originals, the project didn't end up coming to fruition which I now believe was no bad thing, however, years later as everyone is aware, adidas and Kanye finally hooked up and collaborated. The result of that I believe has been something far more substantial than anything that was potentially on the table back in 2006 – a completely new shoe silhouette utilising a groundbreaking technology. Even back then Kanye was very clear about the fact that before anything he saw himself primarily as a designer and was determined to start his own line – I remember him showing us logo ideas for 'Pastel'. I personally have had no direct involvement in the adidas Yeezy project (that is handled by the likes of Jon Wexler and Rachel Muscat) but in my view it arguably has more parallels with that first BAPE collaboration than anything I have seen in the last decade or so.

It takes a similar approach, and like BAPE in 2003, it creates a level of demand that is indisputable. These products are about so much more than a pair of shoes, they come with a concept and a watertight execution – it's the entire package. He pays attention to every detail of the product, even down to the string used for the swing tags. I have huge respect for the fact that he personally made trips to the factories with Nic Galway and was hands on with the entire process. Given how busy Kanye's schedule must be, it's hats off to him for taking the time to pay that level of attention and showing that level of commitment to getting things exactly the way he wants them to be. No half measures.