jeffstaple's 101 On How To Conduct The Best Interviews
The art of communication.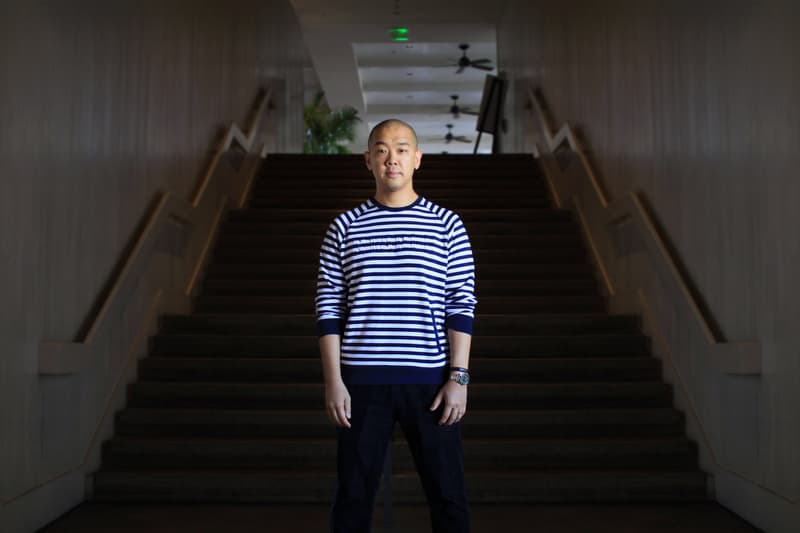 1 of 5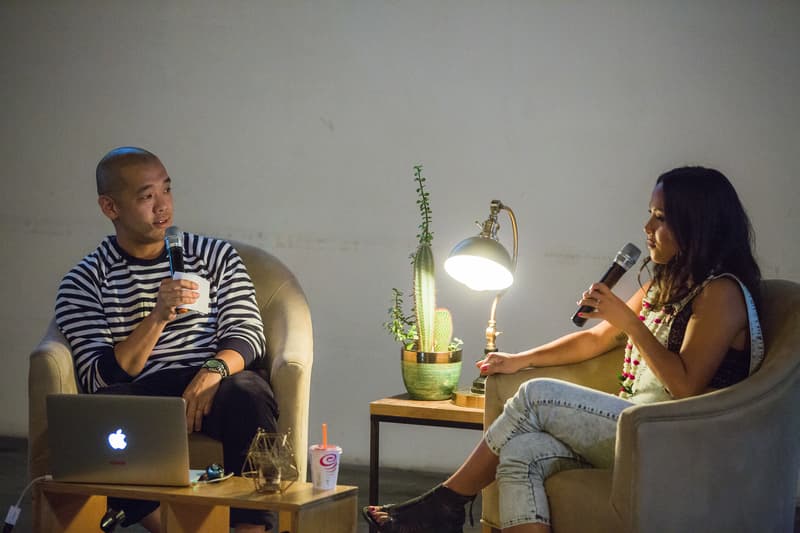 2 of 5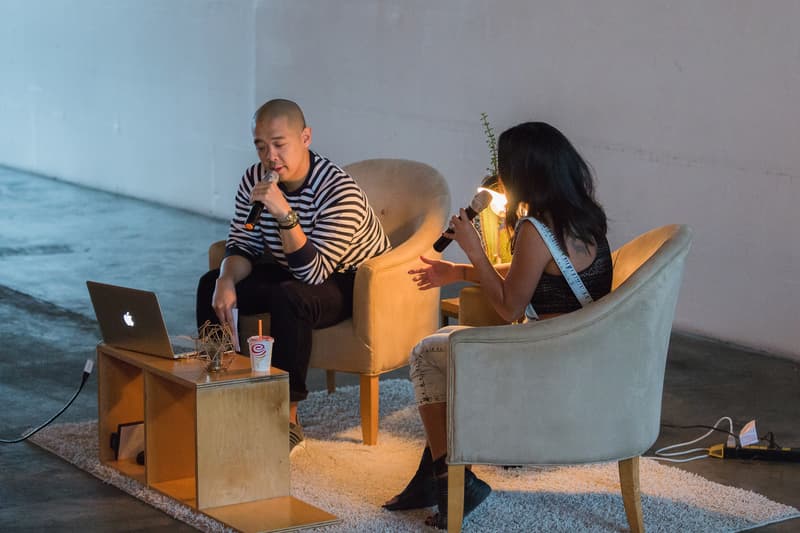 3 of 5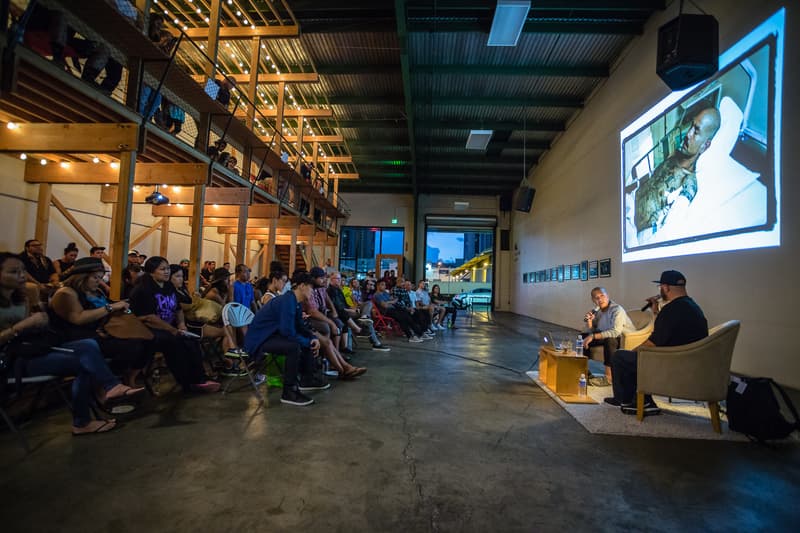 4 of 5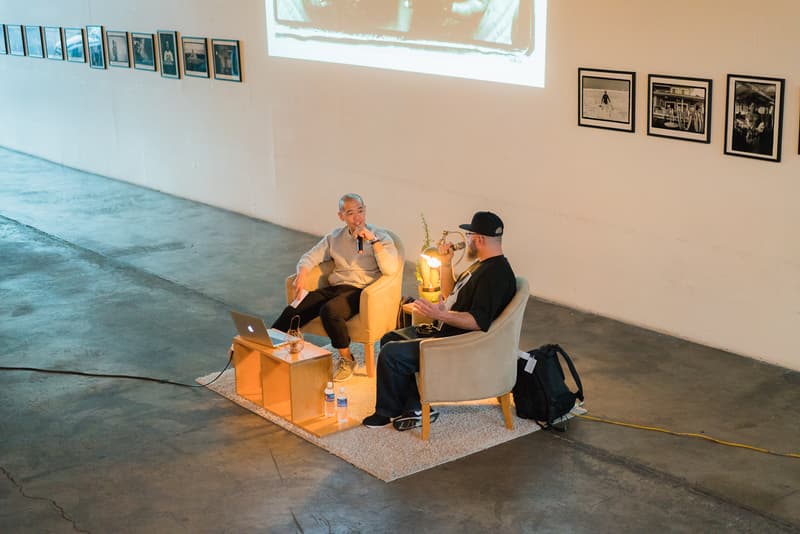 5 of 5
While the global POW! WOW! art festival has its main focus centered around visual stimulation, it's not without elements of interaction and dialoque. As of last year's POW! WOW! Long Beach, the organization teamed up with streetwear mainstay jeffstaple to bring his ongoing "1-2-1 w/jeffstaple" series on as a live presentation. While the ongoing series delves into the minds of a diverse list of individuals, from Mike Tyson to Common to the recent HYPEBEAST presented talk with Steve Sweatpants, Staple's POW! WOW! edition revolves around the participating artists from the festival, with LA-based artist Hueman and world-renown photographer Estevan Oriol as the line up for 2016's Hawaii edition. We caught up with Jeff in O'ahu, Hawaii to ask him about his approach to both "1-2-1 w/jeffstaple" in general and the artist-centric POW! WOW! version, as well as the challenges he faces being a host and what his connections to art, and more specifically street art is. Read the candid interview below to gain an insightful lesson on conducting interviews, learn why street art offers more freedom than other genres, and understand why our culture needs more grounded conversations like the "1-2-1."
---
Tell us about your relationship with Pow! Wow!
I'm a friendly patron, I guess. I've been a fan of what Jasper's been doing for a few years now, but 2014 was the first time that they asked me to come out to Pow! Wow! and participate by doing a live version of my 1-2-1 talks with the artists. I gladly did it, and luckily it went well last year with Kevin Lyons and James Jean — they're so amazingly talented. Their work speaks for themselves. So this year, they asked me to come back, thankfully.
Are you glad to participate at this type of festival?
Yeah! All the things that I'm involved with whether it's fashion, branding, consultation or retail, it all had its roots in art. The actual creation process that artists go through is sort of the DNA to go through for all this other fluffy shit that we do today; I make clothes, I sell 'em and people buy them, or I make a store and people walk in and shop. All that wouldn't be possible if it wasn't for artists doing art, first and foremost, and it spins off into musicians making music, fashion designers making clothes, stores and retailers making store environments… all of that has been from artists making art. So I always take the opportunity to attach myself to the artist. I'm involved in so many businesses that I've forced myself to bring it back down to where it started from. I'm always connecting the grass roots with the CEOs. If you've just lived your whole life in a board room, even if it's based off creativity, you become like that guy that just forgets why you did it in the first place. Art Basel, Vivid in Sydney and Pow! Wow! — those are things that I trust, and I like to get my fingers back into it and associate myself in any way. You look at something like Miami Art Basel and how that started as such a cool thing and now it's essentially a fuckin' trade show for corporations, right? I feel like Pow! Wow! is like the early stages of that — back to where it started from.
Is it necessary to go back to those roots for the sake of creative integrity?
For me, yeah. You look at somebody on a forklift on a wall here and you're like, that person's not getting paid to do that — sweating all day, dying in an inferno — and two weeks from now, that whole thing's gonna be gone… and why? From a business standpoint and return on investment, why the fuck is he doing that? For the love, that's why. And you kinda think, "Oh yeah, that's why I started this, too."
How did you come up with the 1-2-1 Talks?
That came up about seven years ago, and we've done over 50 of them at this point. The concept actually started with my blog back in the day which was called "To Darrin Hudson." Whenever I would sit down with other contemporaries of design, art, sneaker culture, or whatever, I would take a picture and write a little thing about it. And the comments I would get were like "man, I wish I could be a fly in that room that you were just in just to overhear what the two of you were saying!" I always thought that whenever a traditional journalist interviewed somebody, there's this immediate façade that comes up. Like I'm being interviewed, you're interviewing me, and we have to put our hats on. But when two creatives just shoot the shit at a café, those are the juicy bits that you really want — real deal shit. I wanted to create a one-to-one interaction where it's just two people shooting the shit. I remember my first ones were with Bobbito Garcia, Marc Ecko, Futura, Jose Parla, and Scott Campbell, and it took off. People loved it. So I just wanted to give outsiders that inside perspective.
Do you have more of a personal connection to street art specifically?
Yes. One hundred percent. I almost have a chip on my shoulder against traditional art. I hate going to museums and galleries and opening nights. Just today I went to go see the Picasso sculptures at the MoMA, and I just don't like that distance, that guarded hierarchy or elitism. You wait, you pay, you don't walk past this line, no pictures allowed, security guards all around… I hate that shit. Street art in its roots is like taking it out of the castle and bringing it into the public for anyone to enjoy. That's why I really love artists like JR who really take it to the extreme level, where he's bringing art into communities that forget art and graffiti. They don't even have running water and he's putting art into communities. That's why I feel more aligned with street art than traditional art.
Tell us about your first conversation with Jasper Wong about joining Pow! Wow!
They casually asked me in an e-mail and I was flabbergasted. Even coming on this second time, I feel honored and blessed. I feel honored because I don't consider myself an artist by any means, but what these people do is so un-replicable. It's just so raw. I was talking to Hueman about how she does a wall, and there's no pre-planning involved. Because I'm more of a designer and I'm more of a business person, I have to know five steps ahead of what I'm gonna do. She's like in the middle of doing it, and she doesn't know what she's gonna do in the next minute! She finds that when she pre-plans, it gets worse, so she needs the chaos in order for it to be good. That's fucking amazing! That's pure talent. So as a non-artist but a creative, and with the platform and voice that I have, the least I can do is expose a little bit of that raw energy to younger people who are trying to figure out their way in the world. All I can do is offer a voice.
How do you pick the artists you end up talking with?
Me and Jasper go through that list together collaboratively. Obviously Jasper wants me to be a fan of that artist, but art is subjective, right? From a list you'll be able to rank your favorite to your least favorite. It doesn't mean this guy is less talented, but that subjectively I'm not into his art, which would not make a good 1-2-1 Live. The 1-2-1s on video are a full-on production. It looks all natural and impromptu but in reality there are camera guys, audio guys, microphone guys, retakes and edits. The whole thing is made to look natural but it's definitely not. Compared to that, the 1-2-1 Lives are different, like a performer on stage, and you have to be cognizant of the 100 people that are there. My goal is to have everyone be totally engaged in us. So you have to have that broadway-like performance of there's just one take to get this right.
On the other side, because Jasper has personal relationships with the other artists, Jasper will come back and be like, "that artist will be petrified like a deer in headlights on stage and will not be able to speak at all." There were a couple artists that I wanted to speak to and Jasper was like, "they will have a heart attack on stage with you." So it's a little process of elimination.
Do you intentionally divide your 1-2-1 Talks for those in different sectors of design, art, and other topics?
Yes, it is strategic. I feel bad about saying that but I think of it like making mixtapes as a kid back in the day. When you make a mixtape for a DJ or a club, you want to put the songs that you really want to hear, but then you also want songs that the audience will want to dance to. For every Christina Paik, I'm gonna do a Bobby Shmurda. For every Common, I do a YG. You gotta balance it out, and I think that's what makes 1-2-1 so good. A guy who only listens to trap music and lives in Atlanta is now watching a 1-2-1 with Christina Paik, or some Parisian fashion designer is listening to Bobby Shmurda and being like, "oh, he's actually got something to say." I like that cross-pollination, and it's deliberate. Ironically, I don't want to be pigeon-holed. In all reality, I don't have just one interest. I will always keep it diverse, so I'd want to keep it me.
Does being a host on stage come naturally to you?
No. I used to be really, really stage fright. I'd be really, really petrified to give presentations. I got over it, but a lot of people suffer from stage fright and anxiety when they talk to a crowd. But if you're telling the truth and being completely honest, there's absolutely nothing to be scared of. When you want to look bigger or have more money or be more talented than you are, that's when you start adding layers of anxiety. If you just be 110% yourself, there should be nothing. Don't read the cue cards, don't read the screen, just be yourself. Don't even remember the script; have one bullet point that's one to three words. Use that as a launching pad, and then just do you. When I try to remember the lines, that's when I fuck up.
The only thing I have to be careful of is when I am too much of a fan of someone, and I have to pull back and not faint front of the camera. The only time I was guilty of that was when I did the 1-2-1 with Common. Common meant so much to me growing up, that the opportunity to do a 1-2-1 with him… I was drooling! Ha ha ha. When I started asking what the second verse on Resurrection, meant I was like, "like chill, Jeff." I had to tone it back a bit.
What are the other challenges of doing the 1-2-1 Lives?
Tech. The interaction could be awesome, but if the projector's not working, the mic's not working, the light's not right… that fucks it all up. I'm trying to give these artists a good time for their money and experience so all those little things have to be on point. Some of these venue organisers tell me that I'm next level OCD. But one time I saw Kanye at MSG for the YEEZUS Tour and I remember he stopped mid-dance to yell "THE FUCKIN' SPOTLIGHT'S SUPPOSED TO BE ON RIGHT NOW!" at the lighting guy, mid-song. People were calling him fucking crazy, but I knew what he felt like. He's trying to put on this whole thing and all you had to do was turn the light on at that moment, and you fucked it up! So now I know the only way to get it right is to have a checklist that I have to go through myself.
The other challenge is that you never know as a presenter what the interviewee will pull at the last second. They might be great in prep meetings, but then all of a sudden clam up or freak out. Be prepared for the interviewee freezing up. How do you get that person out of their deer-in-headlights moment and into a more comfortable, laughing environment? Or how do I make this stone-wall personality enjoyable to the audience?
What are your future plans for continuing the talks?
I like the way the 1-2-1s are going. We just did our first podcast with HYPEBEAST and Steve Sweatpants too. The 1-2-1 series can live under different platforms, like HYPEBEAST being one of them, and applying that same model to others. I don't want the 1-2-1 to turn into an event backed by sponsorships and stuff like that – I created it to get back to its art roots, so that would defeat the purpose. I'm also starting a podcast called 1-2-1-2 – the name goes back to the whole microphone thing – as a part of 1-2-1 and I'm really excited about it. We already have six episodes done, taped and edited. I'm excited. I have co-hosts, a streaming video platform, and a music component to it as well. I'm gonna launch it when I have 10 done so hopefully the first one will drop in a month.