Hiroshi Fujiwara on His Start in Streetwear and His Fascination with Food
"I really think pop culture died in the '90s."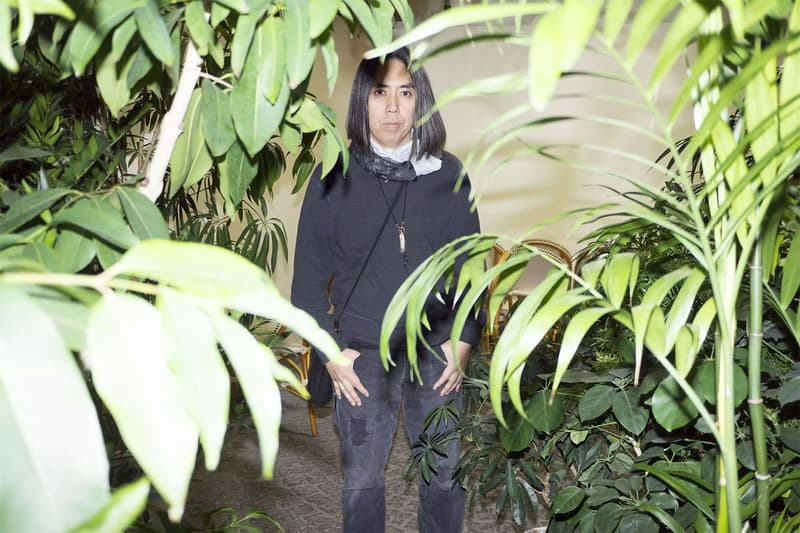 Hiroshi Fujiwara is amiably known as the "godfather of streetwear" in Japan. This moniker isn't lost on the man, who has influenced names such as NIGO and Jun Takahashi. Fujiwara himself has had a ton of endeavors shaking up the fashion and streetwear worlds — from fragment design, the POOL aoyama, Ring of Color and now THE PARK·ING GINZA. SSENSE catches up with Fujiwara and talks to him about his past, present and why he thinks "pop culture died in the '90s." Read the entire interview here.
Why did you start  THE PARK·ING GINZA?
I had a store called the POOL aoyama, in an old swimming pool. And we had to close. One night I was talking about it on my radio show and said, "I have one more thing I want to do, it's a motor pool." This guy from Sony was listening to my show, and he called me, and said he had a property I could use. And here we are. A store in a motor pool. This building is kind of moving out soon, next year, so we have a time limit issue. Well, everything is limited, anyway.

Up until now, apart from GOODENOUGH, you and fragment design have worked almost exclusively on collaborative projects. Why did you choose to work in that style? Because a lot of the people around you like NIGO or Jonio established companies and production…
I didn't want to take a risk, that's why. I decided not to do any production at all. I just go to UNDERCOVER or NEIGHBORHOOD, do some designs, and get percentages.

From the outside it seems you're much more invested in physical spaces and creating the brands for the stores. So, it's a lot of hardware as opposed to software, as opposed to ideas. Do you feel that's the case? Do you feel like you want to commit more to something?
Yeah, a little bit. If I travel to France or New York there are many good stores in old buildings. Like old pharmacies, cafés, banks are now sneaker shops. We don't really have that in Japan because we knock down buildings all the time, so the buildings are very new here. I was asking around for an old building we could use. Then Jun found the pool, so it was just perfect.

Why are you so interested in old Tokyo? Like an old apartment building with a pool, or this retro Sony building.
Not only old Tokyo. Like I said, if I travel anywhere in the world, I always felt it's really good to put something new into old things because we don't have that in Tokyo. Maybe foreigners like you think that in Tokyo you should do a modern space, like Masamichi Katayama creates. Do you think that is the Tokyo way?

What are you really into right now? Does that change constantly?
For the last three years I've been really into food. Food culture. Because that is what is new, and, as I said, a way to communicate across the world. I think food is one of the last analog things, because you have to travel. You have to go to the restaurant. You can't do this on the Internet. The information is not enough. I think that is most tempting thing. I was in Shanghai last week at restaurant, which had been there for four years, and it was my third time. And that was really inspiring. It's called Ultraviolet. The whole concept is crazy. No one knows where it is. You go to the meeting point and then you drive through. You go through a ghetto area. And there's a door, you have to open it. It's a dark room with disco music. Then the door opens and if you go through, there's a table of, like, 10 people. That's where the dinner starts. Basically, it's a white studio and a white table. It's all projection mapping. So, each dish, you have a different view, a different smell, a different temperature, even. Like, if the tuna steak comes, the whole view is Tsukiji Fish Market. It's like Disneyland. It's crazy. You should go.