Here's How Steve Nash Has Come to Terms With His Retirement
The NBA legend on working with Kevin Durant, the Sun's influence and carrying the Olympic torch with Wayne Gretzky.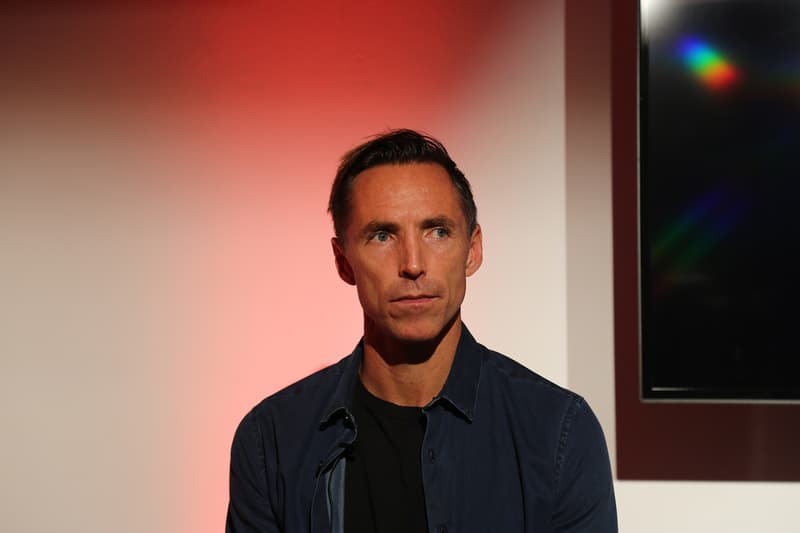 Steve Nash is an NBA legend. The two-time MVP earned his awards at a time when the league rarely awarded guards the trophy, a fact that made his back-to-back wins even more notable. In fact, since Nash last won in 2006, the only other point guards to take home the Maurice Podoloff Trophy were Derrick Rose and reigning champ, Stephen Curry.
We met Nash when he was in Shoreditch to celebrate "NBA Crossover" — an experimental exhibition aimed at showcasing the NBA's relevance in wider culture. There's a combined push by the NFL and NBA to expand their global reach in Europe, with both entities hosting games in London this season. The NBA's European push makes more sense than the NFL, as the NBA, at least to the casual observer, is more aesthetically pleasing and less of a stop-start game than the NFL, not to mention easier to pick up and play. Basketball has long been part of streetwear culture; after all, the Air Force 1 and Chuck Taylor were both originally basketball shoes. While American football tiptoes into wider cultural relevance from time to time but often remains an exclusive American endeavor apart from the Super Bowl.
When Nash retired last year, he did a host of candid interviews freely admitting that retiring was a difficult decision for him. Is he more accustomed to retirement now? "Yeah," Nash says. "I'm a lot more comfortable with my new life, so to speak – I'm transitioning away from my other life as a basketball player that I identified with and built my life around. It's a hard transition but I feel comfortable, balanced and happy now."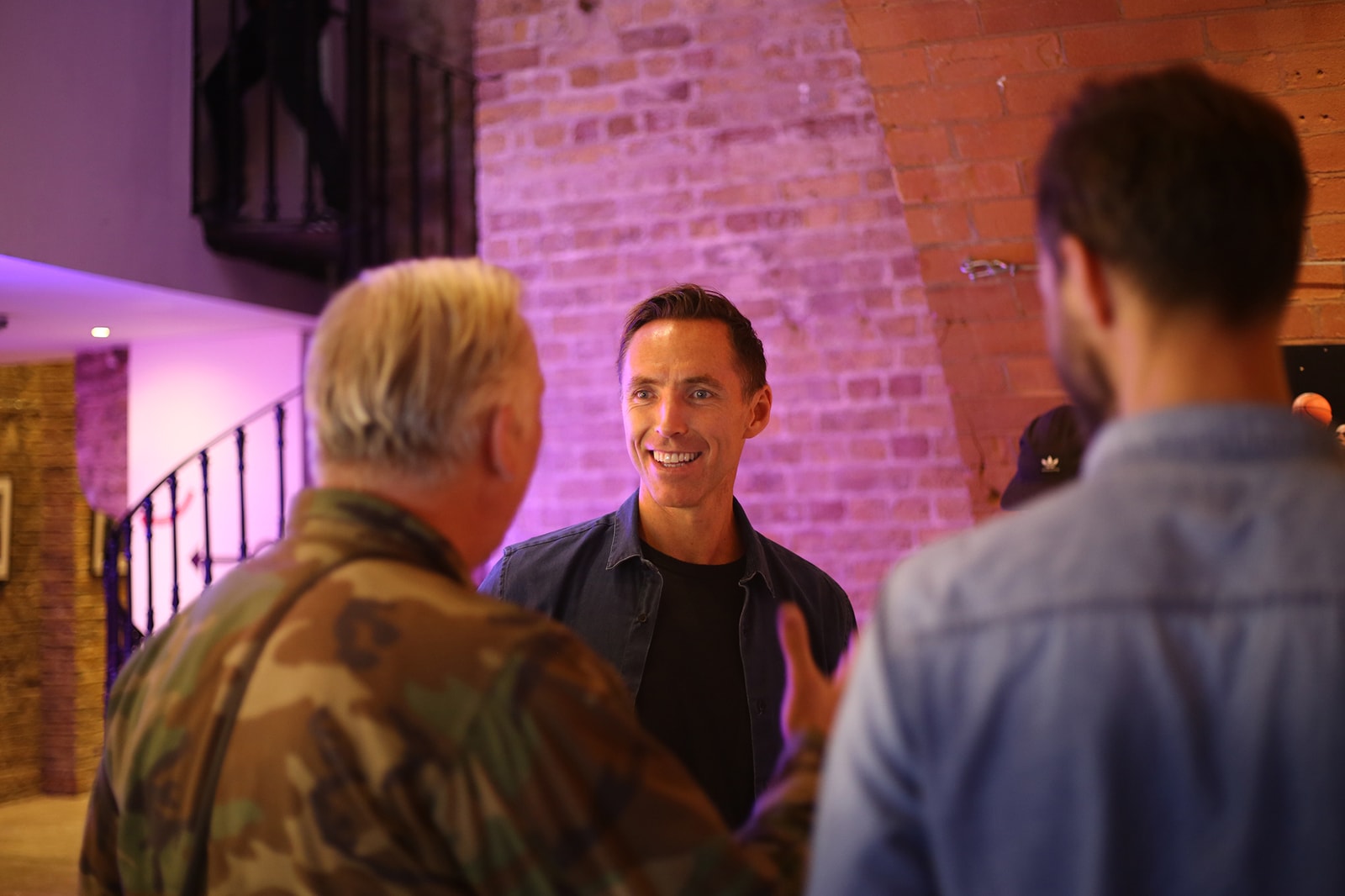 He has a new routine now. He's recently married and has three kids from his first marriage, who his life revolves around. "My wife is an incredible stepmom and we've built a really great home and family, so I'm up early with the kids, getting them ready for school, making them breakfast and lunches, then I go to the gym and take calls and meetings," says Nash. The calls and meetings would have something to do with his production company Meathawk, which he owns alongside his cousin Ezra Holland. They made their joint-directorial debut with 2010 film Into The Wind for ESPN's 30 for 30 franchise. Since then they've worked on projects for Nike, EA Sports, Vice and currently have a series on The Players' Tribune called Rookie/Vet, with the first series revolving around the careers of Devin Booker and Tyson Chandler. "It's about how two guys who do the same job are having two completely different experiences – one is stumbling through a new world and one is poetry in motion and economy in movement."
I'm transitioning away from my other life as a basketball player. [It's something] that I identified with and built my life around. It's a hard transition but I feel comfortable, balanced and happy now."
And then there's his co-ownership of Spain's football team, RCD Mallorca. Nash bought the club as part of a consortium that included Phoenix Suns owner Robert Sarver for a reported €20 million EUR (approximately $24 million USD). "It's an exciting project," Nash says. "It's a beautiful part of the world, it's a famous old club that has had some incredible moments in their history, but it's been, let's say, under-managed over the last decade. It's a project we see a big upside to and [there's] a lot of excitement around building a winner."
So, unsurprisingly, he's still into sport: "I love to play some sort of sport again throughout the day; if I can, I love to play beach volleyball, soccer or tennis once a week." But his children are the star of the show now. "I feel like my main jobs in life are part-uber driver, part taking my kids to practice, and part trying to get their grades up!"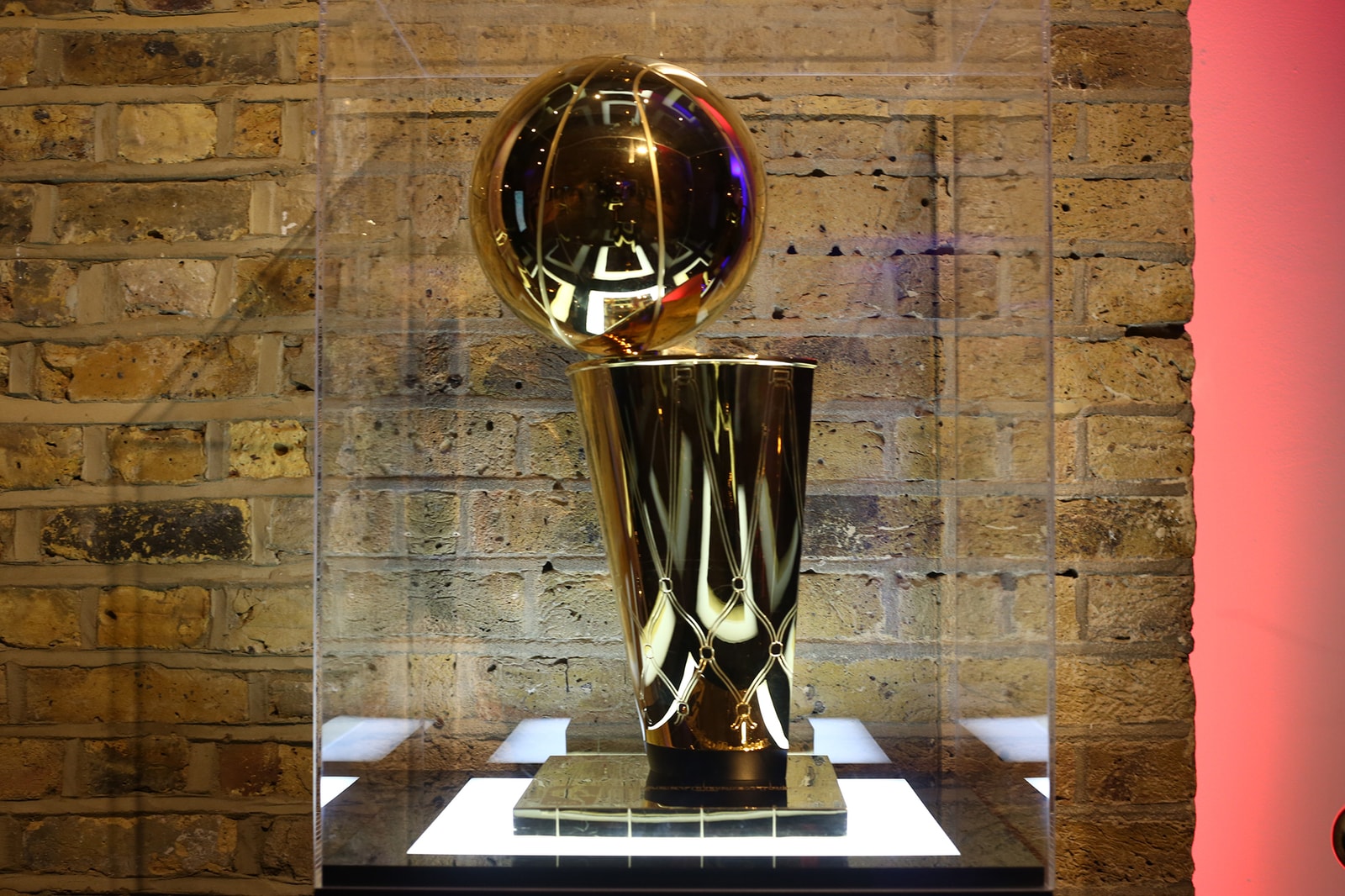 Would Nash consider leaving retirement for a potential hometown return? "You know what, I would love to be playing right now," he says. "The reality is my back has too many miles on it, I think I could still play, just not everyday. It's just not worth it to play one or two games and be out for 3-4 weeks. It's not fair to anyone. I tried everything to keep playing and I had to listen to my body." And speaking of hometown returns, how does he feel now that Canada is having such a moment culturally? "Toronto in particular [is having a moment] but Canada is definitely on the come up. With all the musical success, it's interesting that it coincides with Canada having the most non-American NBA players now – it's an exciting time to be a Canadian."
"I would love to be playing right now. The reality is my back has too many miles on it. It's just not worth it to play one or two games and be out for 3-4 weeks. It's not fair to anyone." – Steve Nash on returning to the NBA
Which led us onto another iconic Canadian moment, when Nash carried the Olympic torch with Wayne Gretzky. "That was amazing, a highlight of my life or career, so to speak. I can't believe that actually happened; I forget because it's so unrealistic, it's like a dream, I'm like 'oh yeah, I did do that!'"
Another well-publicized post-retirement role of Nash is his consulting with the Golden State Warriors. "It's great. Steve Kerr has given me total freedom and I kinda make my own schedule. I come up to Los Angeles once or twice a month and I'm basically there as a resource to consult on anything they want my eyes on. So far this year I've worked a lot with Kevin Durant, I've just tried to share my wisdom and my visions and thoughts on the game." Nash expanded further on his work with Durant, "We talk about things, whether it be the game or skills or his routine, and we work on different skills. We work on everything, his pick-and-rolls, his post-up, his isolations, taking angles, body positioning and all sorts of things."
A number of basketball observers have noticed the similarities between GSW and Nash-Era Phoenix Suns. Now that the Golden State Warriors have implemented elements of the system that Phoenix Suns were criticized for, does Nash feel vindicated? "I don't feel vindicated, I'm not that type of person. I wasn't bothered at the time. I think we were maybe wrongly criticized for our offensive strengths and probably rightly criticized for our lack of defense." But he is excited that the way the Suns played has influenced the league as a whole. "I'm happy to see the game go that way because I think it's a beautiful way to play, you have a lot of freedom and creativity offensively and you get to see great players shine."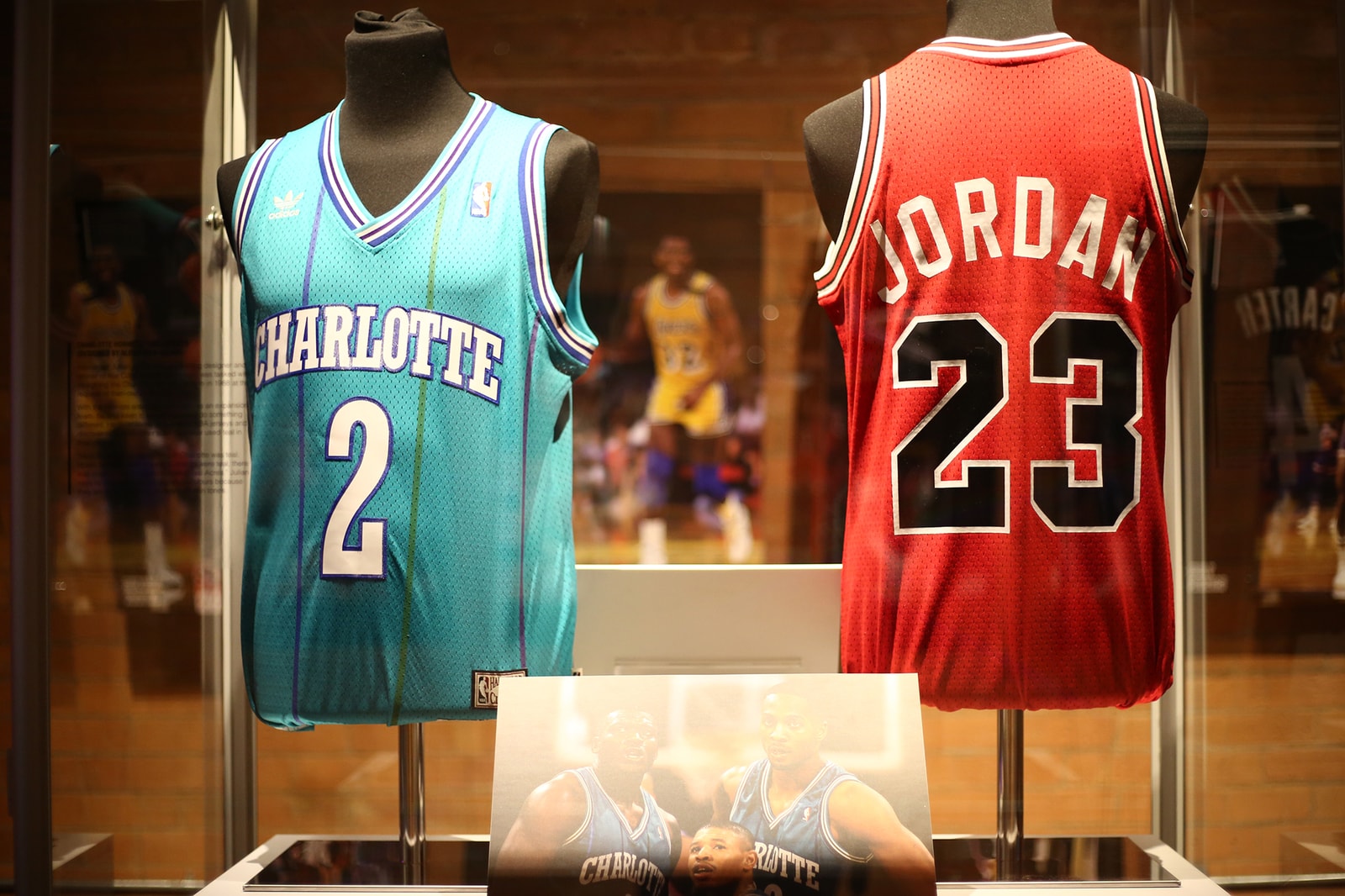 Aside from the Suns' style of play influencing the league now, there's also been mentionings of similarities between Nash and Curry, with Nash saying in an interview with Mercury News that "I think you'd be hard pressed to find a player more skilled than him in the history of the game." So, is there anyone else in the league at the moment that he sees himself in? "I don't know if there's anyone else right now that I see similarities with. You can make similarities with anyone but, at the same time, there's no one that I feel like I play like. Steph is perhaps moving farther away from the similarities between us, but there are definitely things, especially thus far in his career, that I say 'wow I do see some connection between our games.'"
Speaking of Nash's influence, much was made of Nash's soccer experience and how that helped his footwork in basketball. When asked if he would like to see other players pick that up, he responded "that'd be great, there is something to that. Footwork is the start of all sports, except maybe swimming (laughs) and there's a lot you can learn from soccer because, obviously, it's a game where you use your feet. But there would have to be some strategy behind it too. I think you could really develop something there."
So, to answer our original question: Nash is handling retirement well. With a content production company, football team ownership and events such as NBA Crossover on his schedule, he's keeping busy. But he's still family first, "For me, I love being a dad, I want to see my kids thrive and live happy lives."