Watch These Sports Teams Take on the #MannequinChallenge
Including the New York Giants & Germany's Borussia Dortmund.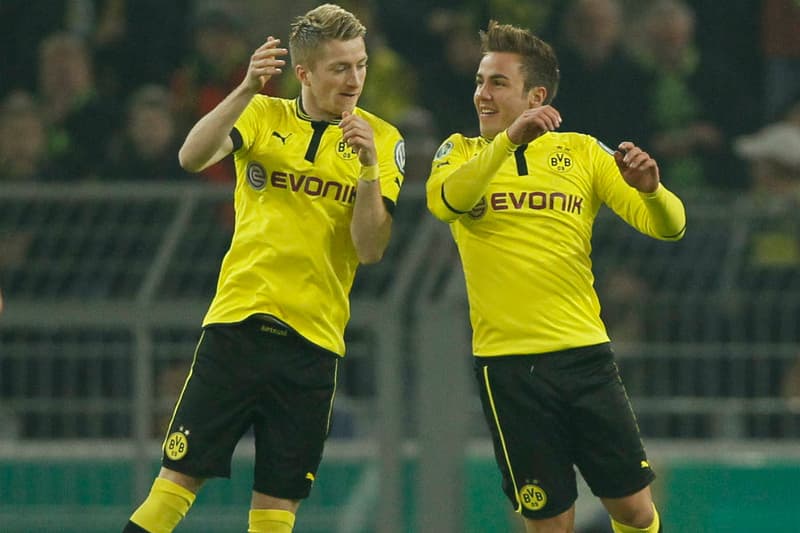 Looks like the latest viral trend to hit is the so called #MannequinChallenge. Taking over all aspects of life, it was only in due time that the challenge would make its way into the sports world. Just this week alone a number of videos showcasing NFL teams such as the Dallas Cowboys, the New York Giants, and the Pittsburgh Steelers – with their star wideout Antonio Brown showing off his frozen skills – have hit the web. The craze has even infected the Kentucky Wildcats' Rupp Arena and the "other" football teams. Mario Götze posted a video as well, of him and his Borussia Dortmund teammates taking on the challenge, with a rare sighting of Marco Reus included. Take a look at the videos below.
That 7-1 feeling #mannequinchallenge pic.twitter.com/mJeoKlANYS

— Dallas Cowboys (@dallascowboys) November 6, 2016
The #MannequinChallenge reached the @Giants today… pic.twitter.com/52MGo2gd0n

— Rachel Nichols (@Rachel__Nichols) November 7, 2016
@steelers #mannequinchallege pic.twitter.com/Y3uk2Lk0oh

— Antonio Brown (@AntonioBrown) November 4, 2016
#MannequinChallenge in a packed Rupp Arena? You bet. pic.twitter.com/dwWufwI8xm

— KYwildcatsTV (@KYwildcatsTV) November 7, 2016
PENN STATE FOOTBALL MANNEQUIN CHALLENGE #IowaBeat pic.twitter.com/DIq5UewJ4u

— ♛ Amani Oruwariye ♛ (@ooFUTURISTICoo) November 6, 2016
"They lose it when the DJ drops the needle…"#mannequinchallenge ???????? pic.twitter.com/qPP2zldota

— Clemson Football (@ClemsonFB) November 6, 2016
#MannequinChallenge Jr Blues Edition pic.twitter.com/mrsJLbdTil

— daniel dunaway (@_DanielDunaway) November 5, 2016
Michigan Football takes on the Mannequin Challenge. ????〽️#GoBlue #MannequinChallenge pic.twitter.com/jtU29lKI7S

— Michigan Football (@UMichFootball) November 4, 2016
Borussia Dortmund players doing the #MannequinChallenge. ???????? pic.twitter.com/6c1wHbvjav

— Footy Jokes Videos (@Footy_Jokes02) November 7, 2016
#MannequinChallenge pic.twitter.com/4soCBlv5Rk

— Sacramento Kings (@SacramentoKings) November 5, 2016
#MannequinChallenge pic.twitter.com/Hw8BkWJsqj

— Milwaukee Bucks (@Bucks) November 6, 2016
Only one way to celebrate a road win in Waco: #MannequinChallenge pic.twitter.com/elsxEbQhmz

— TCU Football (@TCUFootball) November 6, 2016
Here we go! #mannequinchallenge #KUCMB pic.twitter.com/tm48PbvZRx

— Sviat Mykhailiuk (@Sviat_10) November 7, 2016