World Cup Record-Breaker Miroslav Klose Announces His Retirement From Football
Set to join Germany's coaching staff.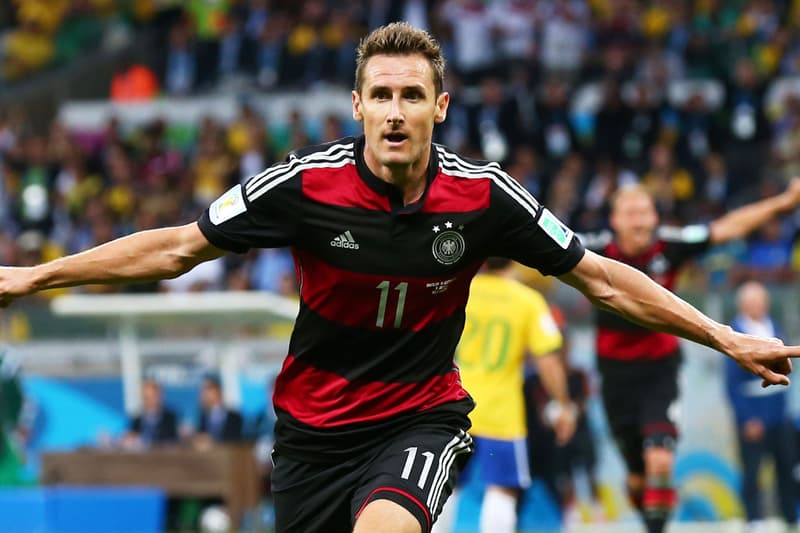 Miroslav Klose might not be the biggest name in the game — especially when compared to the likes of Cristiano Ronaldo, Paul Pogba and Lionel Messi — however, he will definitely go down as one of the greatest. At the age of 38, way past the prime of most football players, the German Giant has decided to end his playing career and instead turn to another ambition of his in coaching. As Klose studies for his pro license, he plans to join Joachim Low's coaching staff with the German National Team, the DFB have confirmed.
Klose retired from the national level shortly after Die Mannschaft became the World Cup Champions in 2014, and what a tournament it was for Klose. Having tied Ronaldo's (the OG Brazilian Ronaldo) FIFA World Cup Goalscorer record of 15 during a group stage match against Ghana, Klose then went on to beat Ronaldo's record when he scored his 16th World Cup goal during the devastating 7-1 semifinal win against Ronaldo's home country of Brazil. The record-breaking striker is also Germany's current all-time leader in goals with 71 in 137 appearances, beating Gerd Muller's record of 68. Germany's all-time leader in goals? Check. FIFA's World Cup Goals record holder? Check. And as a side note, Germany has never lost a game in which Klose has scored.
Miroslav states:
"I celebrated my greatest successes in the national team and this was a wonderful time which remains unforgettable. That is why I'm delighted to return to the DFB. In the past few months, I have thought a lot about continuing my playing career, but also about looking at new avenues, namely becoming a coach."