The Stupid Serious: Madsaki Sits Down With 'Juxtapoz'
"What happens when the student takes on many masters?"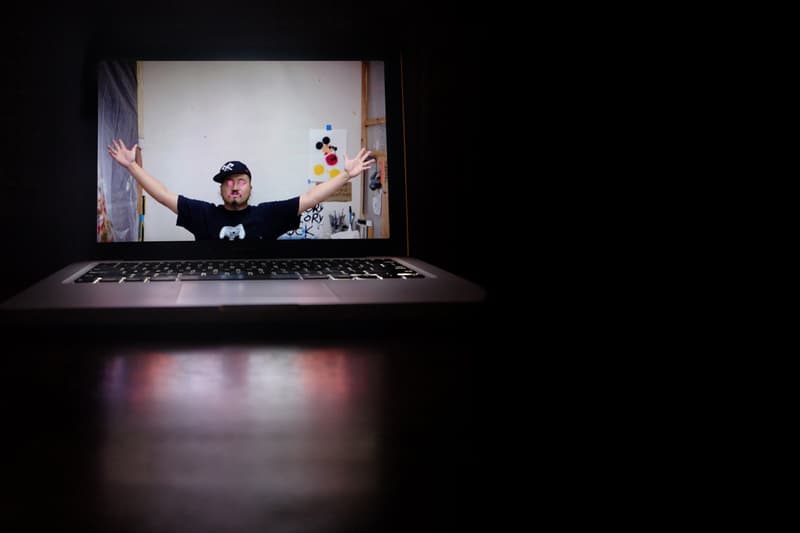 "What happens when the student takes on many masters?"
That's long been the question behind much of Japanese artist Madsaki's work. Over the years, the 42-year-old Osaka native has taken on everyone from Picasso to Takashi Murakami, offering up his own vandalistic takes on the artists' most iconic works as a "modern take on modernism." As Juxtapoz's Joey Garfield notes, "in a time when the unofficial remix version of a song can outshine the original, the same can hold true in the world of fine art."
Garfield recently sat down with Madsaki to get some insights from the man himself, covering everything from his impressive "impression of impressionism," how he got his start, his stylistic transitions over the years and much more. While a brief excerpt of the interview appears below, you can head on over to Juxtapoz's website to read the piece — which also appears in the publication's December 2016 issue — in its entirety.
They say imitation is the best form of flattery, but what the fuck are you doing?
[Laughs] I guess this is who I am. You know me. I do stupid things with seriousness. I love and respect art but at the same time, I like fucking shit up. You know when you're wasted or high, you come up with stupid funny ideas but the next day, you wake up, and you're like "Nahhh." But me, I just do it. I get a kick out of it. I guess I don't care what people say or think. If I'm having fun, it's good. That's what matters.

Word. So, you were born in Japan and live there now, but where did you grow up?
I went to the States in August of 1980. I was six. On the way home from JFK, I remember seeing cars and tires burning on the Van Wyck Expressway and the subway trains colorfully bombed with graffiti. But as soon as we crossed the George Washington Bridge into New Jersey, the landscape changed. My first impression was, "Wow, the trees are big and they're all over the place!" I lived in Ridgefield Park and then Leonia, New Jersey.

Did you like it or hate it there?
It was confusing. Everyone had yellow or golden hair and looked the same. I was Japanese, and at that time, there were almost no Asians living there. I thought I could ride my bike back to Japan. My dad brought our radio from Japan and I turned it on, thinking it would still speak Japanese [laughs]. You know, Leonia was a typical white, middle-class suburb. When I was living in Ridgefield Park, I got rocks thrown at me almost every day walking around in the neighborhood. Those people would call me "Pearl Harbor." I spoke no English at that time, so I thought it was my American name or something. But one day, I was getting rocks thrown at me and some kids in my class saw. They came over to me and taught me this magic word called "Fuck you." My life literally changed after that. But even though I was Japanese, I grew up doing the same things as what everyone did back in the day: riding BMX bikes, playing football, watching MTV and soft porn on Cinemax. By the time I was ten years old, I was headbanging to Metallica and talking like Eddie Murphy. I'm basically white on the inside.

Like a Twinkie.
Yeah that's me [laughs].

What gravitated you towards art?
I spoke no English. The only way to communicate was through drawing. I think that's one of the reasons that got me doing art. I drew something, and kids would teach me the English words that went with my drawing, and I ended up walking around the entire school showing my drawings all day because sitting in class was meaningless. There was no such thing as ESL back then, and I was the only foreigner in school. So the school had to ask some student to voluntarily teach me English for an hour every day. I loved it because this sexy blond girl with a comb brush in her back jeans pocket would teach me. I would draw something and then write the words for it. Every time I got it right, she would kiss me on my cheek. It was inspiring. By high school, I was fluent, but shit just changed. I was, like, "Get me out of this place!" I was tripping on acid every day and smoking weed.

Every day?
Yeah. Every day. You have to understand my town was full of Guidos… it was hopeless. The boring New Jersey life inspired me to do drugs. The drugs inspired me to do art. Senior year of high school, my parents were like, "Now you have to go back to Japan and begin working on a salary track," and I was like, "Nuh uh. I need to go to art school."

Is that where you learned about all these masters of the classic arts?
Yeah. I know all the classics. I had to take four years of art history at Parsons. I got traumatized in art school.

Really? How?
I can't paint. I'm a lousy painter. I never was able to control the brushes like everyone else. It was a pain in the ass.