Jackie Chan's Most Iconic Martial Arts Movies in His Prime
From 'Drunken Master' to 'Rush Hour,' which one is your favorite?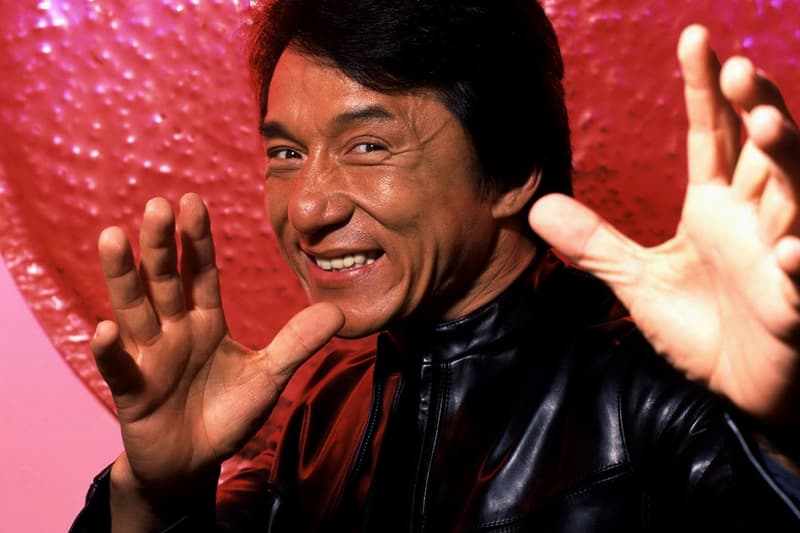 Somewhere in the world, Jackie Chan is probably fracturing a limb or two as we speak and he's all smiles about it. The illustrious movie star finally nabbed his first Oscar statuette this past Saturday in Los Angeles, California. The award is a much-deserved one with the Hong Kong native having starred in over 200 films in the past 56 years. Without a shadow of a doubt, Chan is one of the best martial artists to have ever hit the big screen. At 62, Chan continues to stun with intricate fight scenes and ridiculous choreography. He tirelessly risks his own life over and over again to astonish, amuse and bewilder moviegoers from across the globe, as he's one of the very few actors in Hollywood who consistently does his own stunts movie after movie. "I continue to make movies, jumping through windows, kicking and punching, breaking my bones," said Chan during Oscar Awards speech. It's safe to say that the Legend of the Drunken Master will never fade.
To commemorate the ongoing legacy of Jackie, we rounded up some of his most iconic martial arts movies. From his breakout film Drunken Master to Police Story that involved one of his most painful stunts, read on to see if your favorite Jackie Chan movie made the list.
Rush Hour 1998
Rush Hour is undeniably one of the most popular Jackie Chan movies out there and is also one of the actor's highest grossing films to date ($200 million USD globally). Chan alongside American actor and stand-up Chris Tucker star in the action comedy that pits two dissimilar cops against a horde of gangsters as they attempt to save the Chinese Consul's kidnapped daughter. As a result of the movie's box office success, two popular sequels followed. Not to mention, who can forget detective Carter's most infamous line to Chief Inspector Lee: "Do you understand the words that are coming out of my mouth???"
Who Am I? 1998
Remember when Jackie played a secret agent who lost his memory? Or, perhaps, remember that popular video where the actor stands on a hilltop and yells "WHO AM I???" long before Internet memes existed? This is it. The film is fronted by a character aptly named Whoami who is chased by a pack of revenge-seeking assassins after him for past wrongdoings. As a whole, the movie features a slew of vertigo-inducing sequences conjured by the man himself alongside many hilarious moments of course.
Mr. Nice Guy 1997
Chan helms the role of a famous television chef who saves an investigative reporter from a pair of rival gangs. Prior to the rescue, the journalist played by actress Miki Lee was capturing footage that she obviously shouldn't or at least could've been more elusive in recording. The two gangs decide to form a pack and find the busybody cook who intervened on their own personal dispute. Speaking of intervention, the film's most iconic sequence definitely goes to the mall scene where the throng of gangsters interrupt the chef engaging in a live presentation. The second one goes to the moment when Jackie fights a handful of bad guys on a moving horse drawn carriage through the streets of Perth, Australia.
Rumble in The Bronx 1995
Rumble in The Bronx is the one film that made waves throughout American movie theaters. From the west- to the east-coast, audiences were amazed by Jackie Chan's lightning fast martial arts moves and witty choreography inherent in the New York-based motion picture. The plot spotlights a young Jackie who tries to defend his uncle's shop from a bunch of street hooligans. Undoubtedly, there is little breathing room for the immense number of action sequences in the movie, or the devastating "batter up!" bottle torture scene early on in the film. Although a slew of critics may say that the movie is eerily similar to Bruce Lee's Way of the Dragon, it's definitely a must-see for every martial arts fan.
Thunderbolt 1995
There's no denying that a ton if not all of Jackie Chan's movies are chock-full of jokes and action. However, only avid fans will recognize the incredible amount of Mitsubishi cars in his films. What's the deal? Apparently, Jackie signed an agreement back in the '70s with the Japanese automaker which stated that all of his films would only feature the company's cars. Since then, Mitsubishi has been relentlessly providing vehicles for his upcoming films. It's especially evident in Jackie's 1995 film Thunderbolt. Behind the wheel of a powerful EVO III and later a race-prepped GTO (or a 3000GT here in the States), Jackie plays a mechanic who races his way to find his kidnapped sister from a bunch of intention-less bad guys.
Kung fu, crime-fighting and fast cars. What more could you ask for?
The Legend of Drunken Master 1994
This sequel to the 1978 motion picture simply titled Drunken Master definitely doesn't disappoint. It's touted as Chan's last film to portray an early 1900s world filled with traditional kung fu moves and garments. Wong Fei-hung returns as the boozy martial artist who fights another group of foreign troublemakers attempting to rob a gamut of precious Chinese artifacts — all the while trying to level with his dictatorial father, Master Wong. Not to mention, the finale is indeed a most memorable one, where the true power of drunken boxing is unlocked through industrial strength alcohol.
Dragons Forever 1988
Aside from his onscreen guise as a goofy ass-kicker, Jackie is recognized as being one of the Three Dragons in the world of martial arts films—hence, the movie's moniker. The other two are acclaimed martial artists/movie stars Sammo Hung and Yuen Biao who were also stuntmen in various Bruce Lee films. In this motion picture, the trio are seen leading a very untamed life. They constantly flirt with chicks, bargain with gangsters and as always, get chased by a plethora of enraged dudes who want them dead. There is perhaps more perfectly-timed stunts and maneuvers in this movie than any other Jackie Chan film, so it definitely deserves the attention of anyone getting to Jackie's films.
Armour of God 1986
Jackie Chan goes full out Indiana Jones in this film. Playing the protagonist named Asian Hawk, Jackie alongside his companions Alan and May attempt to steal treasure from a group of bizarre monks who are protecting the coveted, Armour of God. The film garnered much success and spawned two sequels, Operation Condor and Chinese Zodiac. Expect a flurry of cat-and-mouse chases as well as dangerous stunts, but what makes Armour of God most memorable is the near death accident he endured — due to a weak tree branch, Jackie fell five meters onto a rock, head first. The fall was so severe that a piece of his skull fractured and entered his brain, causing him to thus bleed from his eyes and ears. To this day there's a permanent plug in his skull, and subsequent loss of hearing in his right ear as a result of the horrific mishap.
Police Story 1985
In this film, Jackie takes on the role of a police officer named Chan Ka-Kui who goes well out of his way to protect a young girl from a group of ruthless convicts. The criminals work for an immense, formidable organization and as expected, Chan has to fight his way through all of them. He then gets framed and must seek out the sinister leader to redeem his innocence. All in all, the film culls a bevy of jaw-dropping sequences especially a scene where Chan is hanging onto a bus with just an umbrella. Not to mention, one of Jackie's most horrifying stunts where he slides down a multiple-story tall pole wrapped with live-electric bulbs. The circuitry got so hot that they gave Jackie numerous second degree burns.
Wheels On Meals 1984
The aforementioned Three Dragons star in this movie, playing a trio of humble guys who manage a food truck. They join forces with a detective to save a young girl, albeit thief, named Sylvia. A band of criminals come to notice Chan, Hung and Biao's involvement with the police so, once again, the trio are chased by a seemingly endless horde of thugs as they try to regain Sylvia back in their camp. The movie is filled with remarkable stunts and viewers are also treated to an awesome fight scene, pitting Jackie against notorious kickboxer Benny "The Jet" Urquidez.
Drunken Master 1978
This list would be totally incomplete without Jackie Chan's original Drunken Master film from 1978. Chan plays Wong Fei-hung, characterized as a young boxer in 19th century Hong Kong who gets ridiculously hammered in order to engage in some serious ass-kicking action — especially if he wants to defeat his main adversary, Thunderleg. The film predominantly takes on the comedy/action genre with a sort of coming-to-age ambience, since the rebel-minded protagonist has to relentlessly deal with his tyrannical father/teacher, Master Wong. It's certainly a theme that inspired many American kung fu films, such as The Karate Kid. If you've never watched Drunken Master, you're definitely not a Jackie Chan stan.