Check in to the Hotels Seen in Your Favorite Rap Music Videos
Kick back like Kanye and Beyonce on your next vacation.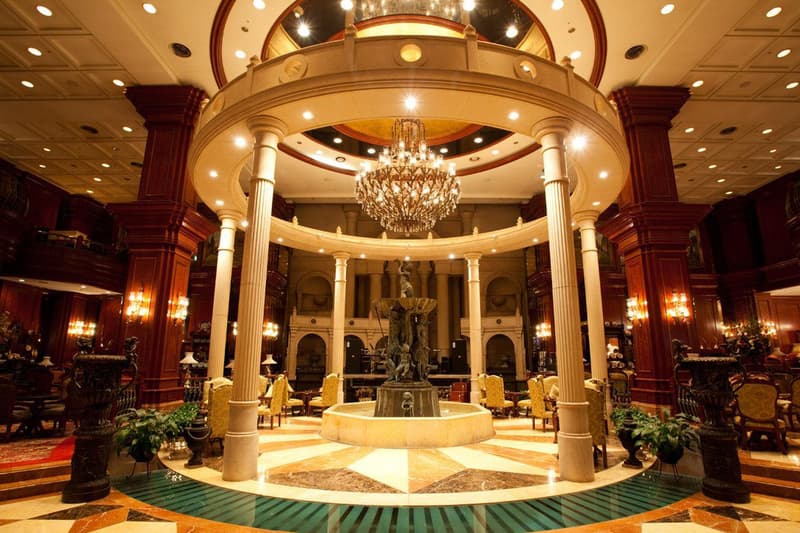 Many famous hotels have long been mentioned in rap lyrics. From Jay Z and Kanye West mentioning Hôtel de Paris and Mercer Hotel, to Kendrick Lamar giving a shout out to the Las Vegas Palms Casino Resort, all are artistically content with name-dropping them into songs. From some of the earliest mentions such as The Sugarhill Gang's 1980's hit "Rapper's Delight," with the often-repeated "Ho-tel, mo-tel, Holiday Inn," both upscale and low scale hotels have been a reoccurring theme in hip-hop. Not only that, due to their chic designs, luxe interiors and stunning amenities, hotels are often chosen as the set locations for music videos (think Fatboy Slim's "Weapon Of Choice"), and for the artists to get down and party in general. The following videos, from Keith Ape's "잊지마 (It G Ma)" to Beyoncé's "7/11," all feature recognizable hotels so you can live like they do… or at least see what it feels like to be them for one night. So get planning and book your next holiday at one of these rapper-approved hotels today.
OG Maco – "U Guessed It" – Renaissance Hotel, Washington, DC
Filmed back in August of 2014, the music video for "U Guessed It" showcases a tight and tense visual experience. With twitch editing and psychedelic feels, Maco's rapping and post-show hotel freak-out turns into something eerie and foreboding. The video also includes a slight recap of OG Maco's performance at Trillectro. Shot at the Renaissance Hotel in Washington, you'll be close to all the specilties the city has to offer. Following the succes of the video, OG went on to accuse both Beyoncé and Keith Ape for copying his hotel video concept. Both artists' videos also made the list, so we'll let you be the judge of that.
Address
999 9th St NW
Washington, DC 20001
USA
Rates
Rooms run from approximately $362 USD a night for a Standard Room up to approximately $500 USD for a One-Bedroom Executive Suite.
Keith Ape featuring JayAllDay, Loota, Okasian & Kohh – "잊지마 (It G Ma)" – Imperial Palace Boutique Hotel, South Korea
The enigmatic Korean rapper Keith Ape made his breakout into the scene thanks to his single "잊지마 (It G Ma)." Decked out in BAPE, Keith Ape and crew take us on a graphic visual experience while chilling in hallways and a suite over at the Imperial Palace Boutique Hotel, South Korea, located in Seoul's very Americanized Itaewon area. Gather your friends for a trip out East where you can drink Korean staples such as Cass and makgeolli while enjoying all that Seoul has to offer.
Address
737-32, Hannam-dong
Yongsan-gu, Seoul
South Korea
Rates
Superior Room ₩220,000 KRW (approximately $191 USD)
Deluxe Room ₩235,000 KRW (approximately $204 USD)
Suite Room ₩375,000 KRW (approximately $326 USD)
Beyoncé – "7/11" – Beverly Wilshire Hotel, Los Angeles
Mrs. Carter released the music video to "7/11" in 2014 which was shot at the Beverly Wilshire Hotel located in Los Angeles. In the MV, Beyoncé and Co. can be seen dancing and jammin' throughout the suite, the balcony and in the hallways. The luxury hotel houses a Wolfgang Puck restaurant, spa, fitness center, and basically all the amenities one can expect from a Four Seasons hotel.
Address
9500 Wilshire Boulevard
Beverly Hills
California 90212
USA
Rates
Spend the night there for $695 USD in a Standard room to $1,595 USD for a One-Bedroom Suite. If you want to ball out in Queen Bey style, then the 5,000 sq.ft tree-bedroom/three-bathroom Penthouse Suite sounds right up your ally. For pricing, you'll need to call the hotel. But if you have to ask how much, you probably can't afford it.
Consequence ft. Kanye West, John Legend – "Whatever U Want" – Fontainebleau Resort, Miami Beach
Before Kanye was putting out coveted shoes and his signature YEEZY line, Mr. West was out shooting videos with Consequence and John Legend. Shot back in 2009 at Miami Beach's Fontainebleau Resort, the video showcases the trio hanging out with bikini-clad beauties while they romp around the property. You too can spend New Year's Eve here with Justin Bieber and nine of your friends for $500,000 USD.
Address
4441 Collins Ave
Miami Beach, FL 33140
USA
Rates
Depending on the season of course, the cost can run you $199 USD (plus tax) for a Standard Room to approximatley $870 USD (plus tax) for a One-Bedroom Suite.
Lionel Richie featuring Akon – "Just Go" – SLS Hotel, Los Angeles
Back in 2009, the American singer, songwriter, actor Lionel Richie teamed up with Akon to release "Just Go." The music video for the single was filmed at the SLS Hotel located in Beverly Hills, where Richie showcases the chic rooftop pool. The Philippe Starck-designed SLS Hotel houses sleek and luxurious rooms, an enormous gym, and restaurants by Spanish chef Jose Andres.
Address
465 La Cienega Blvd
Los Angeles, CA 90048
USA
Rates
A room here will run you approximately $100 USD a night upwards to $550 USD. For the higher end 1,267 sq. ft. suites, you'll need to call for pricing.
Pitbull – "Hotel Room Service" – Epic Hotel, Miami
Released back in August of 2009, rapper Pitbull can be seen having a private party with models Elizabeth Mendez, Cassie Codi, Lisa Morales, Anya Gonzalez, and Kimbella Vanderhee in the luxurious Epic Hotel located in Miami. Situated among a collection of high-end boutique hotels, the Epic Hotel is the epicenter of an extravagant experience. Now you can spend the night in paradise just like Pitbull does. However, all the models are not included. But if you're lucky, you might just get one.
Address
270 Biscayne Blvd Way
Miami, FL 33131
USA
Rates
It will cost you $269 USD for a Water View King Premier Room up to $5,000 USD for a night in the Presidential Suite.
Lil Wayne – "Da Da Da" – Marlin Hotel, Miami
With a real time feel, Lil Wayne's "Da Da Da" video showcases the hip-hop artist riding in a Mayback to the Marlin Hotel located in Miami Beach's Art Deco District. The video then cuts to Wayne performing on the rooftop of the hotel on a stage where ¡Mayday! backs him up. Only housing 15 sleek rooms, this is the spot to vacation if you're looking for a little privacy while staying in the heat of the city. And when you get a chance, make sure to head up to the roptop where you can recreate the music video yourself.
Address
1200 Collins Ave
Miami Beach, FL 33139
USA
Rates
With only 15 rooms, a Queen Studio will cost you approximately $139 USD a night or upgrade to a Deluxe King Suite for approximately $269 USD a night.
Notable mentions
Chingy Featuring Ludacris And Snoop Dogg – "Holidae In" – The Ambassador Hotel, Los Angeles
What this video comes down to is three dudes hanging out at the Ambassador Hotel having fun with good looking women. Although the Ambassador Hotel has been closed down for years, it was once a popular Los Angeles hangout. Everyone from Frank Sinatra to Sammy Davis Jr. could be seen at this hot spot. Unfortunately, this hotel is also known for where Robert F. Kennedy got shot. The Ambassador Hotel was located in Los Angeles, California, and the spot of the world famous Cocoanut Grove nightclub until it was demolished in 2005.
Address
3400 Wilshire Boulevard
Los Angeles, California
United States