Top 10 Coolest Gadgets at CES 2016
We separate the best from the rest at this year's Consumer Electronics Show.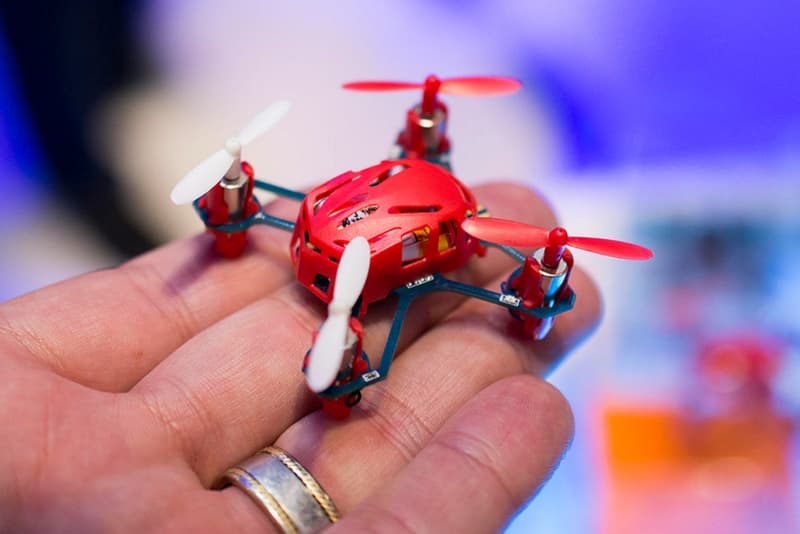 For the second week of every January, Las Vegas undergoes a peculiar transformation from the gambling capital of America into the stage for the latest and greatest in all the boundary-pushing, jaw-dropping consumer technology that mankind has to offer, thanks to the Consumer Electronics Show (CES). This year, amid all the newly fire-retardant "hoverboards" and booth upon booth of tacky smartphone cases were select innovations that pricked the ears of tech editors from across the globe for their promise of making life easier and more intuitive, or just plain awesome in some cases. Here is our selection of the cream of the crop at the tech event of the year, and the ones you should get most excited about for the coming months.
Parrot Disco
One of the fastest consumer drones yet, Parrot opted for an unconventional, fixed-wing design for its Disco drone, allowing it to reach speeds of up 50 mph. Propelled by an 8-inch rear propeller, the Disco features a 14-megapixel camera in the nose and features GPS homing technology that ensures it returns to the user safely when it loses contact with the controller. The Disco is launched by being thrown much like a paper airplane, but must crash land to return to ground for its lack of landing gears. Look for it to become available sometime in 2016.
Cota by Ossia Wireless Charging
Much like the misplaced term "hoverboard," wireless charging has never meant a truly wire-free experience, requiring you to place your device on a charging platform to charge. The revolutionary Cota wireless charging system turns this on its head by permitting the transfer of up to 1 Watt of energy through the air to your device. Here, a module transmits power to a microchip, which is either embedded into your device, into a charging case that you can snap onto your phone, or into batteries that can be used as normal. While the fledgling technology can only charge four times slower than conventional wires, a future of devices that never have to be plugged in is one that we can definitely accept.
BMW AirTouch
Moving onto another contactless technology, BMW demonstrated its AirTouch concept in its next-generation i8 Spyder, where the user essentially gestures and waves in the direction of a dashboard screen to control it. While the lack of the tactile sensation of scrolling on a dial or even tapping a touchscreen may be more disorienting than not at first, we can envision this technology trickling down to more suitable environments such as controlling your TV without a remote — or at least in any setting where bumps in the road will not mess up your selection. With its many potential applications and untapped potential, this is definitely one technology we'll be keeping our eyes on.
Bragi Dash Wireless Earbuds
If there's one audio product we're excited about, it's the Bragi Dash wireless earbuds, which manage to cram a whole host of functions into a miniscule package. Very much geared towards sports, the Dash earbuds are waterproof, noise-cancelling, activity-tracking, and feature an intuitive swipe interface that lets you control the volume. However, the coolest features are undoubtedly the Dash's Near Field Magnetic Induction technology that allows the earbuds to communicate with each other, allowing gestures such as answering a phone call by nodding your head. Additionally, the Dash allows audio transparency, meaning that the earbuds reproduce outside noise with directional capabilities using embedded microphones, while still playing your music in the background. The Bragi Dash can be pre-ordered online now for $300 USD.
Inboard M1 Electric Longboard
California-based Inboard has managed to solve two of the biggest problems that have plagued electric longboards so far — namely, running out of power, and not being able to ride the skateboard after the motor dies and the wheels lock up. Their approach was innovative indeed: by placing individual motors in each wheel, the M1 electric skateboard looks sleek without the added bulk of a motor on the underside, and the wheels can also be individually spun, allowing the user to ride it like a normal longboard. A replaceable battery pack is also embedded within the deck, allowing the user to swap out battery packs to instantly give the M1 a full charge. Other features include headlights and taillights, as well as an easy-to-use remote. The Inboard M1 is now available for pre-order online at $1,400 USD, and will ship out in June.
Panasonic Transparent Display
Straight out of Minority Report is this prototype display from Panasonic, which can transform from an opaque TV into a tinted glass panel at the touch of a button. The TV works by using micro LEDs that beam out a picture into the glass, and can selectively black out parts of the screen to 70 percent opacity. However, the resolution is capped at 1080p currently, and the engineers at Panasonic are also hoping to make the TV fully transparent in further iterations. Regardless, this is a tantalizing look into the future of interior design, that will free up wall space that is often hidden behind the TV.
LG Display's Flexible Screen Concept
Another screen straight from the future was this flexible screen concept developed by LG Display. Measuring in at 18 inches across, the OLED display allows a whole new dimension in TV design where a screen can be rolled up and stored after use to remove the big, black box of an eyesore that a TV can become. While the current prototype can only be rolled in one direction, and rough handling will kill some pixels, this is the first step into a whole new world of gadget design.
Sensorwake Smell Alarm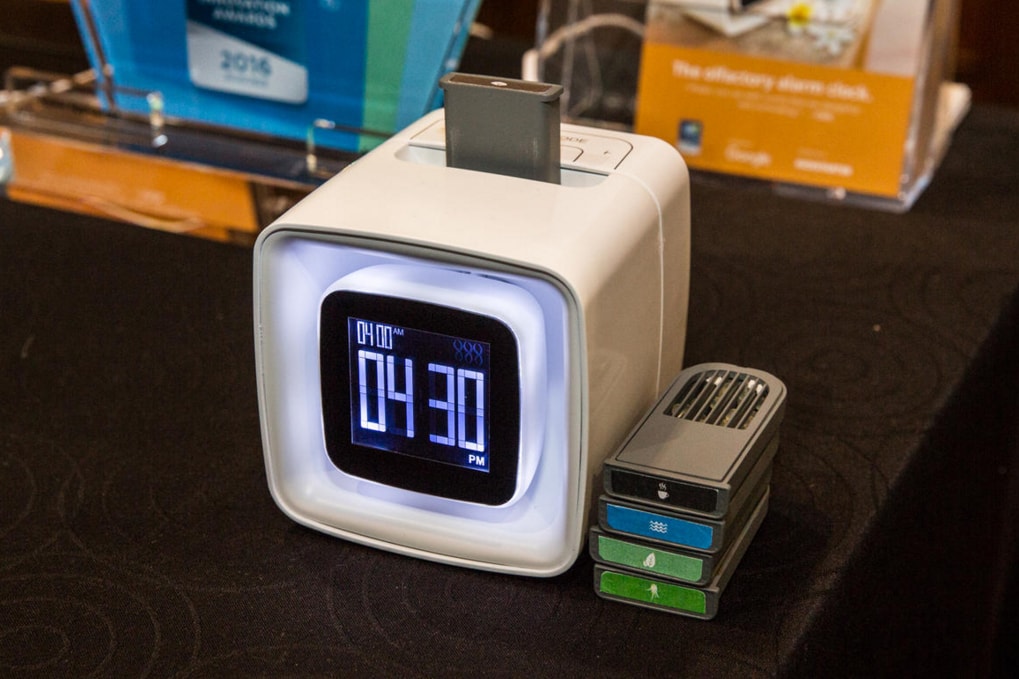 One of the quirkier products on show at CES was the Sensorwake alarm, which forgoes sound to wake you up using smell. To use it, you have to plug in a cartridge (each a different smell), which the alarm will diffuse for three minutes at the set time. Right now, there are 15 scents available, including coffee, money and mint, and each cartridge ($10 USD for two) can be used for 30 times. Needless to say, heavy sleepers should avoid this alarm, but for everyone else, the Sensorwake is available for preorder online now for $109 USD.
Carl Zeiss Smart Glasses
With Google Glass now a thing of the past, tech firms have learnt their lesson in that consumers do not want anything that makes them look geeky. In Google's stead, Carl Zeiss has stepped up to the challenge of engineering smart glasses that look anything but. Zeiss' version utilizes a display in the frame that projects an image into a Fresnel structure integrated into a standard optical lens. The technology will be made compatible with any style of frames, allowing the consumer to pick the glasses for their appearance first. Here's to hoping that this is what's needed to resuscitate the smart glass industry.
Ehang 184 Autonomous Drone
Chinese startup company Ehang wowed the crowds at CES with a physical protoype of its Ehang 184 Autonomous Aerial Vehicle — a one-seater drone that is capable of carrying an individual of up to 220 lbs and can reach speeds of 100km/h and a flight ceiling of 500 meters, instantly vindicating our collective dreams for personal flying cars. However, with the flight time limited to a paltry 23 minutes, and not to mention a plethora of legal hurdles to jump over before it is allowed to fly, we can only look on at this $300,000 USD aerial fantasy.