Travi$ Scott - Rodeo (Review)
How we heard it.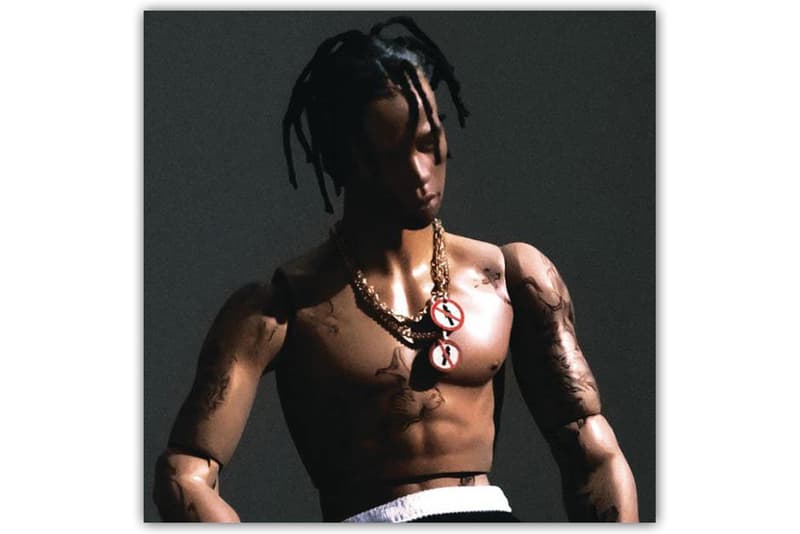 It goes without saying that the hype for Travi$ Scott's debut album, Rodeo, has been off the charts. The rapper and producer first burst onto the scene in 2012 when, as a relative unknown, he signed to both Epic Records and T.I.'s Grand Hustle imprint as an artist, and to Kanye West's G.O.O.D. Music production wing known as Very G.O.O.D. Beats. The 23-year-old has since blessed the general public with two well-received mixtapes, Owl Pharoah and Days Before Rodeo, as well as clocking production credits for some of the biggest artists in the world including Drake, Big Sean, Rihanna and of course, Kanye West. Along the way he's also become known for his energetic stage performances that sometimes involve fights with concert security about letting his fans turn up to their heart's content. Needless to say, everyone has been waiting to see what a full-length studio offering from the multi-talented Houston native looks like.
Before even pressing play on the album, Rodeo's feature and production credits are a testament to Scott's ability to — in just a few short years — win the approval of some industry heavy-hitters. Clocking in at 14 tracks, Rodeo is an average length for an album but jam-packed with talent; the supporting cast of characters both in the booth and behind the boards reads like a whos-who of the industries biggest and brightest and includes Future, Metro Boomin, Kanye, The Weeknd, Young Thug and even pop's most polarizing figure, Justin Bieber.
The first-track, "Pornography." sets the mood early, with T.I. lending his signature Southern drawl (uncredited) to spoken-word intro before the song launches into a trippy, Auto-Tuned journey through drugs, sex and porn as both a literal and figurative device. It's evident early on that the production is going to be the star of this album: the second track "Oh My Dis Side" is one of the standouts with it's eerie sample that sounds like a chopped and screwed music box. The beat switches halfway through to become more R&B-infused, providing the perfect canvas for Migos' Quavo to step in and lace the beat with his trademark bouncy flow. Rounded out by the popular single "3500" and "Wasted" featuring Juicy J, the first section of Rodeo acts as an extension to Days Before Rodeo, with the same highly-stylized sonic vibes, albeit in a more polished form that one would expect from a studio debut.
Track number five, "90210," represents a definite shift in mood, and we find ourselves going down a more despair-filled route than the swagged out drug, sex and "$3500-for-the-coat" party of the first four tracks. A number of well-known producers share credits on this one but most notably DJ Dahi, the man responsible for Drake's "Worst Behaviour," and Wondagurl, the 18-year-old whiz kid who is noted for being one of hip-hop's most prominent female producers and having her career sent into overdrive when she produced "Crown" for Jay Z's Magna Carta…Holy Grail as a high school student living in a Toronto suburb. This track is another standout, with a sample that would surely get the Kanye stamp of approval and a second-half switch up that offers and unexpected soulful turn after the haunting gloom of the first two-and-a-half minutes.
While much has been made of Scott's ability to recruit famous friends, the next cluster of songs is a testament to how features can either propel a track or fall very flat. While The Weeknd and Scott's dark, drug-infused styles meet comfortably on "Pray 4 Love," it might be one of the least interesting songs on the album. "Piss On Your Grave" fails to live up to great expectations that come with it being one of only two tracks on the album that Scott lends his production skills, as well as boasting a feature by Kanye West himself. While the bluesy-rock influence is cool, the production seems a bit unrefined in comparison to the rest of the album. While this might be one of La Flame's more enjoyable lyrical offerings, Yeezy's verse falls flat and feels lazy at best. On the flipside, "Night Call" features Swae Lee of Rae Sremmurd and an almost-unrecognizable Chief Keef, is one of the strongest tracks. Backed by standout production and a catchy hook, this a testament to the songwriting chops of all three of these young rappers, and while a lot has been made of Swae Lee's "influence" on Travi$' style in recent months, here there's room for everyone to shine.
"Antitode" is up next and it's hard to believe the rumors about it almost not making the final cut for the album. It's been one of the summer's biggest tracks but it feels like it still has some legs: surely you can expect to hear this in the club for months to come. The next couple of tracks, "Impossible" and "Maria I'm Drunk," are both spaced out, woozy jams; if you could put being under the influence into sonic form it would sound much like this. While a previously leaked version of "Maria" featured only Young Thug, pop's rebel prince Justin Bieber makes an appearance here and frankly, kind of kills it. Love him or hate him, you just might find yourself bobbing your head to his sing-song rap feature that sends a message that the kid from Stratford, Ontario is all grown up and not scared to talk about girls meeting him in the studio for shots of Don Julio.
"Flying High" is an uncharacteristic departure by Travi$ from his signature sound, and it's an absolute welcome change of pace at this point in the album. With support from recording artist, producer and instrumentalist Toro y Moi and the great Pharrell Williams, this song doesn't even sound like it belongs on Rodeo with its glittery synths and upbeat percussion. It's a sonic curveball, and the result is a home run.
"I Can Tell" and "Apple Pie" close the album out in tried and true Travi$ territory, returning to the sound and mood that inform 90% of the tracks. "Apple Pie" is the second song for which Scott nabs a production credit here and it might be one of the best on the album. This track brings out the best Scott has to offer across his multiple talents — as a producer, mastery of a church organ-esque sample that certainly isn't the first of its kind but yet still manages to feel interesting and fresh; as a writer, a catchy sing-song hook that will be stuck in more than a few heads; and as a rapper, he's really putting in work here. Despite telling us "I am everything except a rapper," this is a bright spot for Scott as a lyricist, including the cheeky line "Shit I got at least 25 lighters on my dresser," a clever nod to lyric that has appeared in a number of classic hip-hop songs including DJ DMD's "25 Lighters," Big KRIT's "Money On The Floor" and more recently Kendrick Lamar's "Backseat Freestyle."
While any artist would be hard-pressed to live up to the hype that this debut album was able to drum up in the months before its release, Travi$ Scott did about as best as one could here. The lyrical content might be the place where Scott has the greatest room for opportunity but as he warned us on "Apple Pie" he isn't exactly trying to be the world's greatest rapper here and where he might lack substance he certainly makes up for in style and swag. The majority of the 14 tracks certainly have a uniform sound that becomes a bit repetitive at some moments. While there isn't anything unexpected here (with the exception of the few tracks as noted above) the Travi$ Scott sound is still enjoyably unique, and the overall quality of the production is so strong it's hard to poke any holes in it. The album's title only seems more and more appropriate over the course of multiple spins: Rodeo is a wild, substance-infused ride that we just can't seem to get off.