Photographer Nabil Elderkin on Shooting Kanye West, Nelson Mandela and War
The bold and diverse portfolio of a unique photographer.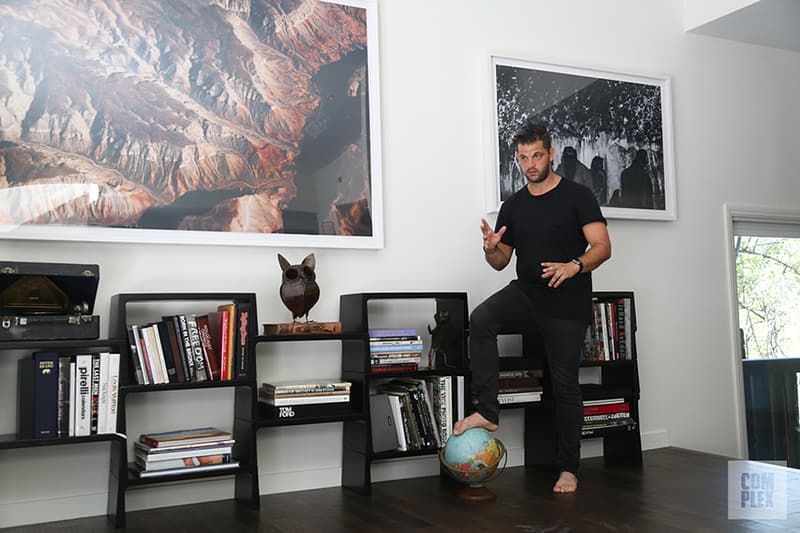 Complex has sat down with esteemed photographer Nabil Elderkin to discuss the Chicago-born snapper's extensive portfolio of work. From capturing a young Kanye West at the beginning of his career to being invited into the home of Nelson Mandela, to photograph Madiba himself, Elderkin's career is one that stands out among the work of a host other prolific and storied artists.
There's a photo of Kanye West that stands out in my mind: Dressed in a red long sleeve polo shirt with blue accents on the ribbed cuffs, he's leaning into the camera and grabbing onto the straps of his monogram Louis Vuitton backpack. It's West's first ever press photo—and one of, if not the most, recognizable shots of the rapper.

The story behind that photo is more interesting. Photographer Nabil Elderkin discovered West's Jeanius Level Musik, Vol. 1 mixtape, and bought the "www.kanyewest.com" domain in 2003 after realizing it was still unregistered. Soon after, Roc-A-Fella Records, who'd just signed West, reached out to him, asking how much he wanted for the domain name. His price? A meeting with West and the chance to shoot the rapper.

"I shot him in the first 10 minutes of meeting him," says Elderkin.

Elderkin, who says he prefers to take a photojournalism approach when shooting his subjects, has been documenting West's life for 12 years. There were very few breaks and downtime never lasted longer than six months. Elderkin shot West's Glow In the Dark tour and published the photos in a book of the same name; directed videos for "Welcome to Heartbreak," "Paranoid," "Coldest Winter," and "Mercy"; and was on hand for major events like the rapper's headlining performance at Glastonbury this past June and the premiere of West's Steve McQueen-directed video for "All Day/I Feel Like That" at the Los Angeles County Museum of Art this past July. Elderkin says there are even more photos of West that no one's seen yet.

Given all that he's captured, Elderkin admits that there have been times when he's felt like he wouldn't need to shoot West again. But, he says, "we've grown simultaneously." Now, he's considering shooting the rapper until one day he can publish a "massive" book.
Check out the full interview and a selection of Nabil Elderkin's work on Complex.