MB&F Introduces the Arachnophobia Clock
A great way to wake yourself up in the morning. Every morning. On the dot. Guaranteed.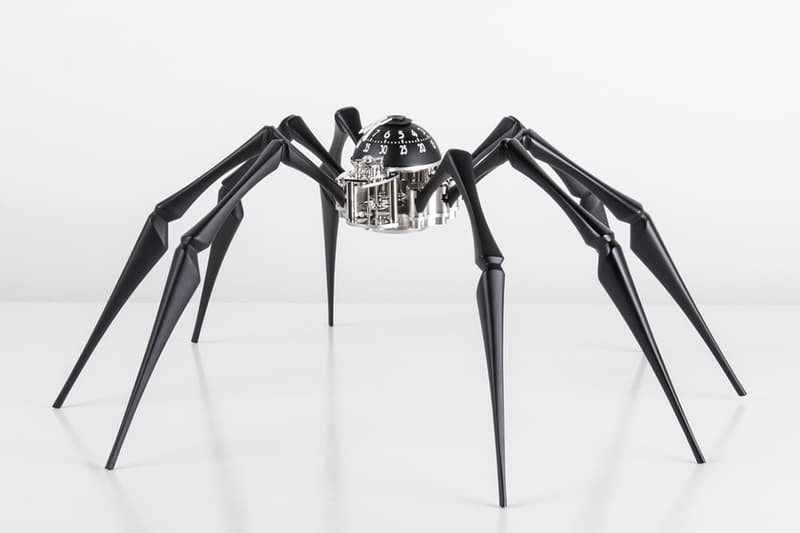 Nobody makes a clock like MB&F, a point further illustrated by the Swiss manufacturer's latest timepiece: the aptly named Arachnophobia. Designed by MB&F and crafted by L'Epée 1839 — Switzerland's one and only specialized high-end clock manufacturer — the design is the ultimate blend of founder Maximilian Büsser's overactive imagination and his appreciation for art. Inspired by Louise Bourgeois's enormous bronze, stainless steel and marble Maman sculpture, the piece reimagines one of L'Epée's high-end movements as the mechanical head and torso of a spider, coupling it with an eight-day power reserve within a black dome with white numerals. While the head of the design houses the regulator with its oscillating balance wheel, the torso itself is home to the mainspring barrel, which powers the movement itself. All of this comes attached to eight individually movable legs so that the clock can stand on a desk or be positioned along a wall.
Arachnophobia is available in black or 18k yellow gold-plated editions for CHF 15,300 (approximately $15,780 USD) and CHF 17,500 (approximately $18,050 USD), respectively.