Luke Meier x Vans Syndicate Seylynn "S"
The OAMC creative director's Vans design is making a comeback.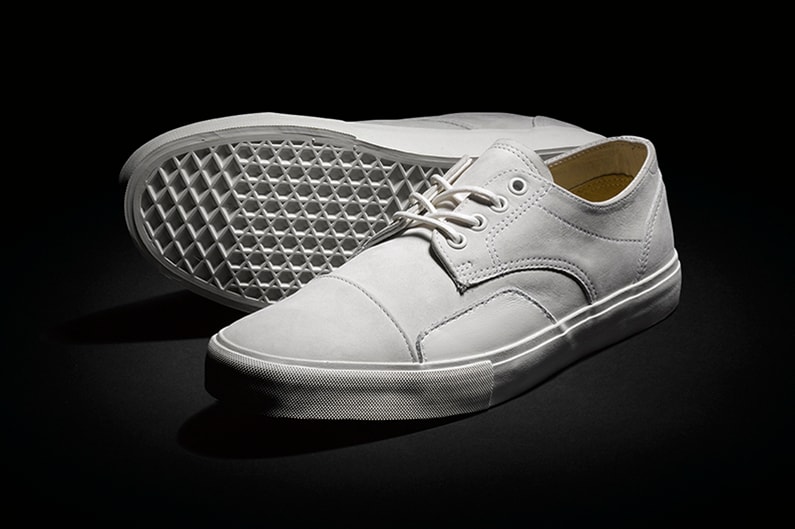 Originally dubbed the Zero Low and released during his time at Supreme, OAMC creative director Luke Meier's Vans design is making a comeback this fall in celebration of the 10-year anniversary of the Syndicate imprint. Now called the Seylynn, the design echoes the high-end-fashion-meets-streetwear aesthetic of his OAMC pieces and transforms an elegant dress shoe with the inclusion of a classic vulcanized rubber sole, premium nubuck construction, and an all-white look. Meier's Seylynn launches September 19 exclusively at Syndicate dealers while the designer's own thoughts on the release can be found below.
This year marks the 10th year anniversary of Syndicate. We are bringing back some of favorite shoes and collaborations. Is the anniversary model a color you wanted to make before? What was the process behind the updated version?

It's actually a color I never really imagined, but when the guys approached me with the idea I thought it was fresh. The updated version was mostly put together by the Syndicate guys. I had some input, but it's really been their initiative.

Was designing the Vans Syndicate shoe a new experience for you at the time? Tell me a little bit about your background at Supreme as well as school and how that informed this shoe.

It was a new experience because while I'd worked with Vans (through Supreme) for a long time, this was the first shoe that was a completely new style that I was able to make. I started designing for Supreme in 1999, and working with James (Jebbia) and all the talented people there definitely helped to shape my approach to making things.

You designed the shoe from scratch or based on an existing model?

The upper of the shoe was designed from scratch, but we used a classic Vans vulc outsole.

Most of the time when people do shoes for Vans they are color-ways or slightly altered versions of their classics. Do you like the classics? Did you ever wear any of them growing up?

I grew up with Vans, and have had most of their classic models at one time or another. I got my first pair when I was about 8 or 9 years old. Freshest kid in school that day … black and white checkerboard slip ons. I have always had at least one pair of Eras or Authentics ever since.

What were the styles that inspired the shoe you designed? Did you want something skateable or more fashionable.

Because the idea was "Destroy Luxury," I wanted to make a skate shoe of luxurious materials that was supposed to be shredded. Even more, I wanted people who skate to really like the shoe for skating; style is the bonus. Many different people have told me that they like to skate in the shoe, so I think it was successful in that regard. There wasn't a particular style that inspired the shoe, it was more an approach of how can I make a shoe with Vans DNA look a bit more "luxurious."

Is the piece on the side for ollie protection?

Yeah. It's the spot on a skate shoe that gets the most abuse, so I put the most luxurious material there … to be destroyed.

Was it cool to imagine people skating in the shoes?

It's the main reason I wanted to make them. Vans and skateboarding can't really be separated in my mind. Skateboarding has had such a profound effect on me, and Vans is part of that. For that reason I will always revere the brand.