A Look Into Marvel Comics' Collaborations with Hip-Hop
Earlier this month, Marvel Worldwide Inc. — better known as Marvel Comics — paid homage to some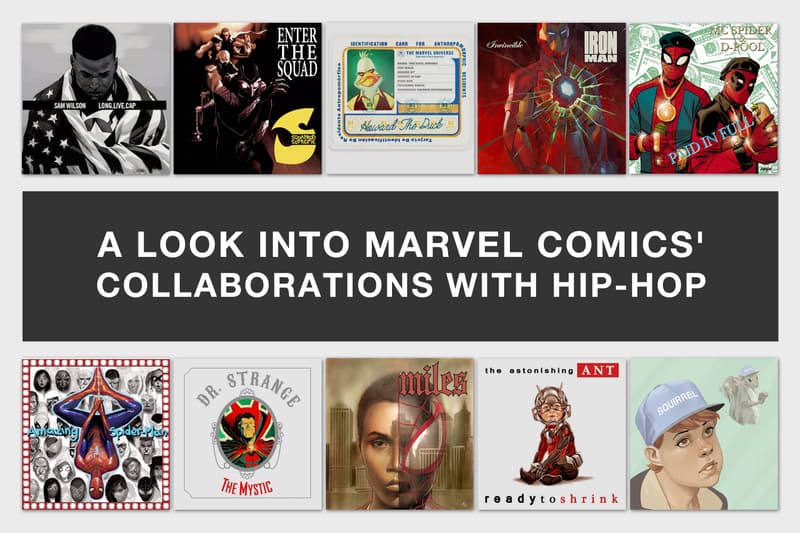 Earlier this month, Marvel Worldwide Inc. — better known as Marvel Comics — paid homage to some of hip-hop music's most iconic album covers by releasing a handful of variant artworks replacing the original artists or subjects with Marvel's most well-known characters and superheroes. The company's Editor-in-Chief Axel Alonso, who has been working at the company for over 15 years, explained that "Marvel Comics and hip-hop culture have been [engaging] in an ongoing dialogue" and because of that, they are aiming to "shine a spotlight on the seamless relationship between those two unique forces."
Since hip-hop's early days, it is evident that Marvel was an unmistakable source of inspiration to artists of the genre. Renowned producer Pete Rock has openly voiced his affinity for Marvel and revealed himself to be avid collector of the comic books. Outside of the countless lyrical references in rap music, many artists, producers and crews had adopted superhero monikers, not just from Marvel but also from other publishers as well — such as its rival DC Comics. Such include MF Doom, X-Cutioners (formerly known as X-Men), Ghostface Killah (also known as Ironman and Tony Starks), Method Man (also known as Johnny Blaze), Big Pun, Jean Grae, David Banner, Kitty Pryde, The Reavers, Ja Rule (who refers to himself as Loki), DJ Clark Kent, DJ Green Lantern, J.U.S.T.I.C.E. League and allegedly, even the legendary Grandmaster Flash.
Beginning from the early '90s, Marvel had occasionally integrated hip-hop culture and music into its releases. Sometimes these references were subtle, like having the characters endorse certain catchphrases or fashion trends of whomever and whatever was popular at the moment. Other times, entire issues, volumes or series were dedicated to the artists, either placing them in fabricated plots as they would for their fictional characters or characterizing them from a biographical standpoint.
As time passed, the integration of hip-hop culture into Marvel increased beyond comic book illustrations. Artists became more involved various mediums such as television, film and music. Kendrick Lamar and Pharrell have assisted Hans Zimmer in the scoring of 2014 film The Amazing Spider-Man 2; Run The Jewel's El-P produced "Another Body" for the soundtrack of the upcoming Fantastic 4 film. Childish Gambino had been chosen to be the voice of a teenage, half African-American and half Puerto Rican incarnation of Spider-Man in Ultimate Spider-Man: Web Warriors. T.I. recently made his Marvel Universe debut as one of Scott Lang's three crew members, Dave, in the critically-acclaimed Ant-Man film.
Below, we shone a spotlight at some of the most prominent collaborative moments between Marvel and hip-hop. Some of these were classic depictions while others were short-lived or quickly forgotten. Regardless, each of these moments contributed to building the relationship between the two unique entities.
---
RUN THE JEWELS X HOWARD THE DUCK/DEADPOOL

Howard The Duck #2 / Deadpool #45, Jan 2015 / Deadpool's Secret Secret Wars #1, May 2015
While Run The Jewels did not make an actual appearance on a Marvel comic, the duo's highly-recognizable gun and fist logos were featured on three separate instances, an idea introduced by Alonso himself. In January, the cover arts of Howard The Duck #2 and Deadpool #45 were embellished with the RTJ sign. Several months later, the duo's logo appeared again on a special cover for Deadpool's Secret Secret Wars #1. Killer Mike and El-P were grateful for the co-sign, as both profess to be die-hard fans of Marvel.
---
BIRDMAN X SPIDER-MAN

The Amazing Spider-Man #11 (Custom Edition Cover), Dec 2014
Very shortly after Lil Wayne and Tyga's highly publicized ordeals with Cash Money Records, Birdman — complete with his signature hand rub — appeared on a custom edition cover of issue 11 of The Amazing Spider-Man, next to one of the most powerful and feared villains in the Marvel Universe, Kingpin. The cover was in collaboration with boot and athletic brand Lugz in celebration of the 10th anniversary of the Lugz Birdman Boot.
---
RAE SREMMURD X CAPTAIN AMERICA

All-New Captain America #1 (Cover I Incentive Custom Interscope Variant Cover), Nov 2014
Along with the re-introduction of Isaiah Bradley as the alternate Captain America, Mississippi's favorite turn-up duo Rae Sremmurd appeared on an Interscope variant cover of the first issue of the series. In between Slim Jimmy and Swae Lee is a sign that reads "No Flex Zone," in reference to one of their biggest hits. This issue doesn't come cheap; a copy will cost you $170 USD (the alternative covers are much less pricey.)
---
EMINEM X THE PUNISHER/THE AVENGERS

Eminem/The Punisher Vol 1 #1, May 2009 / Mighty Avengers #3 (Variant Edition), November 2013
There were two instances where Eminem appeared in a Marvel comic: first as the protagonist in issue with The Punisher and later on a variant edition of Mighty Avengers #3. In the former, released in 2009, Em teams up with The Punisher in a thrilling and action-packed fight against Barracuda. In the latter, Shady is depicted to be sitting next to Iron Man on the porch of his childhood Detroit home — the same building as the one depicted on the covers of both of his Marshall Mathers LPs.
---
FAT JOE, TWISTA, T.I., FABOLOUS, TRICK DADDY & LIL KIM

The Heist, 2005
Back in the summer of 2005, Fat Joe was buzzing as one of the biggest rap artists of the time. The "Lean Back" rapper, along with his friends Lil Kim, Twista, Trina, Trick Daddy, Fabolous and T.I., were reimagined by Marvel as superhero crew called Joint Chiefs in an issue titled The HEIST. The plot is as follows: the rap stars team up to recover Check Writer's stolen diamond and each individual use their superpowers to defeat the evil Clone's mindless army. The only way to attain a copy was to purchase any of the Joint Chiefs' albums at select stores during a limited time of promotion.
---
ONYX

Onyx: Fight #1, 1995
As one of the most aggressive and "in your face" hip-hop groups at the time, Queens' Onyx was featured in their only graphic novel courtesy of Marvel Music – a short-lived music arm of Marvel Studios launched by music business veteran Mike Warlow as Publisher with Editor Mort Todd. Titled Fight, the plot sets in a post-atomic holocaust New York, where the rappers literally have to fight for their lives to survive.
---
KRS-ONE

Break The Chain #1, 1994
Also released by Marvel Music, Break The Chain is a collaborative creation by New York cartoonist Kyle Baker, hip-hop veteran KRS-One, and Chicago record producer Marshall Chess. The goal of the issue was to use literature and music to "break the chains" of ignorance among urban youth — a theme the emcee has been promoting for the most part of his career. The copy came along with an audio cassette tape of tracks by KRS, which can be listened to as the comic is read.
---
BOB MARLEY

Bob Marley: Tale Of The Tuff Gong #1, 1994
Although Bob Marley never made hip-hop music, we've counted this as he did have a strong musical and ideological influence on the urban youth. Launched by Marvel Music, Tale Of The Tuff Gong was a three-issue documenting on the reggae superstar's life, celebrating his life and death. Unlike many of the other examples, this series is entirely biographical and does not contain exaggerated superhero powers or imaginary plots.
---
KID 'N PLAY

Kid 'n Play #6 "Big Break," July 1992
This is the earliest documented collaborative series between Marvel and hip-hop, and perhaps the most comprehensive one too. Crafting fictional story lines around Kid 'N Play, a popular New York City hip-hop duo in the '80s and '90s, the series had a total run of nine issues. Comedic and lighthearted, the series taught lessons of growing up, friendships and relationships through different scenarios most young people could relate with.