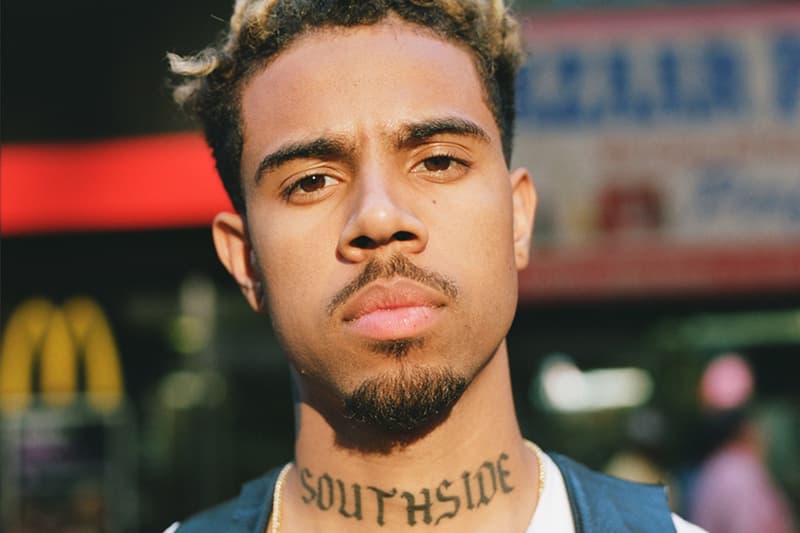 Vic Mensa Talks Nirvana, Chicago, Kanye West & More
Vic Mensa sat down with 'i-D' to discuss the likes of Nirvana, the Windy City and performing "U Mad" with Yeezy.
---
Fresh off the release of the official visual accompaniment to his Kanye West-assisted track "U Mad," 22-year-old rapper Vic Mensa sat down for a brief interview with i-D. In the piece, the 22-year-old rapper discusses everything from his early influences and growing up in Chicago to working with Kanye West, performing his biggest track to date alongside Yeezy at Chance The Rapper's open mic night, his meteoric rise, and the best thing about being young in today's world. Check out an excerpt from the piece below and head on over to i-D's website to read the interview in its entirety. Stay tuned for more from the Windy City native and Roc Nation signee as his debut LP, Traffic, is due out later this year.
What or who inspired you to first start making music? I heard you were a Nirvana fan growing up.
I have a Nirvana tattoo, they were one of my favorite bands growing up. Before that, I was into The Who, Guns and Roses, and AC/DC—those are some of my earliest influences. I think some of my father's African music had an early influence on me as well as The Beatles from my mom and the jazz she used to listen to. Later on, I just started listening to everything rap. From Jay-Z, Nas, and Kanye to Wu Tang, Pharcyde, De La Soul, A Tribe Called Quest, and Dilla to UGK and Three Six Mafia—Academy Award winners!

How did growing up in Chicago influence your sound?
What really influences me most is my environment, whatever that may be. Growing up in Chicago and just being from where I'm from, I was a couple blocks from dangerous hood shit and a couple blocks from multi-million dollar mansions and the President's house. Just being in the middle of all that without ever having a real firm, cemented footprint because my family lived in the middle of these places but wasn't necessarily wealthy or rich, I was just in a space where I could choose my world and I just had pieces of both. But as I grew older, the mansion, million dollar side of it didn't apply to me anymore and I was more of an outcast from that. But I'm influenced by everything that goes on in my life, just because I make music from a personal perspective.