Milking the Hype: When Footwear Brands Dilute Design
The current generation of sneaker consumers have been provided with a wealth of highly desirable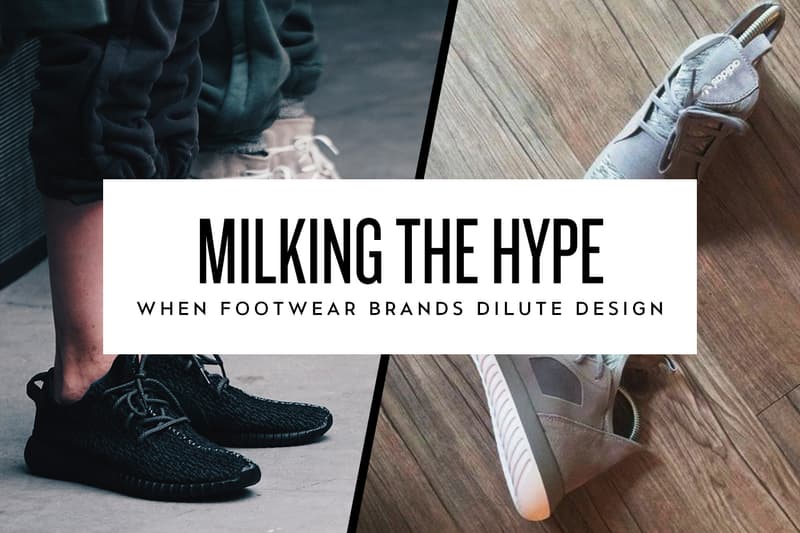 The current generation of sneaker consumers have been provided with a wealth of highly desirable options in this most recent era of footwear. We've seen unprecedented amounts of hype and of course financial rewards that come with the methodical acquisition of certain drops.
As we see an exorbitant number of models drop week-in, week-out, there's been a relatively alarming trend that more than ever has reared its ugly and uncreative head. The interbreeding and straight copy & pasting of design elements within various footwear companies has become prevalent. There are of course a wealth of reasons arguing for both sides that suggest a big stink is being made over nothing, but they're worth exploring regardless.
---
Overly Literal Design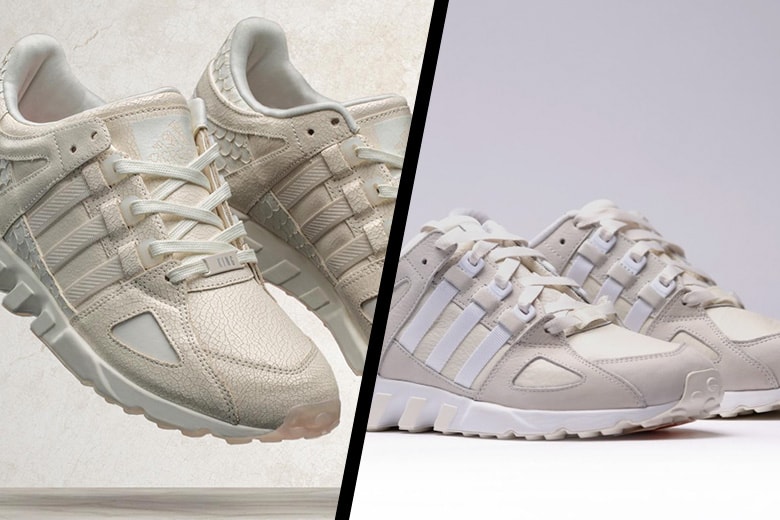 Some of the most notable elements of "borrowed" design span the likes of adidas and Nike with great frequency. The iconic colorways of the Nike Air Yeezy II slowly but surely saw their application on everything from Roshe Ones (formerly known as the Roshe Run) to Dunk Highs (albeit through Premier's collabo) and Foamposites. You could also say, many of Nike's hero colorways (looking at the Air Max series) have all seen their lives extended on modern silhouettes and pushed through to new generations.
adidas hasn't been immune to inline rehashings of successful models either. Pusha T's illicit drug-inspired EQT Running Guidance '93 was seen in what many could argue was a symbolic homage of the EXACT same model just three months later. This coupled with the similar lineage of the Qasa and Tubular occupying economically-different positions within the brand make for an interesting discussion.
---
The Kanye Effect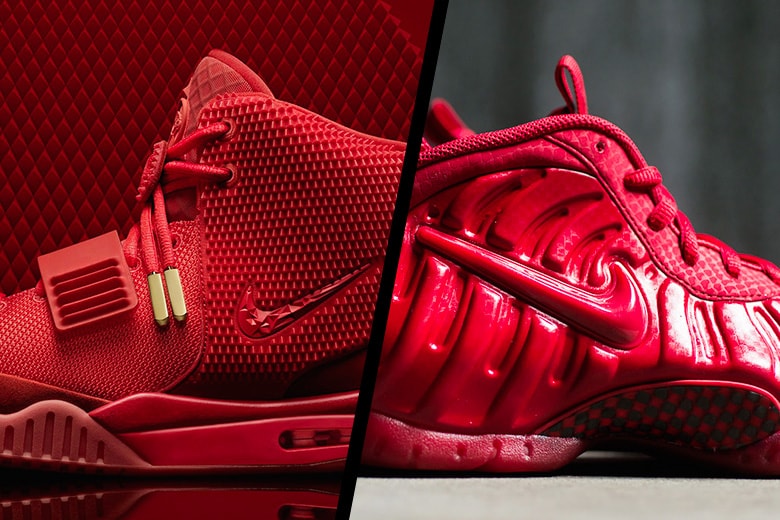 Perhaps this isn't where our biggest bone to pick lies. The intersection of adidas and Kanye West has resulted in one of sportswear's — and many, myself included would argue fashion as well — most fascinating unions. Kanye West is arguably pop culture's most effective self-promoter and has found a level of sustained and multifaceted relevance, which simply allows him to put himself in the eyes of millions with relative ease.
While many were quick to comment on the external inspirations of Yeezy Season 1, you could say there was a sense of unified design language woven through the collection. In many ways, the shoes were particularly more Kanye West than any form of discernible adidas DNA. Characteristics such as the thick forefoot strap shared by his Yeezy 1, 2 and Louis Vuitton Jaspers — which created a recognizable extension of Yeezy's own footwear design DNA — were immediately evident in the instant classic Yeezy Boost 750.
But just as the resell prices of the Yeezy Boost 750 hold their course, the most recent leaks this month have shown very Yeezy-esque Tubular iterations in the pipeline as well as Primeknit. Many sneaker blogs were quick to jump on the samples as speculative future drops from the Yeezy Season 1 collection. Who could blame them? The vertical markings on the tooling, that paradoxically hid the usual Styrofoam-like adidas Boost technology championed by the brand, were notably present. But beyond that, the colorways suggested a direct descendant of Kanye's work. The shoes were later refuted as being Yeezy offerings. As adidas uses a distilled essence of Kanye West for their other general releases in hopes of maximizing its multimillion dollar investment, it leaves us wondering the ramifications of a move that happens so close to home.
---
The Dangers of Playing Too Close to Home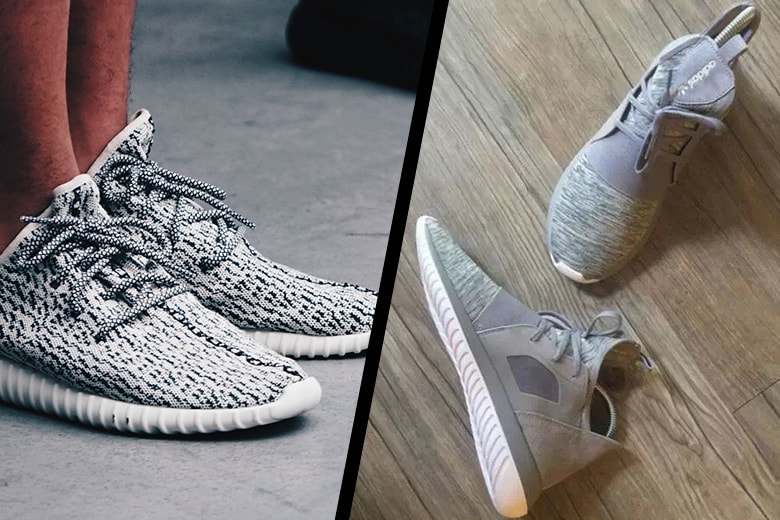 You would agree that the straight-up rip of a popular design is an unfortunate, money-driven tactic that frankly aren't beyond publicly-traded companies. It's evident they're sometimes more concerned with showing results than contributing to the overall creative landscape. But despite the inherent negative that inter-company rehashes yield, there is credibility in the notion that the accessibility aspect of good design should be celebrated and not kept to a smaller, select few. There is however a blurred line between a legitimately interesting and compelling colorway vs. the association and meaning behind a colorway of a model that did well for more than just reasons of beautiful design. To be honest, the likelihood of owning a pair of Yeezys are generally beyond the means of many people as they hit the secondary markets, but the question lies in whether they should be denied the opportunity for a colorway they legitimately want.
Contrary to this position, progression is crippled when our best ideas are driven by a number and a desire to achieve a financial goal. There's no doubt that there's a need to keep the many lights on over at Beaverton and Herzog, but for any brand with the desire to maintain long-term relevance and positioning, new ideas and concepts, executed with consistency and quality are greater marks of this. The short-term gains of hopping on the hype wagon are evident but they do present themselves as a dangerous tool. Consumers see the same repetitive tactic presented as simply a means to sell, sell, sell. We've seen the usage of technological advancements seen in marquee products before filtering down into the mainstream (such as Nike Flyknit, adidas Boost and various feats of engineering in the automotive world) but this is inherently a different argument when the creative efforts of one person are unbeknowingly applied further down the chain. This isn't necessarily a case against rich artists who deserve to get paid even more for their efforts in a similar vein to Tidal. However, when you're involving take-down versions and more commercial iterations of initial concepts that happened to do really well, you can imagine that whether it's Kanye West, Pusha T or another smaller artist who works together with a small brand; maintaining integrity in the creative process is arguably what got many of these brands to where they were in the first place.
Nike and adidas have grown leaps and bounds by leading through innovation and creativity. To relegate themselves to a systematic recycling is frankly boring, and without great creative intent comes a potential slippery slope. The ease and effects of hitting that button all too often, as well as foregoing the visionary approach that got you there in the first place cannot be dismissed. For many people whose initial foray into footwear came on the backs of great design and innovation, it's unfortunate to see our passions manipulated and positioned secondary.