Graffiti Penalties Around the World, Bombers Take Note
Lifestyle and culture site Hopes&Fears has compiled a list of the different types of laws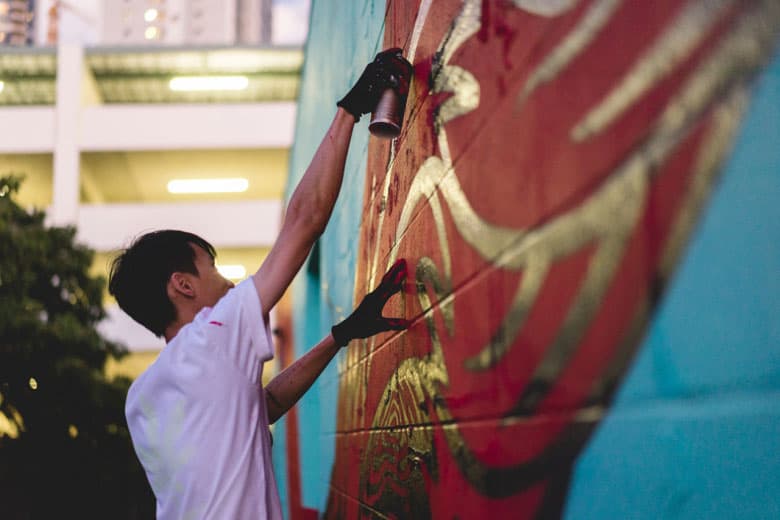 Lifestyle and culture site Hopes&Fears has compiled a list of the different types of laws pertaining to unsanctioned public art — or graffiti – in international cities. Different bylaws and attitudes adopted by societies vary greatly, from the small petty crime charges of Dubai, UAE, to the firmly enforced Draconian laws found in Singapore. It is estimated that the U.S. alone spends around $15-18 billion USD to "monitor, detect, remove, and repair graffiti damage." The index gives insight to the various penalties found around the world, and comes at a time where the discussion about policing graffiti at all comes up for debate. Do you think graffiti art deserves the averse social stigma it is associated with? Check out the list below.
1) BOGOTÁ, COLOMBIA
No fines

Bogotá is relatively permissive to graffiti ever since 2011, which saw widespread public outcry for teenager Felipe Becerra who was shot dead by Colombian police while he was tagging. In present day, society regards graffiti as a form of artistic expression; police rarely intervene with street artists, who don't require permits to tag throughout the city, save for historical buildings and personal homes which are protected by law. Justin Bieber made the news for spray painting a Canadian maple leaf with a marijuana leaf motif during his last visit.

2) DUBAI, UNITED ARAB EMIRATES
Up to DH1,000 (approx. $272 USD) in fines

Fines in Dubai start at DH500 (approx. $136 USD), but repeat offenders will be slapped with doubled fines.

3) NEW YORK CITY, U.S.A.
Various fines, enrollment in graffiti removal program, up to 1 year in jail

NYC has a slew of anti-graffiti laws that enlist various charges that start from $250 USD for different types. Each charge takes into account a ton of factors such as if you are a first time or repeat offender, how long you have been defacing property, sensitivity of graffiti location, property damage, misdemeanor, burglary, criminal mischief, trespassing, ties to hate crime, as well as the sale of graffiti-making products. Property damage is considered an act of criminal mischief and charges are proportional to damage caused, where Class C felonies involve damage exceeding $250 USD and Class D felonies involve damage exceeding $1,500 USD.

4) MUMBAI, INDIA
Up to ₹50,000 (approx. $801 USD) in fines, up to 1 year in prison

5) SYDNEY, AUSTRALIA
Up to $2,500 AUD (approx. $1,899 USD) in fines,up to 300 hours of community service, up to 1 year in jail

In Sydney, up to 100 hours of community service are given to minors and up to 300 hours for adults for smaller offenses. Charges are only laid for graffiti that causes a significant amount of property damage.

6) BARCELONA, SPAIN
Up to €3,000 (approx. $3,195 USD) in fines

In Barcelona, graffiti artists are fined at a starting fee of €750 (approx. $799 USD), and each case is defined by the damages incurred. Any damage done on monuments and protected buildings will result in higher penalties of €1,500-3,000 (approx. $1,598-3,195 USD).

7) LONDON, UK
Up to £5,000 (approx. $7,377 USD) in fines, up to 6 months in jail

In 2005 London implemented a fixed penalty of £75 (approx. $111 USD) for all graffiti. For serious cases like racist graffiti and heavy property damage, artists can be prosecuted with fines proportionate to the amount of damage (and up to £5,000) as well as up to 6 months in jail.

8) BERLIN, GERMANY
Up to €7,000 (approx. $7,437 USD) in fines

Berlin has a fixed penalty of €15 for posting stickers or wheat-pasting flyers and posters. Spray-paint is fined with a "several hundred euro per square meter" formula. In 2013, railway operators were discussing implementing surveillance drones to address the many rail-cars that were getting tagged. Graffiti is quite commonplace in Berlin, and some would consider it as integral to the city's landscape.

9) LOS ANGELES, U.S.A.
Up to $50,000 USD in fines, up to 1 year in jail

The U.S. laws against graffiti vary greatly from state to state. In California, fines are case-subjective and are based on the amount of damage done to a property. In the City of Angels, damages totaling under $400 USD will receive fines up to $1,000 USD and up to 6 months jail time. Penalties for more than $50,000 USD in damages include a fine up to the same amount and up to 1 year jail time.

10) DETROIT, U.S.A.
Up to 5 years in jail

Any damage amounting between $1,000-20,000 USD can face from probation to 5 years jail time.

11) SINGAPORE, REPUBLIC OF SINGAPORE
8 cane lashes, S$2,000 (approx. $1,467 USD), + 3 years in jail

Graffiti is not taken lightly in Singapore, a city that prides itself as one of the cleanest cities in the world. Easily considered the harshest graffiti penalty in the world, a case from 1994 demonstrated that not even then-president Bill Clinton could budge it as he pleaded for clemency for one American teenager, whose sentence of 6 lashes was only cut down to a mere 4. Many consider Singapore's barbaric forms of punishment as a violation of international human rights standards, and the U.S. State Department estimates that 2,203 caning sentences were carried out in 2012 alone, and imposed on 1,070 foreigners.