Jun Takahashi Talks About the UNDERCOVER x Supreme Collaboration
Having already joined forces with Champion, Vans, Clarks and the New York Yankees this season,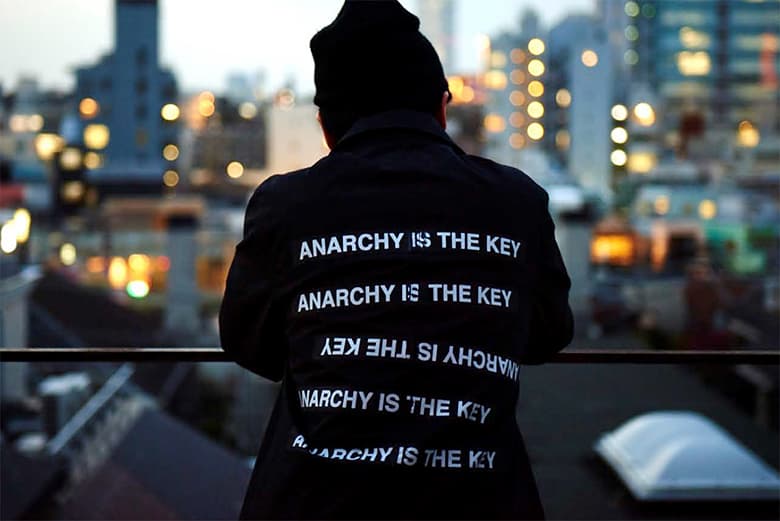 Having already joined forces with Champion, Vans, Clarks and the New York Yankees this season, Supreme is set to unveil one of its biggest collaborations to-date. The UNDERCOVER x Supreme collection will be releasing tomorrow as part of the Japanese imprint's 25th anniversary celebration, and with both heavyweights sharing a cult-like status its fair to say that this highly-anticipated offering will be talked about for years to come. Honeyee sat down with UNDERCOVER label head Jun Takahashi ahead of the release, to discuss his experience working with James Jebbia and his views on how the collection turned out. Have a read through the interview below and check out the full range here.
Could you please tell us what lead to doing this collaborative project?
Since this year is UNDERCOVER's 25th anniversary I wanted to do something exciting for this milestone and suggested some ideas to Supreme. James Jebbia's first reaction was really enthusiastic, so it made me confident that this project was going to go well.

What kind of an impression do you have towards the brand Supreme?
I started my brand at around the same time as Supreme did and I always liked it. I have a lot of sympathy towards Supreme including its cultural background and what it stands for.

There aren't too many brands within streetwear, that are both high quality and true to its brand image. That's what I like about Supreme. This is one of the brands that I've liked wearing for a long time.

The street element which UNDERCOVER has and the one Supreme has seem to be quite different.
I think people tend to think that Supreme comes from a major hiphop background, but they also have rock and art inspirations. It's actually quite similar to UNDERCOVER's backbone for inspiration.

These common interests made our project run really smoothly.

Do you also mean the links between UNDERCOVER and Supreme, are not only things from the outside surface (visual) but also from core (attitude)?
That's exactly it. All of the items from this collection are authentic, but I believe the main reason it has become such a strong collection, is because we both have a lot of respect towards each other.

What kind of a process did you go through in creating this collection?
When doing a collaborative project, it is important to understand what the clients think about us, UNDERCOVER. When I asked James he pointed out that UNDERCOVER's graphic component was particularly strong.

After that I looked through a variety of our old products and graphics that Supreme had sent my way. This made me understand how they viewed UNDERCOVER as a brand. This understanding was the beginning to the project.

Did you have any specific requests from Supreme side?
They wanted to see as much graphics as possible from me. So we picked some out from our archives, and also created some new ones for them. Basically the way it worked was that Supreme made the base design, and we would give some suggestions and additional arrangements on what they had.

But we also gave them some of our requests too, for example our desire to do leather jackets and a trench coat. As for the graphics, "ANARCHY IS THE KEY" is what we have supported since the beginning of UNDERCOVER, and is one of my most meaningful graphics to date.

Did you have any difficulties in expressing what Supreme is throughout the designing process?
Not at all. Like I said before, we have common interests that link us, so I knew from the start that it was going to be a good mix.

Was there anything that you intended to do in working on this project?
I tried not to ruin my own image towards Supreme. As a matter of fact, during the project James told me to do more amendments to the designs. However, I didn't want to do too much to wipe out the Supreme-ness.

At some points you want to force your idea, but at other points you let your counterpart lead the way. The balance of how to push/pull yourself was tough, but it turned out we did a good job respecting each other.

Just looking at the collection, you can tell there is a good balance of both brands' essences.
It was my goal for Supreme fans to be able to wear the pieces easily, without even knowing about UNDERCOVER. I'm really glad you can tell that.

It is the 25-year anniversary of UNDERCOVER this year, and over the course of working on the project, did you take a retrospective glance at the brand's history and/or re-discover something new?
Outside of this collaboration I've been looking back at the history of the brand, for example in the graphics exhibition we put on last year and for the upcoming release of our 25th Anniversary book. However, the amount of things that I was able to gain throughout this project were tremendous.

Supreme is unique and in many ways, the brand itself acts like media. The collaboration projects with TNF, NIKE and others, which they have been doing regularly are all good examples. You can re-discover a new attraction of each collaborative brand when it's designed/interpreted by Supreme.
Supreme's selection of brand, products and ideas are always unexpected, which I think is one of their greatest strengths. I was curious to see how they would interpret UNDERCOVER and incorporate that into the designs and the product. I'm very happy with how the collection turned out.

Is there any piece that you would like to wear?
I like the whole collection and would love to try all the pieces on. The bondage pants are my favourite, I think it's different from the original punk style that Hiroshi and I would think of, but works well as a part of the collection. It's fresh.

So you enjoyed working on this project?
It was a great experience.

Will there be another Supreme/Undercover project in the coming seasons?
We haven't talked about it. The project this time was really special, so we do not expect to do it often, but if there's another opportunity I'm definitely down.