Essentials: Rob Fairweather of Deus Ex Machina
For our latest installment of Essentials we get a look at the necessities of Rob Fairweather, UK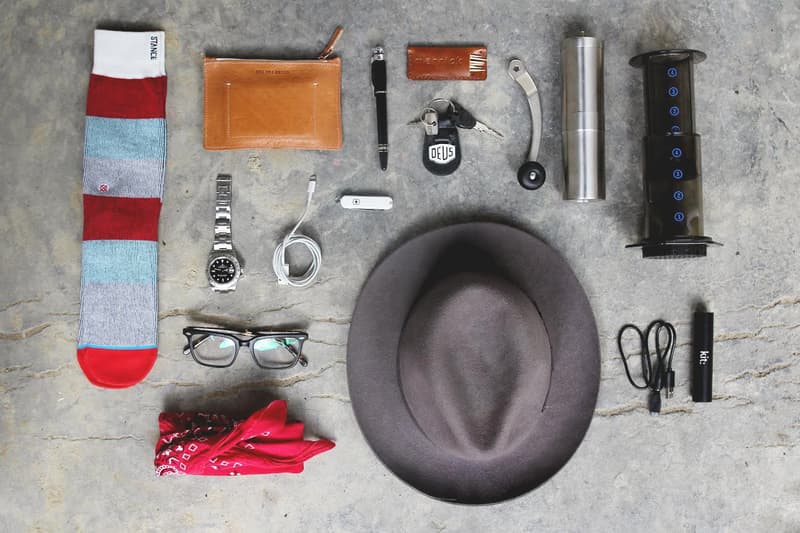 For our latest installment of Essentials we get a look at the necessities of Rob Fairweather, UK Brand Manager of Australian-based label Deus Ex Machina. The surf and motorcycle brand is famous globally for their beautifully built custom motorbikes, as well as select clothing collaborations that embody the classic biker aesthetic. Rob's essentials revolve around key items that he depends on everyday. Clothing items include a fresh pair of colorful Stance x Eat Dust socks and a bright red, vintage paisley-patterned neckerchief. Wearable accessories include his Raen Optics Merced Matte Black Brindle glasses, a light grey Christy's London Fedora hat, and a pristine Rolex Explorer II watch, which was a wedding gift from his wife.
Rob's collection of cherished accessories is comprised of utilitarian objects, like the camel-colored Shinola zip pouch that contains all his business cards and receipts, a sleek black Mont Blanc pen, a brown Merrick Leather toothpick holder, and a trusty Victorinox Executive 81 Swiss Army Knife – something he says is always useful to keep on hand.
The few but utilitarian tech items, the innovative Stumptown x Poler Stuff coffee pack is also present, and includes the coffee grinder and Aeropress – valuable instruments for a fresh brew. And last but not least are the keys to Rob's own Deux Ex Machina Mono motorbike. Rob's selection of items reflect his daily lifestyle and are ultimately pragmatic in nature. Head over to the Deus Ex Machina site to learn more about the brand.