10 Producers to Watch In 2015
In the past music production was a costly process that required teamwork of trained professionals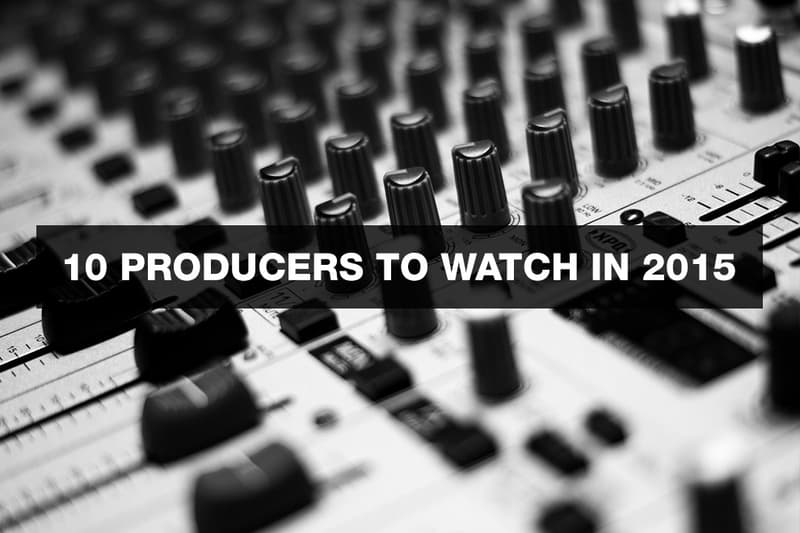 In the past music production was a costly process that required teamwork of trained professionals as well as millions of dollars worth of equipment. Fast-forward a few years and none of this is now necessary. Kids with access to the Internet can download terabytes of digital instrument samples as well as powerful engineering plugins, and with a few years (and for some, months) of practice, will be able to match or surpass traditionally "professional" standards. The unfortunate impact this has is that the production market becomes oversaturated with subpar, unoriginal content. However on a more positive note, producers are challenged to continuously progress, evolve, and come out with new concepts without the past issue of financial limitations. In the following, we have amassed 15 of who we think are the most forward-thinking and innovative up-and-comers belonging in the favorable group. We trust each of these talented individuals (of mostly "bedroom producers") will make substantial impact in the industry throughout this year. Check the list below and let us know if you agree or disagree with the choices.
ERIC DINGUS
Having already received daps by Oliver El-Khatib, co-founder and creative director of OVO, it is without question that Eric Dingus is one of the most talented producers in the current music scene. We've always took notice of his growingly extensive but superb catalogue — not to mention his incomparable versatility — and we are excited to hear more from this Austin, Texas native.
Explore his sound on SoundCloud.
CRYSTAL CAINES
Harlem-born songwriter Crystal Caines began her professional production career with A$AP Ferg, where she created "A Hundred Million Roses" and later the Bone Thugs-N-Harmony-featured "Lord," as well as contributed to "Work" and "Shabba." This female beatmaking representative now boasts a catalogue that has expanded outside of the Mob since then, having worked with M.I.A., BIA, Nick Jonas and more.
Explore her sound on SoundCloud.
CURTIS HERON
Curtis Heron has been cutting his teeth as the producer responsible for standout selections from LA rapper Bones' many, many mixtapes and carving out a doom-and-gloom aesthetic for his TeamSESH crew, but his career really began to peak when A$AP Rocky used his production for his big 2014 comeback single, "Multiply." The song helped push Curtis Heron slightly further into the national spotlight, but most importantly, it showed he was talented enough to produce for a heavyweight artists who has worked with some the biggest names in modern production. As Heron continues to craft some of the best beats on SoundCloud and lend his hand to Bones' ever-growing ascent, expect even better things down the line from the young beatsmith.
Explore his sound on SoundCloud.
ETHEREAL
As a member of Awful Records, Ethereal is a part of one of the fastest-growing movements in hip-hop. So, naturally, his own work has been receiving a flood of attention and acclaim. From unorthodox jungle releases to his own, self-produced mixtapes, he's proven himself to be a jack-of-all-trades rapper-producer who can jump from pretty much every sound dominating the blogosphere. From spaced-out, drugged-up sounds to sample-based hip-hop to hazy R&B production, he can do it all. With Awful Records garnering more and more buzz, thinkpieces and fans, expect Ethereal to be one of the most successful artists from the group in 2015.
Explore his sound on SoundCloud.
FWDSLXSH
With websites like SoundCloud becoming an audio watering hole of sorts for discovering new beat-smiths, through a sea of digital sound waves, London hailing producer Fwdslxsh has managed to consistently find his way onto our timelines. With over a million plays and counting on his Tajan assisted track "Beautiful", a pulsating Snakehips remix as well as increasingly popular releases "4U" and "Yellow" from his debut EP, The Fall, 2015 is looking bright for the HW&W signee and Last Night In Paris affiliate. Layering smooth-as-silk digital tones as a bed for his unique sampling style of Soul and R&B classics, we await his future releases with much anticipation.
Explore his sound on SoundCloud.
GRAVEZ
As one of the latest members of the growing and influential HW&W roster, Graves has made a name for himself with reinterpteting music from the likes of Drake, Travi$ Scott, Rae Sremmurd, The Weeknd, Justin Bieber, and many more. With his futuristic and artful style, you can expect the young and rising Atlanta native to expand his repertoire in the next few months.
Explore his sound on SoundCloud.
HIKO MOMOJI
The freshest pick on our list, Hiko Momoji – almost as if out of thin air – came onto our radar several weeks ago with the release of his first (ever) track, "Mirage Island". Serving as a teaser from his forthcoming Howl project, the New York based newbie further tantalised his growing fanbase's earbuds by dropping Awful Records' Father and ABRA assisted love song, "Late Nights". A modern take on romance, including Netflix, wine and onesies, sandwiched into a lullaby-like effort. Only two months into 2015 and the year is seemingly the 19-year-old's oyster. Expect the full Howl project to hit the internet towards the end of February, with an accompanying visual to "Late Nights" being unveiled on Valentine's Day.
Explore his sound on SoundCloud.
MURA MASA
Alex Crossan is an 18-year-old English producer. His moniker is appropriately named after an ancient Japanese sword maker, which is a symbolically accurate description for this beatsmith's finely crafted tunes. Although his tunes are loud, punchy and crisp, they never come off as fatiguing as his choice of melodies, harmonics and instrumental timbres are equally masterful.
PENTHOUSE PENTHOUSE
Michael Parvizi and Preston Walker are music teachers by day, and Penthouse Penthouse by night. The LA-based production duo formed out of their joint affiliation with their super-crew TeamSupreme. Satisfied with only the finest, they aim to associate a luxurious aesthetic to their music, which they are accomplishing successfully thus far with their excellent dance-inducing creations. Head over here for our interview with the duo.
Explore their sound on SoundCloud.
SAM GELLAITRY
For those of you that follow the movements that LA based label and collective Soulection have been making as of late, the name Sam Gellaitry will most likely not be a new one to you. Exceedingly good, exuding heaps of potential, and only 18 years old, the Scotland hailing signee has often released work that would lead listeners to point their fingers at fellow producers Kaytranada and Hudson Mohawke for their evident influences. However with the new year comes new material, and luckily for us, Sam's debut Short Stories EP – due for release on February 17th – is set to portray just how much his skills have sharpened since we first discovered his upbeat, sparkling sound.
Explore his sound on SoundCloud.