From Street Dreams to Young OG: Brooklyn's Own Fabolous on Growth, Nostalgia, Kobe and More
An exclusive in-depth interview with the Young OG.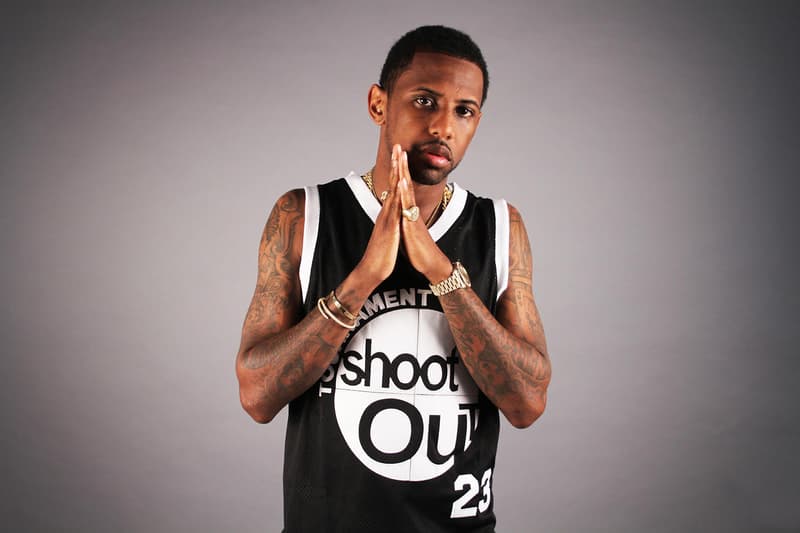 Over the years, New York's own Fabolous has mastered the art of changing with the times while remaining true to himself. The Brooklyn native made his first album debut with Ghetto Fabolous back in 2001 and has maintained a high level of respect among his peers and his fans throughout the years. From the days of wearing your favorite team jersey just a few sizes bigger than normal to now, where he has reintroduced the jersey in a more nostalgic sense, Fabolous went from having Street Dreams to being known as the Young OG. Also known as Loso, he has made a name for himself with witty lyrics and unforgettable punch lines that transition into Twitter trends and inspire fans' tattoo decisions as well. Prior to the release of the most recent project Summertime Shootout, Fabolous has been known to deliver musical treats during the holiday season such as the latter installments to his S.O.U.L. Tape series along with The Young OG Project. To continue his holiday reign, we can expect a sequel in The Young OG Project 2 which aims to add more nostalgia to Fab's heavy selection of music.
Recently, we were able to sit down with the Bed-Stuy representative to discuss his thoughts on music topics in comparison to the past, his likeness for nostalgia in fashion, thoughts on the retirement of LA Lakers' Kobe Bryant and much more. Check out the interview below.
What are some things that your followers can expect from the upcoming Young OG 2 project?
Well I'm gonna let the cat out of the bag. It's kind of inspired by 90s R&B. The first one was kind of inspired by 90s hip-hop and if you look back you'll see the "90s party" for my birthday last year was 90s hip-hop and we had Raekwon, Mase, Swizz and a few guys perform. With this party I had the "platinum party" because the 90s was a time when everybody was going platinum and people would throw platinum parties in order to celebrate their success, so I wanted to hold onto that and instead of doing hip-hop this time we did the R&B thing. During that time we had Faith Evans, 112, and others. I provide the hip-hop element so the music is inspired by the R&B of that era. You see the memes and different little things hinting that they want the 90s R&B love.
R&B at that time was different from R&B now, R&B now is still cool but it's not at the forefront as it was then. It's subject matter is a little different. Right now you might hear the subject of "These Hoes Ain't Loyal," but in the past the topic was different. I wanted to bring that element back so I took some cool things from the 90s R&B era and brought it to the project. This is one of the first times that I'm letting that out because I just wanted people to digest it when they got the music, but at the same time I wanted people to understand why it went that way and where it's going at the same time.
---
"If I do something that I like and other people think it's cool then that's a plus, it's a win-win."
---
You've been involved with music & fashion for quite some time now. With both music and fashion industries changing on a constant basis, what do you do to stay adjusted to the industries' changes in order to stay relevant?
Well one thing I do is just pay attention. I've never got so distant to where I don't know what's going on and also I do what I like and that keeps me passionate. I'm not going to do something just because I think that everyone else thinks it's cool. If I do something that I like and other people think it's cool then that's a plus, it's a win-win. Even fucking with the 90s shit, it's tipping your hat to those of the 90s, its to the fans and getting them to reminisce and for the younger dudes its like educating them almost because they can go back and say "Oh yea that's dope" or hear a song and find out where it comes from. It's a lil story behind it. A lot of music today doesn't have a story behind it, the turnaround is so quick, it's right there and then it's gone.
During the summer you sparked a trend of rocking a ton of jerseys from classic sitcoms and films. What inspired you to do that and do you have anything planned in relation to it in the future?
That came from the 90s vibe too because those shows were 90s shows. The Fresh Prince, Teen Wolf was more so late 80s, but you have Above the Rim, the Sunset Park, the Al Bundy and those are all inspired by your favorite shows from the 90s and no one had really done it before so I wanted to tap into that. What we actually just did was a deal with VILLA (RUVILLA) where we'll be doing those jerseys over again and they'll be available for sale throughout the winter. The first one we're gonna let go is the Willie Beamen from Any Given Sunday and the tournament jersey from Above the Rim. We'll have an ill one for All-Star weekend to blow everybody's mind and I don't wanna let that one out of the bag yet, but it's crazy.
So for those who know you, they're aware of your taste for nostalgic sneakers and streetwear. What's your most memorable moment from back in the day regarding sneakers, streetwear or both?
With footwear I remember how it was such a dope experience in getting the shoe. Now the shoe shopping thing is a little different, you have your resellers and HYPEBEAST & shit. But I remember the nostalgic era of being able to just walk in the store and grab the shoe without the goal of reselling and wanting to go in the store to buy it and rock it and feel good when you wear it to school the next day. The crazy thing is that's what's nostalgia now. Fashion wise, I love the transition and growth of hip-hop being where you'd showcase fashion. I feel we do it now too, you have Kanye making a big impact on the sneaker culture and different people and hip-hop artist getting collaboration deals, it shows that we're still a universal language that speaks to the masses. I also like how we stepped in the fashion world as owners and inspired people to let them know that you can get your own brand and I think its trickled down to what we have today with a lot of designers and different people starting their own brands/clothing lines. You may not be on their level and sell 300 million but that might be the goal after everything. You have social media for expansion and other outlets. I love that.
---
"I just wanna make [Christmas] fun for [my sons]. I remember how that used to feel man and its a good vibe."
---
For the holiday season, what are some of your personal plans and things that you look forward to?
Just to celebrate it with the family, man. My son is of age now to really look at Christmas and look for toys and write Santa letters. I have two sons. One of them is a baby and the other is seven so we're writing Santa letters and we play into the fantasy of Santa being real. I gotta eat the cookies so when he comes down he only sees the crumbs and says "Santa really came! He pulled up." I just wanna make it fun for them. I remember how that used to feel man and its a good vibe. Eventually, he'll know that it comes from his parents but for right now you let them play into the fantasy and have a good time. I just wanna make his Christmas as dope as it can be and I also want to take him to do something charitable too. I was telling him about giving away some of his toys and stuff like that. He's living a fortunate life as a kid, but I want him to be able to know that everybody doesn't get toys and be able to give back to other kids as well and make their Christmas special.
What was your first reaction to Kobe Bryant's retirement letter?
I was like "Damn I'm getting old." It's like the end of a generation. It was Magic, then it was Jordan, then you have Kobe and now it's LeBron and now we have Steph Curry. So when you see Kobe retiring it's like "Oh shit" damn, we really grew up with Kobe. Kobe was my favorite player after Jordan retired. Everybody used to hate on Kobe, even the people who used to hate on Kobe weren't able to doubt the man's skills. You gotta respect his game and his five rings. Even when people would talk about Lebron and Kobe, you always felt like you wanted the ball in Kobe's hands because he wants that shot, while LeBron at times would be passive. Kobe's coming to the ball every time, he wanna hit it or miss it and I've respected him for that because he knows that he's a dominant player and he wants to rise to the occasion.
Besides Young OG 2, what are some other projects that you have in the works?
Just more music man. I take my time with it. There's a lot of saturated music out there that's rushed. I take my time with it and I think people respect it, some people of this generation move off of how this generation moves and sometimes you should take your time. For example with the Drake & Meek Mill beef, Drake put the diss record out and Meek Mill didn't have to rush, but everybody of this era is used to everything coming at a faster pace. Jay Z put out the "Takeover" during the summer, Nas didn't come out with "Ether" until that winter. When he put it out, he sat and got that shit right and that's something that Meek could've did too.
But in this era, you have the Twitter, the Instagram, and everybody is on you and everybody is gonna ask you what's going on. You're pressured to come right back, even if it ain't what it's supposed to be and you can't let that control you, especially in that type of situation, everything has to be right. I'm a big fan of taking your time with the music and taking your time with your craft and making sure that you're shit is right before you just fling it out there, 'cause once you fling it out there you can't take it back. If it don't do what it was supposed to do you'll end up having to make excuses for it. I'd rather be 100% with it and that's it. That's where I stand and that's how I do it.
Join Our Discussions on Discord
The HYPEBEAST Discord Server is a community where conversations on cultural topics can be taken further.