Alexander Wang Speaks on the WANGXO Capsule Collection
The respect is mutual.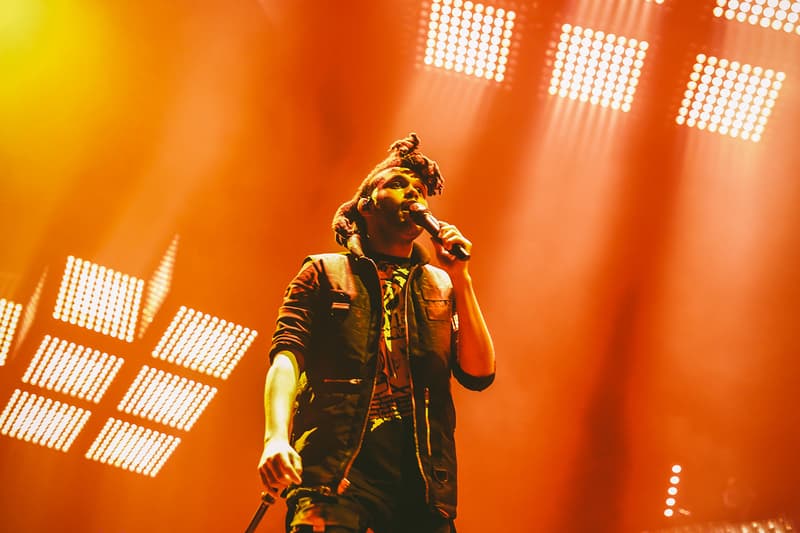 Having met at this year's Coachella where the ideation of doing something creative together came about, fashion designer Alexander Wang and music artist Abel a.k.a The Weeknd are now ready to release their first ever capsule collection later this month. The range consisting of T-shirts, hoodies, a high-top leather sneaker and bandana are offered under a limited edition run made available to the public. With both designer and artist partaking in every step of the collection's design process, the results are a clear indication of a shared aesthetic and a newly-found friendship.
The designs themselves pull from zine-inspired graphics interwoven with The Weeknd's song lyrics and XO logo. These pieces are accompaniments to custom-made items originally designed by Alexander Wang, serving to dress The Weeknd on stage during his Beauty Behind The Madness tour. Detailing on these custom pieces include saddle pockets and exposed cargo pockets on the different iterations of the hooded vests and trousers, as well as padded camo print and webbing accents. For the WANGXO capsule collection on offer, we were able to talk exclusively with Alexander Wang himself on what his first impressions of The Weeknd were, as well as a personal account on how the idea behind WANGXO started. Read the conversation below.
What was your first impression of Abel?
I've been a big fan of Abel and his music. He is extremely talented with an incredible voice and on-stage presence.  The first time we collaborated was this year at Coachella. Abel was dressed in pieces from our Fall 2015 Men's ready-to-wear and T by Alexander Wang collections, and we also created a limited edition #WANGXO bandana for fans at the festival.  He took over our Instagram account (@AlexanderWangNY) as the first and only IG takeover we have done, documenting his experience as he closed the first weekend of the two-weekend festival.
Can you give us a personal account of how the idea behind WANGXO first came about?
Our collaboration at this year's Coachella music festival was organic and relatively spontaneous. We connected aesthetically, and the bandanas were a big success. We loved working together and decided to take it further by dressing Abel for his tour, and by co-designing the WANGXO capsule, consisting of five styles –- a hoodie, a white T-shirt, black T-shirt, bandana and a pair of sneakers. Abel was involved in every step of the process. We both wanted to build a collection around strong graphics, with a play on The Weeknd's XO brand and our brand, to create a collection that looks great on stage and can be worn in everyday life.
What are you taking away from this collaboration?
Our capsule is directly reaching both fashion and music fans, which are complementary. The Weeknd is wearing select WANGXO styles throughout his first arena tour,The Madness. Music plays such a big role for me, and I'm happy that The Weeknd's XO brand and I were able to work on this capsule together.
The WANGXO capsule collection will be available at the Alexander Wang SOHO store on November 17 and on Alexander Wang's official site on November 18. Pricing includes $575 USD for the sneakers, $185 USD for the hoodie, $150 USD for the T-shirts and $40 USD for the bandana.