Yeezy Season 2: Womens Full Pricing List Revealed
Yeezy taught 'em.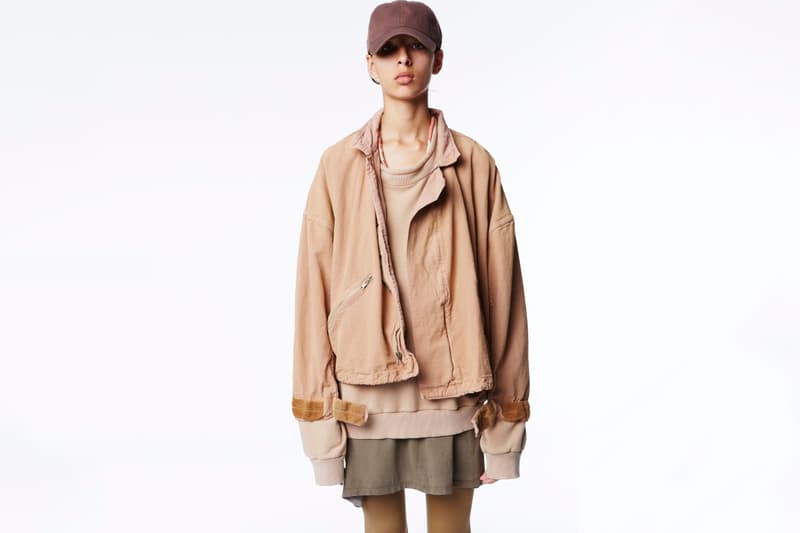 After the unveiling of Yeezy Season 2: Mens pricing, we've come across the MSRP for Yeezy Season 2: Womens items as well from the same anonymous source. The price list, which pales in comparison to the mens list in variety, sheds some light on some of the items that are slated to release for the female fans of Kanye West's sophomore release. A wide array of body and swimsuits are available, while hoodies, leggings, skirts and jackets, some seemingly the same as the men's version, will also be available in the same earthy hues of brown and green. While the hosiery offerings are "reasonable" to some extent, the most expensive item from the Womens list appears to be both a Raglan Mesh Tee and a Bonded Raglan Trench Coat, each coming in at slightly over $1,200 USD after currency conversion.
Check the list below for all (approximate) suggested retail pricing converted to USD, along with their available colors.
Yeezy Season 2: Womens
Item – Color – Approximate Retail Price.

TOPS
Womens Basic Bodysuit – Military Light, Military Dark – $275 USD
Womens Low Cut Hosiery Bodysuit – Natural Light, Henna, Military Dark – $155 USD
Womens Sleeveless Hosiery Bodysuit – $130 USD
Womens V Cut Swimsuit – Natural, Black – $330 USD
Womens Raglan Mesh Tee – Off-White, Black, Military Light – $1,240 USD
Womens Tank Long Dress – Natural, Haze, Military Dark – $420 USD
Womens Hoodie (No Pocket) – Military Dark, Military, Shade – $605 USD
Womens Hoodie (No Pocket) – Sandstone – $710 USD
Womens French Terry Hoodie – Natural, Shade, Brownstone, Military Dark – $405 USD
Womens French Terry Hoodie w/Pocket – Sandstone, Shade, Henna, Military Dark - $510 USD
Womens French Terry Hoodie w/Pocket – Natural – $570 USD
Womens Zip Through Hoodie – Sandstone, Shade, Military Dark – $510 USD
Womens Zip through Hoodie – Natural – $570 USD
Womens Bomber – Sandstone, Shade – $575 USD
Womens Double Cottom Flight Jacket – Military Light, Military Dark – $615 USD
Womens 10oz Flight Jacket – Haze, Military Dark, Sandstone – $430 USD
Womens Moleskin Flight Jacket – $535 USD
Womens Trench – Natural, Shade, Brownstone – $795 USD
Womens Gauze Trench Coat – Military Light – $725 USD
Womens Overcoat – Natural, Military Dark – $580 USD
Womens 18oz Bonded Raglan Trench – Shade, Military Dark – $1,245 USD

BOTTOMS
Womens High Waist Legging – Henna, Military Dark, Natural Light – no pricing available
Womens Long Slit Skirt – Natural, Shade, Brownstone, Military Dark, Rust - $385 USD
Womens Seamless Bikeshort – Dusk, Military Light, Black – $370 USD
Womens 10oz Workwear Pant – Natural, Military, Shade – $395 USD
Womens Workwear Pant w/Zips – Haze, Military Dark – $500 USD
Womens Banded Bottom Pant – Natural, Military Light, Military Dark, Sandstone – $375 USD
Womens Double Cotton Wide Leg Pant – Military Light, Military Dark, Sandstone – $450 USD
Womens 10oz Cargo Pant – Military - $375 USD

FOOTWEAR
Womens Lucite Heel – Lucite – $555 USD
Womens Suede Heel – Gold – $420 USD
Womens Crepe Boot – Taupe – $620 USD
Womens Low Knit Boot – Dark Olive, Gold – $815 USD
Womens High Knit Boot – Dark Olive, Gold – $890 USD