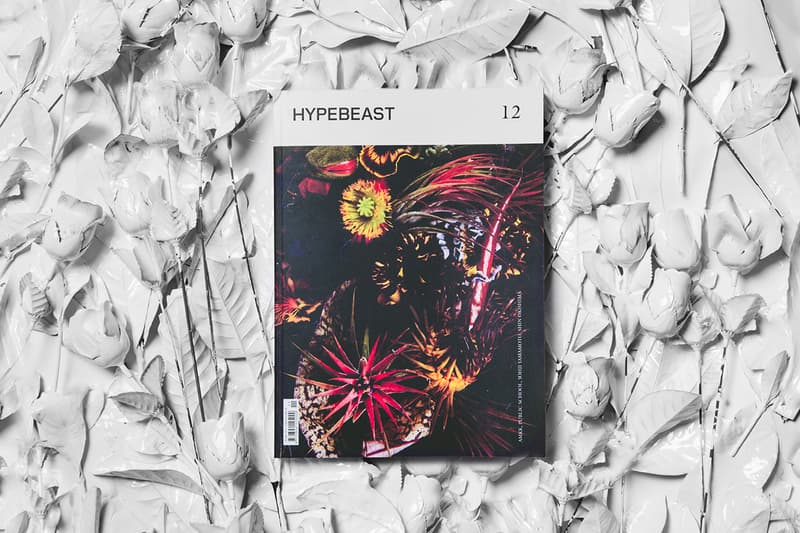 HYPEBEAST Magazine Issue 12: The Enterprise Issue
Featuring full length articles on Public School, The Hundreds, Willie Toledo, Tyler, the Creator and Yohji Yamamoto.
---
Not long after the release of our newly designed HYPEBEAST Magazine Issue 11 by Number 04 comes the updated Issue 12: The Enterprise Issue that looks at the entrepreneurial spirit of creatives beyond just our own culture. Spearheading this issue are Japanese floral artists Azuma Makoto and Shiinoki Shunsuke, collectively known as AMKK, who take floral arranging to the next level through incredibly vibrant and visually stunning displays of nature, and whose published Encyclopedia of Flowers creatively inspires the like of Hiroshi Fujiwara. Inspiration is key to what we do at HYPEBEAST, so by presenting individuals who have gone the lengths to achieve success in their own right, we hope to inspire our readers to do the same. This is why we asked award-winning designers Dao-Yi Chow and Maxwell Osborne of Public School fame to give us firsthand insight on the process of building your own brand. Streetwear staples Ben and Bobby Hundreds of The Hundreds adds their own version of what it takes to create a start up, and Tyler Brûlé, Journalist turned media mogul who founded both Wallpaper* magazine and Monocle teaches us why being inspired is so important in life. Following this we have selected other notable names, some on the forefront of their industry and some that operate behind the scenes, but all that share the same entrepreneurial itch. These names include tattoo artist and publisher Maxime Buchi, Stüssy Japan's Brand Director Shin Okishima, artist and international art festival POW! WOW! founder Jasper Wong, esteemed photographer Willie Toledo, and ceramist Ben Medansky among others. To top this issue off, we have exclusive interviews with two individuals who have hugely influenced the landscape of their respected fields. Both operating on opposite ends of the cultural spectrum we have the revered Japanese Master Yohji Yamomoto who invited us to his Y-3 Spring/Summer 2016 show, where we capture a rare and candid side of him as we talk all things fashion and then some. On the flip side we spoke with Tyler, The Creator on the grueling, behind-the-scenes side of what he does not just as an entertainer, but what it means to run your own business, manage your own team, operate your own record label, direct and act in your own TV series, design clothes, oversee a massive music festival, and still have a fucking good time.
So without further ado, we present HYPEBEAST Magazine Issue 12: The Enterprise Issue, brought to you by art and design office Number 04.
HYPEBEAST Magazine Issue 12: The Enterprise Issue retails for $12 USD (£7.50 GBP) and is available now at HBX, as well as at select stockists and newsstands worldwide.