An Evening in Hong Kong With the Converse CONS Skate Team
An Asian stop on the One Star tour.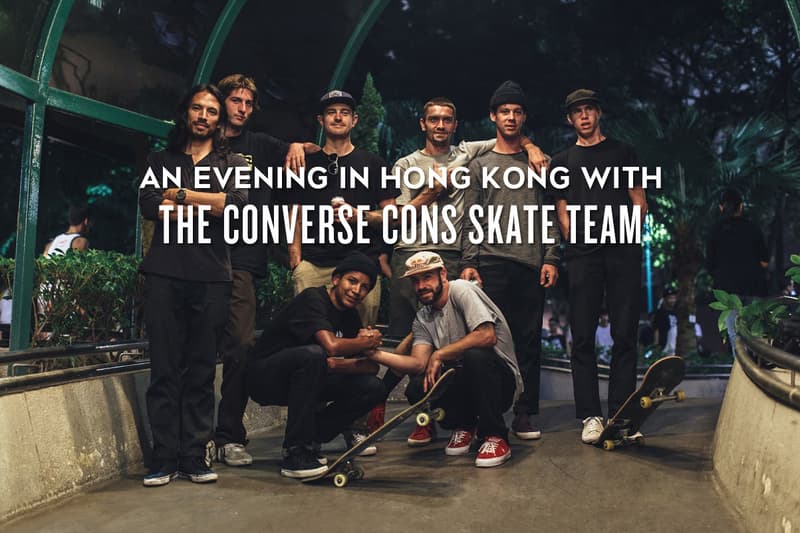 Since 2009 Converse has been re-establishing itself as a mainstay of skate culture with its CONS skate programme. Featuring ambassadors such as Kenny Anderson, Zered Bassett, Jake Johnson and Aaron Herrington among a host of other stars, the team has hit the road this year stopping off several times in North America, Europe and Asia to promote the new Converse CONS One Star Pro. On the penultimate stop, earlier this month in Hong Kong, thanks to the guys at 852 we caught up with Bassett and Herrington to chat about the rise and rise of Converse CONS, how skateboarding has escalated further into mainstream popular culture and what they have planned for 2016.
The Hong Kong Pit Stop 
Zered: We're on the Converse One Star world tour. This is the second-to-last stop, we're doing demos and signings, hitting a few street spots which is good. We go to Bangkok next and then head back to New York.
Aaron: We're here on the China portion of the One Star world tour. We're skating a demo, doing a signing. We dropped by Macau skated some spots there, then we have the one stop in Bangkok left. I might stay in LA for a few days on the way home.
New York's Influence on Skateboarding
Zered: I'm from Cape Cod, which is near Boston. I probably started going to New York when I was about 15, moved there when I was 18. A lot of companies wanted me to move to California, but I liked New York. There wasn't a lot of people skating there and there were so many spots. Nowadays most companies come to New York during the summer and do a tour article, there are so many people skating in New York now and they have built a lot of skateparks. The younger kids are learning to skate transition, skating street and you can see the difference within the city nowadays. It's really good to see.
Aaron: Well, I grew up in Oregon where skating was way more low-key. When I moved to California things were way more street skating focused, which I think is probably identical in New York. New York is maybe a little easier, as you don't really need to have a car to get around, but the spots are a little more difficult. I prefer New York over California, apart from the weather.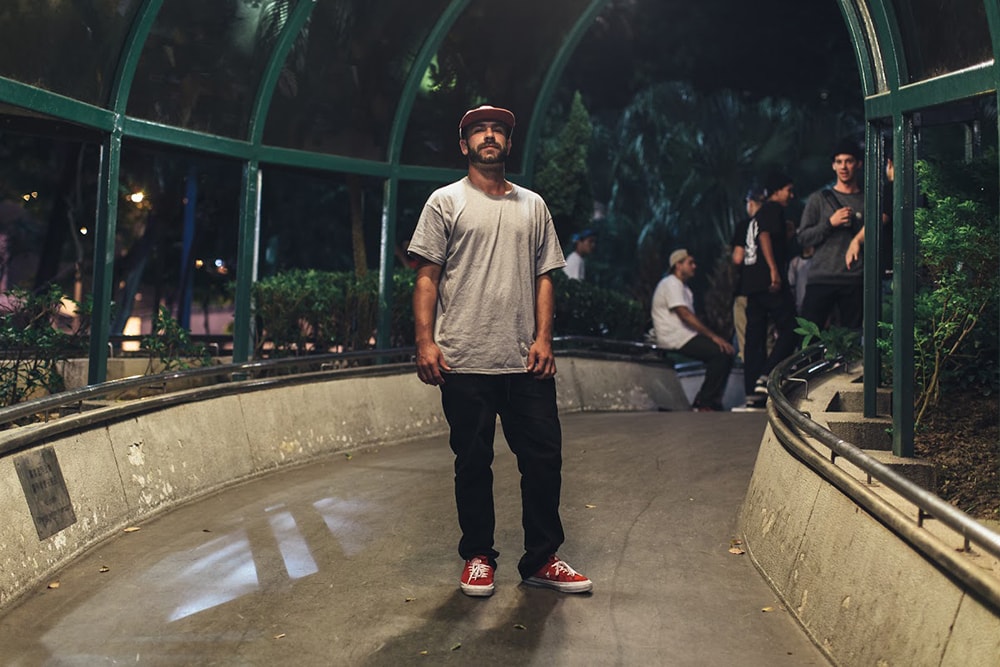 On Being On The Road
Zered: When I first moved to New York I was definitely way more motivated to skate than I am now when I'm there. Everything was new, it was a big city. After 10-15 years you get used to all the spots and it's not quite as motivating, so now when I go on trips I get way more motivated. It's new stuff and it's exciting. Back home you have to be a lot more creative and think hard to do stuff on old spots. On the road you can do basic tricks, but at new spots. It's really good.
Aaron: Right now I prefer being on the road, but at the same time I have a girlfriend of four years who I miss. When I'm on tour I am not stressing as much because I have a calendar, at home I have a lot of free time and find myself stressing by trying to stay productive. It comes way more naturally on the road.
 Converse vs. Polar Skate Team 
Zered: Converse is a huge company, so you go on tours and they take care of you. It's nice. When I first started out on Zoo, it was really, really small. Maybe three of four people to a room and now sometimes you get your own room. You get super comfortable, which is good and bad. It's cool to see my friends on the company being paid well and travelling. I like it.
Aaron: It gives us the opportunity to do bigger things, larger tours. There is a bit of a budget which gives us some freedom to do more exciting things. Going on tour with Polar, who are still a relatively small company, it's a little different. It's awesome though, you get to eat good food, stay in great places. Without Converse that never happens.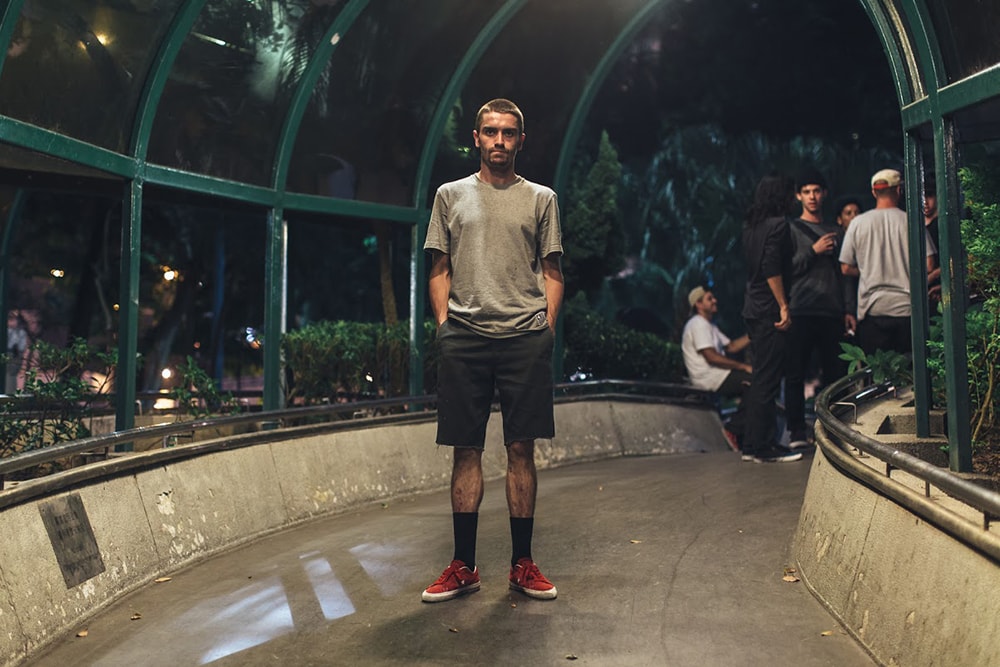 The Crossover Between Fashion & Skateboarding
Zered: I try not to overthink that shit too much. Whatever is gonna happen is gonna happen, it's not going to ruin my day. Some people get really pissed and they're not psyched about where it's going, but it's up to each individual skater to decide what they want skating to be. There's so many people skating now. There's so many new people doing it. That's where the trends come into things. Every kid has got the rolled up pants and the Converse on, every kid is doing slappy grinds again. It's just the evolution of skating.
Aaron: It's just part of the growth of the sport. It seemed like for a long time that nobody gave a shit about what you wore, you didn't even care about what you wore. We were just like 'do I have shoes on my feet? Do I have a T-shirt and pants? Do I have a skateboard? OK.' It's now almost high fashion. It comes with it. Supreme and Palace and Carhartt WIP are all having a huge influence in skateboarding for a younger generation of kids. I'm not mad at it.
Plans For 2016
Zered: With Converse we have one more trip to South Africa in November, which will be the last stop of the world tour for the One Star. I'll chill a little bit, try to rest, it has been a busy year. Next year I want to try skate hard, keep it going, shoot some more photos and keep doing it.
Aaron: We're hoping that some time in January the Polar video will come out. Once that comes out I want to work on my own part based around one spot. I want to keep travelling and keep productive. Just keep skating.
Join Our Discussions on Discord
The HYPEBEAST Discord Server is a community where conversations on cultural topics can be taken further.