J. Cole - 2014 Forest Hills Drive (Review)
Having surpassed Rick Ross' Mastermind LP with an incredible 361,120 units sold in its first week,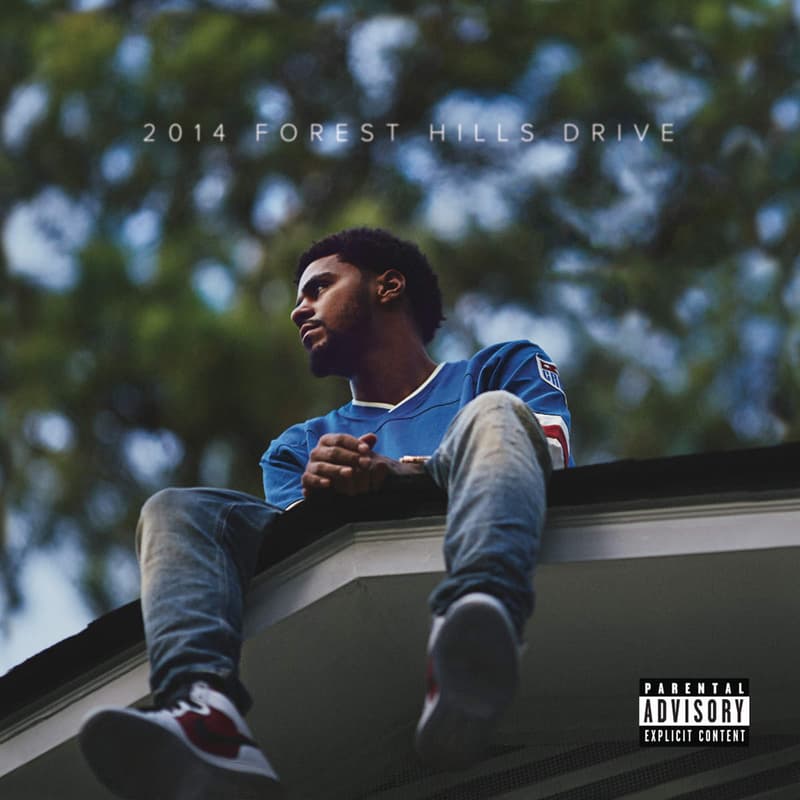 Having surpassed Rick Ross' Mastermind LP with an incredible 361,120 units sold in its first week, 2014 Forest Hills Drive finds marks J. Cole's third No. 1 album in his career. Nostalgic, refreshing and a genuine effort that — despite his common placement as the butt of most nap jokes — is most certainly not an album to be slept on. Moreover, it is a conscious hip-hop story that emits a real sense of freedom and truth.
The 13-track project finds Jermaine taking a step back from the boardroom and instead into his Fayetteville, North Carolina bedroom to make a body of work guaranteed to leave admirers of The Warm Up and Friday Night Lights pleasantly surprised by what they hear.
Albeit, the marketing strategy for this album saw him take the Shia Labeouf route and become an anti-celebrity: taking multiple trips to meet fans across the country, buying out a cinema to enjoy a Chris Rock film with supporters, and giving various fans the opportunity to hear his LP in advance by arriving on their doorstep. However, this album surpasses its predecessors as one of his most selfish exertions yet; seeing him candidly give the middle finger to the current state of rap music by creating a project that preaches about love, happiness and truth as opposed to unlocking the cheat code to attain a quick hit through fat synth basslines on a bed of monophonic melodies. Because, as he questions on the album, "don't nobody sing about it no more?".
One rather obvious attribute to 2014 Forest Hills Drive is its instrumentation. Production-wise, Cole incorporates a variety of live instruments alongside an array of homage-paying samples such as 2Pac, Mobb Deep and The Notorious B.I.G. However, it is the sample on "G.O.M.D" that rings the loudest. It is sampled from Branford Marsalis' "Berta, Berta," a slave work-song taken from August Wilson's The Piano Lesson play. Despite the obvious connection between the sample used and the lyrical content of this particular track — which is a blatant refusal at becoming a slave to the music industry — there is a dichotomy in the storytelling of this song. By using a sample like this, especially with the current state of racial tension in America being at a high, Cole follows a similar pattern to what Craig Werner (Professor of Afro-American Studies at the University of Wisconsin-Madison) described Kanye West's usage of Nina Simone's "Strange Fruit" on "Blood On The Leaves" as doing: to "[keep] the voices of ancestors and the awareness of the history alive."
Expectedly, due to his unmissable presence during the protests in New York for Eric Garner, and in Ferguson for Michael Brown,  2014 Forest Hills Drive touches upon issues within the black community throughout. From asking "What's the price for a black man's life?" on "January 28th" to questioning why "every rich black n*gga gotta be famous? / Why every broke black n*gga gotta be brainless?" on "G.O.M.D". His frustrations for the future generation comes at an important and relevant time, with his lyricism hitting home for most people.
Overall the album lives up to most expectations; a conscious open casket of languid raps over above par production. Though this will not be the project that sees Cole hit a myriad of expectations required for most to call it a classic, the message is heard loud and clear: he's ok with that. Conveying a sort of overconfidence about his work, and his uncertainty as to whether "it's gonna work or not", he succeeds in producing a body of work that he himself can take pride in. No "Work Out" moments in sight, however he still manages to hit rocket sales. His perseverance to put together an album on self-belief and optimism (quite literally) payed off. 2014 Forest Hills Drive is his Field of Dreams.