7 Things to Consider for Fashion Brands Entering China with Richard Hobbs of The HUB
For the better half of the last decade, brands have salivated at the prospects of entering Mainland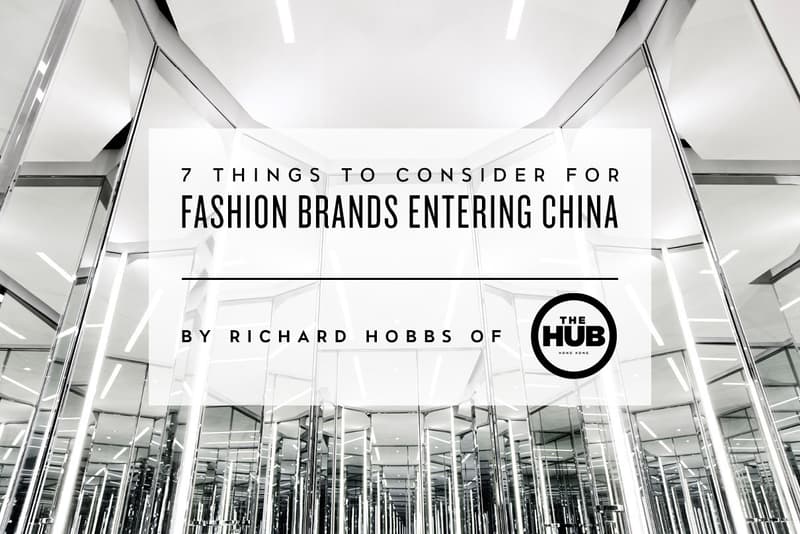 For the better half of the last decade, brands have salivated at the prospects of entering Mainland China. Once a country associated with producing low-quality products and a life of practicality, it has now welcomed a more fashion-driven and at times ostentatious approach to living as shown by the spending habits of the growing middle and upper class. However, for many proven global brands, entering China has been very difficult to navigate given the differences in culture and of course the sheer size of the market and its differentiation between social classes across different city sizes. Add in a particular brand of government that has shown to be heavy-handed in its approach to taxation and government spending on luxury goods, and you have a potentially harrowing experience for any new brand.
Somebody that has understood the regional landscape for over two decades is Richard Hobbs. After helping launch a number of denim and streetwear labels, he and his partner Peter Caplowe wanted to fill a void in Asia's fashion buying forum and launched The HUB last year. There are well-documented cases of trade shows in Las Vegas, New York and Berlin, but there was a lack of similar opportunity in the Greater China region. In China, there aren't many great examples of multi-branded retailers but that is changing, and the fashion literate are looking far beyond just luxury and fast fashion — but legitimate brands with great stories.
The statistics year after year are generally bulletproof and point towards the establishment of what will be a $160 billion-plus fashion industry by 2016. Richard Hobbs broke down the various important elements that one should consider before making the move to China. By no means is it an end-all guide to doing business in the emerging country, but rather a starting point for dialog and consideration.
---
---
600 Million Shoppers Await
In the first case, as a brand, you can't really afford to ignore a market – by latest forecasts and analysis – of around 600 million aspirational consumers with money to spend. Whatever its shortcomings and political/ethical matters, China is only going to increase in importance and influence and in the era of globalization and instant communication the rest of the world is bound to get closer to China as it will to the rest of the world. There is also a hunger for credible brands with provenance and a legitimate story – not just from consumers but from investors as well. There are brands in China with thousands of stores that have been built up by pure "imitation" and suspect branding, design and marketing concepts simply because the consumer did not know any different. The customer is now way too smart and can see through these brands and are now able to determine legitimate brands easily (via Hypebeast and others), so their time is limited and they will need to be replaced.
---
---
Adapting to the Culture of Business in China
A lot of caution is needed when entering China. Things have improved over the last few years but there are massive bureaucratic hurdles covering taxation, company formation, import duties, profit repatriation, relabeling and product testing. These are often very difficult to really get your head around and change constantly but they are all problems that can be solved if you have the right people on the ground. From a cultural aspect the biggest change is the approach to business. When I first went to China to do business in 1990 I spent 3/4 of each day drinking tea and leaving meetings with no idea whether it was a good or bad one, then getting smashed on really dodgy alcohol. It then took weeks, if not months, to actually get a simple sale or purchase signed off. Then it was all about developing a personal relationship and generating trust. Now people want to know immediately what's in it for them and when they will get paid or get their return. Each style has its pros and cons but I would still recommend not rushing into a relationship that sounds amazing, because invariably it won't be.
---
---
Recognizing the Sensibilities of Chinese Consumers
Obviously every country/region has its own influences in fashion, music, sport, media that lead to consumers connecting with brands and product. The main difference with China is that it's only really been open to international trends for the last seven years, with the growth of the traveling mainlander and social media in the last four years. So in comparison to the West it's completely immature and unsophisticated but transforming dramatically. They are becoming more knowledgeable by the day about both international labels and domestic designers and hunting down their targets. The lack of multi-label stores and the sheer size of the country is the reason for the rapid growth in online commerce and the use of Weibo and WeChat to connect with consumers. We had one exhibitor at the last HUB who currently ONLY sells via WeChat and there are so many commercial applications being developed that this area is actually leading the world. They are taking online customer service to another level not seen anywhere else. We also ran a panel session during The HUB last week about the retail experience, online and offline, and the keynote speaker was Winnie Foon from ShangPin. They actually offer a service for VIPs where they can order three sizes or colors of an item and the courier will wait at their door while they try on and take back what they don't like, as well as the payment for what they want to keep. At the same time the physical retail experience in China is massively behind the West or Japan, who do it better than anyone else. Store design and planning, customer service, staff training and retention need a lot of work.
---
---
Research the Market
From a personal perspective I would have to say that signing up to take part in The HUB would be a great first step. You have to treat China, and Asia, seriously as a long term business objective. Brands should not just turn up in the market and expect to get a bunch of orders and everything runs smoothly. If you are an American brand looking to launch in Europe you would definitely go on some research trips; meet a bunch of people; consider logistics, pricing, merchandising, marketing, etc. before making a commitment.
The same applies to China but on an even larger scale. Do your research, prepare localized support, pre-market, learn and connect. The brands that come to The HUB and get the best results are those that prepare properly and don't expect immediate results. When I have launched brands in the past in the U.S. or Europe you pick up very little business at the first trade show, a bit more at the second, and then at the third the bigger players who have been watching you to see whether you are going to be around for a while and can deliver, step up. China is a long term play but now is the time to get engaged. I see particularly street brands that can be hugely important in China if they only took this approach.
Finally, take care of your IP. Before you make a major move, and recommended anyway, always get your trademarks properly covered. It's expensive but essential and there are too many tales of bad experiences to even start relating here.
---
---
Leveraging Multi-Brand Retail Opportunities
Really it's the fast fashion retailers that are making the big moves and the shop/copy domestic brands offer the main alternatives to luxury. The lack of multi-label retailers and no real wholesale infrastructure does make it difficult for brands to grow as they would expect in the West. However, part of our mission is to keep selling the concept of multi-brand to investors, mall management, property developers as well as existing distribution companies. Most international brands normally work through a network of own stores and franchisees.
On the denim side Lee and Evisu, which Peter originally launched in China in 2001, are strong with wide distribution. Most of the big sports players – Nike, adidas, et al – have massive franchise programs. They have been dealing with the post Olympic downturn which saw local competitors like Anta, 361 and Li Ning get hurt but will be around for a long time. There is a big demand for heritage brands from the UK and Italy where the more affluent consumer is moving away from blatant luxury and looking for something a bit more sophisticated and with real provenance. At The HUB we also host these types of exhibitors who normally do well. Last season Barbour signed a deal for 300+ stores in China during the show and there have been others who have arranged licensing and distribution deals from connections made at The HUB.
As I said earlier I see huge opportunities for street brands to come in to the whole Asian market with its massive youth population. There is very little international competition and the domestic brands are weak, in my opinion!
---
---
Understand How Social Media in China Works
To me the jury is still out on how you validate social media activity into sales but there is no doubt that it is massively important as part of an overall digital strategy for any brand. Instagram is probably the most important and because it is open in China (as opposed to Facebook and Twitter), has a big part to play. It's also the most relevant in the fashion industry globally. China has Weibo and WeChat which, as a mobile platform, has been the main route to connect with far-flung customers. Savvy users are really building their online businesses with these platforms so they do become much more than a brand communication channel. I don't have access to any accurate research or data but would hazard a guess that the young Chinese consumer is far more connected to their favorite brands through SM than their Western counterparts.
---
---
There's More to Foreign Fashion in China Than Luxury
It could probably only happen in China but I would guess that the luxury companies have made more than enough money with their runs at China over the last 15 years that they can handle, and were expecting, a downturn. Any system that allowed customers to sell back their recently acquired handbag at 75% to 80% of its ticket value was going to end at some point. For me it's the emergence of the educated and informed middle class and the consumer looking for individuality and credibility that will drive the next growth of fashion and retail within China. Some previous luxury buyers will drop into that sector but overall it's too big a market to worry about that might happen to the big boys. They should be able to work it out.