The Design Fellow with Jason Mayden: Small Victories with Vessyl
"When it's organic, it's better. Don't force it and don't reach." -Jerreau from the album Small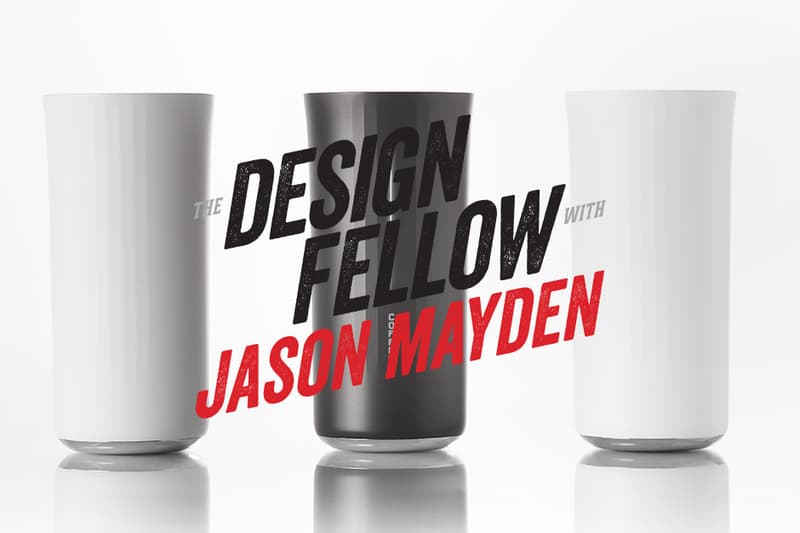 "When it's organic, it's better. Don't force it and don't reach."
-Jerreau from the album Small Victories by Fly Union
In March of 2014, I sat patiently in Cipriani's – a staple amongst Gotham City's most illustrious movers and shakers – awaiting the representatives from the private equity firm that had been actively recruiting me for the past three months. As the dinner guest started to arrive, I immediately began to ask myself the most important question of my life: "Is this my true purpose? Or was this simply a means to an end?"
It was at this moment that I truly understood the gravity of my decision which led me to unpack a series of complex emotions that were rooted in my decision to resign from Nike in November of 2013.
On a cold, rainy November night in Beaverton, my 9-year-old son had begun his daily pre-bedtime ritual of showering, brushing his teeth and ultimately preparing for our "family huddle" where we would reenact the Chicago Bulls pregame chant made famous by Cliff Livingston. "3-2-1," I counted aloud to center my children before we simultaneously yelled the phrase "WHAT TIME IS IT? JAMMIE TIME!"
Upon completion of our nightly chant, I returned to my bedroom but out of the corner of my eye, I noticed my son standing motionless in front of the bathroom mirror, wearing only a towel and a look of absolute defeat. A look that would break the heart of any loving, involved parent. At this moment I slowly stood up and carefully walked towards him knowing that the words that leapt from my lips had to be lovingly curated. "Whats the matter?" I asked in a sincere tone. "I don't love who I am, I'm not like the rest of the kids. Why do I have to be fat?" my son responded.
That simple but earth-shattering statement became the rally cry for a massive shift in my professional trajectory. In an instant, my hopes, my dreams and my desires compounded into a unified mission; to help my son overcome his lack of self worth, his lack of perceived social acceptance, but more importantly our lack of knowledge of why he rapidly gained a significant amount of weight.
The next day, armed with a heart full of compassion and a spirit which was divinely convicted, I confidently walked towards my managers office, asked for a few minutes of his time, and offered my resignation. Over the course of the next few weeks, I had a series of conversations with every senior leader to explain my new mission and my new purpose as a creative, which was to discover and eliminate the impediments to my son's happiness.
We spent countless hours in the months that followed, researching his symptoms, combing through our family medical histories and soliciting the help of every specialist in the region that could potentially lead to a known cause and ultimately a known solution. This was a financially and emotionally draining exercise but one that I had to undergo to ensure that my child, my only son, could experience life as a healthy, confident soul.
After months of searching, we were finally referred to a brilliant physician who was trained as both an MD and a Naturopath. Dr. Rob Dramov had become our answer. He had given us a tremendous understanding of food and the complexities of a sensitive immune system and how those sensitivities led to adverse reactions, and ultimately debilitating food allergies and intolerances. We were thrilled that my son had been cleared of all serious forms of illness but were concerned with how we would feel socially having to repeatedly and rigorously question every single thing that we would ingest as a family. Everything had become a potential threat, from breakfast cereals to birthday cake; nothing was left unexamined. We feverishly searched for a suite of tools to document and aggregate the information that was relevant to my son's allergies and intolerances, but nothing was available. It was at this moment that I knew that I would need a significant amount of capital to fund my personal mission to understand and ultimately automate the food logging process to eliminate the awkwardness of interviewing every person that had the misfortune of serving us at a restaurant or assisting us while we shopped at our local grocery store. We simply wanted to know what was in our food but more importantly we wanted to know how that looked over an aggregated amount of time. So I made a choice – I would take the highest paying job that I could get, in order to fund my true passion which was to help my son.
As I sat in the corner of Cipriani's that moment played repeatedly in the theater of my mind. I kept telling myself things such as, "If you do this now, you can afford to continue to help not only your son but other people who may be struggling with this also…" and "… it's a lot of money, for a short amount of time. Just take it and fund your passion." But something about the idea of working simply for money was foreign to me. I wanted to work for a mission-driven organization that felt as passionate as I did about food quality and consumption behavior. So I decided that right then and there, that I would pray, openly and confidently for a sign. I needed to know if what I was doing was truly my purpose and I needed to know immediately.
At that exact moment, I reached into my left pant pocket in response to a text message notification. "Can we talk?" was emblazoned across the guerrilla glass of my iPhone 5, followed by the words, "It's Nic Barnes." I immediately excused myself from the table and found the nearest hallway. "Was this my sign? Was this a divine intervention?" I asked myself as I dialed Nic's number.
When he answered the phone, we dove right into a conversation that spanned across the topics of family, purpose and ultimately perspective, the latter being what spurred Nic's query. He had asked me to visit him in San Francisco to view a product that he was helping to create because he felt that my insights and perspective as it pertained to the topics of design and desirability may be useful for a video testimonial for the companies forthcoming launch. Without hesitation, I eagerly accepted the invitation with hopes of understanding if this was truly what I was meant to do.
As Jerrau mentioned in his timeless line from their album Small Victories, "When it's organic, it's better." And from the immediate conclusion of my conversation with Nic, I knew that this opportunity was indeed organic and indeed better for me and my family.
So I walked on faith and immediately booked a round-trip ticket to San Francisco to meet with Nic Barnes, the VP of Brand and Marketing for MarkOne; Justin Lee, CEO/Co-Founder of MarkOne; and Eunice Joung, Creative Director of MarkOne.
Their entire team felt like family to me but more importantly their entire being was aligned with my personal mission. On the spot I fell in love with the idea of automated nutrient tracking and the form factor in which they would accomplish this feat which was perfectly named "the Vessyl."
On the spot, I offered my services free of charge because I knew that even if I never actually joined MarkOne, I had to help them achieve their goal. I knew that this moment was one that would change my life forever.
Over the course of the next few months, I met with the MarkOne team repeatedly and extensively, each time feeling more and more welcomed and appreciated. This felt like home to me. So I once again found a small, quite place in my home where I could meditate and pray over my opportunities. I knew that I could not force anything at this point in my life. I knew that whatever was given to me had to be aligned with my passion, my purpose, and my mission and it had become obvious that MarkOne was the place that I ultimately belonged.