SBTRKT - Wonder Where We Land (Album Review)
Aaron Jerome is not a social person. Nevertheless, his alter ego SBTRKT exists to hide the man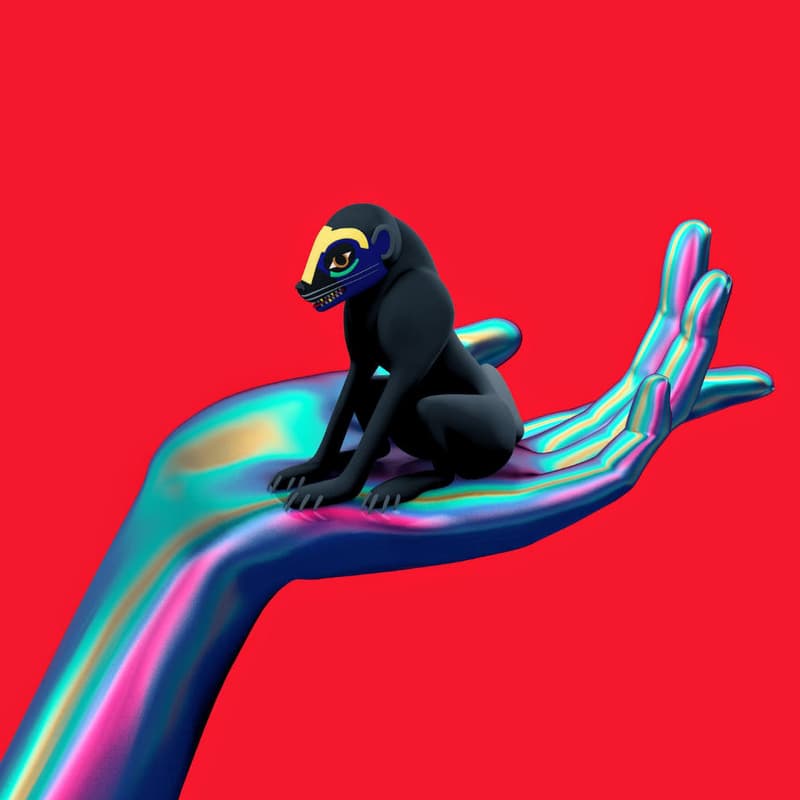 Aaron Jerome is not a social person. Nevertheless, his alter ego SBTRKT exists to hide the man behind the mask and illuminate art instead of identity. It's hard to say whether this concealment is meant to remove emotional complexities or reinforce the ubiquitous existence of human experience. Regardless of its purpose, London's SBTRKT of Young Turks Recordings has established himself as one of the most in demand DJs in Europe due to his eclectic mixture of experimental sounds. Nevertheless, it seems that part of Aaron Jerome is starting to seep into his alternate persona. SBTRKT's latest album entitled Wonder Where We Land dropped on October 7, and it is a theatrical and expressive lament about space and time that reflects very human feelings.
Getting right into it, the brief introductory track "Day 1" greets listeners as a chaotic vault into the approaching abyss. The journey taken through "Wonder Were We Land" is a hazy battle between the representation of dense emotional complexities and the reproduction of a past persona fans have come to expect.
Continuing into the title track "Wonder Where We Land," we are introduced to the albums main themes: the themes of drifting, of reverberating uncertainty, and of melodramatic reflection. These themes are consistently reinforced and the hook in the albums second song gives us our first glance into the artists motives:
"Impermanence, it's so permanently with me
And its why I understand
It's not forever you'll be with me
I wonder where we'll land."
The title track creates an apt production of the albums tone, crafting a poetic albeit slightly depressing work in its entirety. The majority of features on the album belong to longtime collaborator Sampha, the British singer-songwriter from South London who has contributed to tracks like "Trials of the Past" and "I Look at Stars" from SBTRKT'S 2011 self-titled album. Though Sampha's participation on the record can be lugubrious, his artistic talent is reinforced through his superb range and passionately driven performances.
Moving on, the following song "Lantern" is a reminder of SBTRKT's accomplished dexterity and unparalleled ability when creating awe inspiring, head-nodding beats. Like the wildly successful single "Wildfire" featuring Little Dragon or "Hide and Seek" from his 2010 EP, SBTRKT gained his notoriety from his starkly unique electronic/post-dubstep sounds, his enigmatic costume design, and his undeniable capacity to make you move. This style disappears in tracks five through seven, among sentimental features from artists like Raury and Caroline Polacheck of Chairlift. We resurface at "Temporary view," one of the more marketable songs on the album and certainly indicative of older versions of the artist's work. The song boasts that unique sound mentioned earlier, with Sampha lending his vocals once again. The tracks feel is curiously optimistic while still keeping with the themes of impermanence, uncertainty and aimless drifting:
"I know its just a temporary view (girl)
Won't you help me?
And invite your light
to wake my desire
I needed something new
Won't you help me?"
Following "Temporary view," we are introduced to the jazzy, minimalistic and ghoulish "NEW DORP. NEW YORK" featuring Vampire Weekend's Ezra Koenig. Where before we were sitting by a windowpane considering this dreary adventure, here we are shuffling in a dark, sweaty room with distant African drumming and mumbling strangers. The transition fails to keep with the flow and makes the listener feel removed from the building introverted journey, somewhat reminiscent of someone sneezing at a critical moment in a movie theatre, making you loose your grip on the fictitious reality.
Things get back on track with "Everybody Knows," a softer, subdued sound that is a certified easy listen. The following 5 tracks feature more artists, bringing the total to 11 of 15 songs on the regular album being collaborative. Jessie Ware's spot on "Problem Solved" comes off just a little bit too pop-y though her vocals are admirable. Songs 12 and 13 are, again, beautifully articulated by Sampha. Undeniably the darkest song on the album and likely the most anticipated featuring artist, A$AP Ferg delivers an intensely vivid selection of rhymes on "Voices in my Head." In this striking and visually descriptive spot, Ferg laments the retreat of a self-medicated mind amongst heavy piano solo's and rapidly intensifying percussion elements reminiscent of the incessant buzz of thought:
"Lots of thoughts running through my brains
don't want to be caught like Kurt Cobain
my minds a porsche switching lanes
all of a sudden I'm feeling all of this guilt and pain."
It doesn't end here, however, as the album is a deluxe version, offering five more songs, two of which deliver. SBTRKT's skill at mixing genres shines through on "War Drums," a diverse mash of dubstep, drum and bass, and garage that is shockingly dramatic. Finally, the album's finale "Decemberist" is another gem that resembles "Lantern" in that it is a picturesque reflection of the signature style that first gained SBTRKT traction.
In the end, the journey's conclusion is slightly anti-climatic and the themes of the album unfortunately become impermanent themselves, whether intentionally or not. The artist's obsession with the impermanent consumes the work and, while the feelings felt on this withdrawn journey are unapologetically raw, our need for closure leaves the listener anxious. Discussing such human experiences while having a disguise that was meant to hide his humanistic side is a clever juxtaposition that nurtures the experimenting sound, nevertheless, Aaron is still inside there somewhere. While the sources of inspiration are mysterious, emotion remains the main ingredient of this projet d'art.
Highlights: "Lantern," "Temporary View," "War Drums," "Decemberist"
Words by Tyler Nyquvest