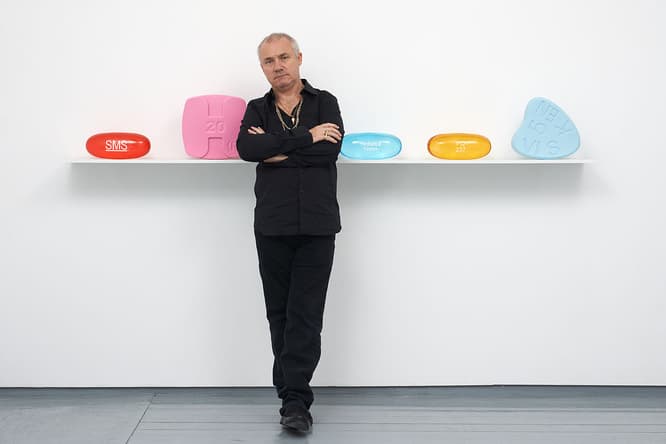 Damien Hirst "Schizophrenogenesis" @ Paul Stolper Gallery
Paul Stolper Gallery welcomes Damien Hirst as the iconic Brit opens a brand new exhibition at the
---
Paul Stolper Gallery welcomes Damien Hirst as the iconic Brit opens a brand new exhibition at the London gallery. Titled "Schizophrenogenesis," the display features new prints and sculptural editions as Hirst channels the minimalist aesthetic of medicinal pills as he continues to explore humanity's nearly spiritual relationship with science and the pharmaceutical industry. Said Hirst of the inspiration:
Pills are a brilliant little form, better than any minimalist art. They're all designed to make you buy them… they come out of flowers, plants, things from the ground, and they make you feel good, you know, to just have a pill, to feel beauty.
As "Schizophrenogenesis" is highlighted by an eponymous three-meter neon sign, the exhibition includes The Cure — a wall of 30 silkscreen prints, each of which depicts a two-tone pill set against a vibrant pop-art background — as well as corresponding sculptural works of capsules, bottles, boxes, syringes and scalpels throughout.
"Schizophrenogenesis" opened today, October 9 and will remain on display through November 15.
Paul Stolper Gallery
31 Museum Street
London WC1A 1LH
United Kingdom