KAWS Redesigns MTV VMA Moonman
Big changes in the MTV world. KAWS has redesigned the VMA's Moonman award after being assigned to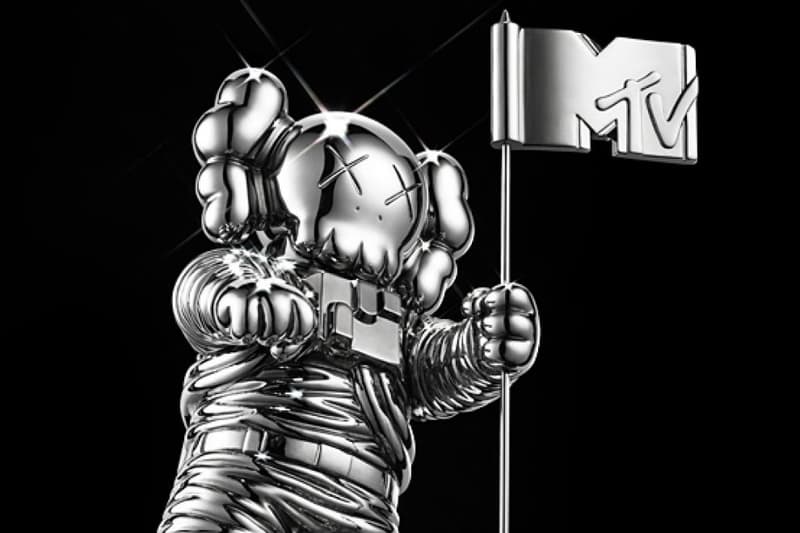 Big changes in the MTV world. KAWS has redesigned the VMA's Moonman award after being assigned to provide the iconic silver spaceman with a facelift after more than 30 years. Accordingly, the internationally renowned artist, who has worked with fashion giants like Marc Jacobs before, knows the value of such a task:
"It's such a strong, iconic thing. Everyone sees the Moonman and knows right off the bat what it is. When I was first invited to do the project, I knew that I didn't want to create something new entirely, I wanted [to do] something you see that's immediately KAWS and immediately Moonman; people just get it."
One of KAWS' biggest successes so far was the Companion, his iconic character that flew in last year's Macy's Thanksgiving Day Parade alongside the likes of Buzz Lightyear and SpongeBob SquarePants — and created a line of vinyl toys, which are produced in extremely limited quantities and are highly sought by collectors. Thus, he assures that the spaceman redesign will be a one-time-only affair, making his award the ultimate limited-edition collectible.
"That's what I liked about the project; I wouldn¹t want to redesign it for history, I like the idea that at this moment, this first time in Brooklyn, the Moonman's going to change. I like the fact that, 40 or 60 artists will win this piece, and the majority won't know anything about my work. [And] I'm sure you'll have artists that are mad; they have their perfect chrome line of Moonmen and I've somehow ruined that symmetry … I love that idea."
The new version of the spaceman features several of the flourishes that have made his work instantly recognizable — the comical skull-and-crossbones head and cartoonish gloves of Companion — while, at the same time, remaining faithful to the iconic award that's been handed out to the biggest names in music for almost 30 years.
"It seems very in line with the work I make and it sort of seemed like a natural step," KAWS explained. "As I went on [in his career], I got away from doing lettering, and more into using symbolic imagery. The original Moonman was standing on the MTV logo, I took liberties like replacing the footprint; the bones are similar to the bones on the characters I design."
The MTV Video Music Awards broadcasts live from the Barclays Center in Brooklyn on August 25. Check the video below for more details.