Social Status x MAX100 x Nike Auction Reminder & Interview
Don't forget the 10 limited edition 1 of 1's from the Social Status x MAX100 x Nike collab are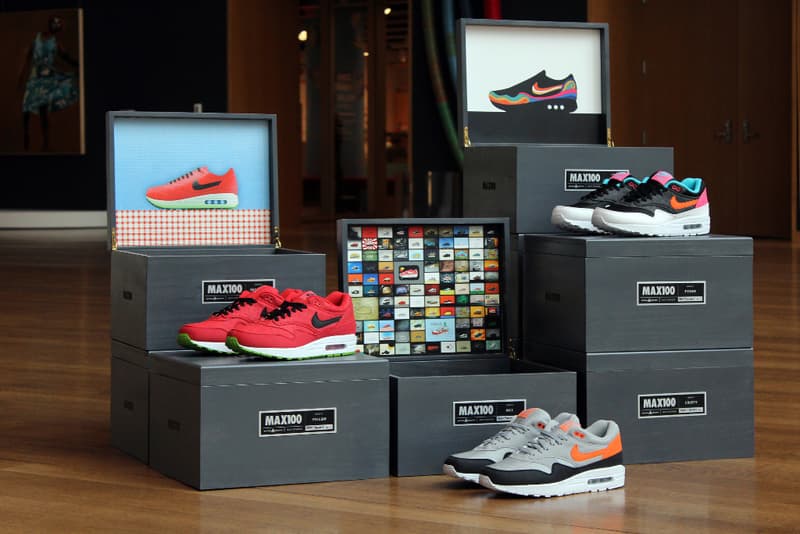 1 of 6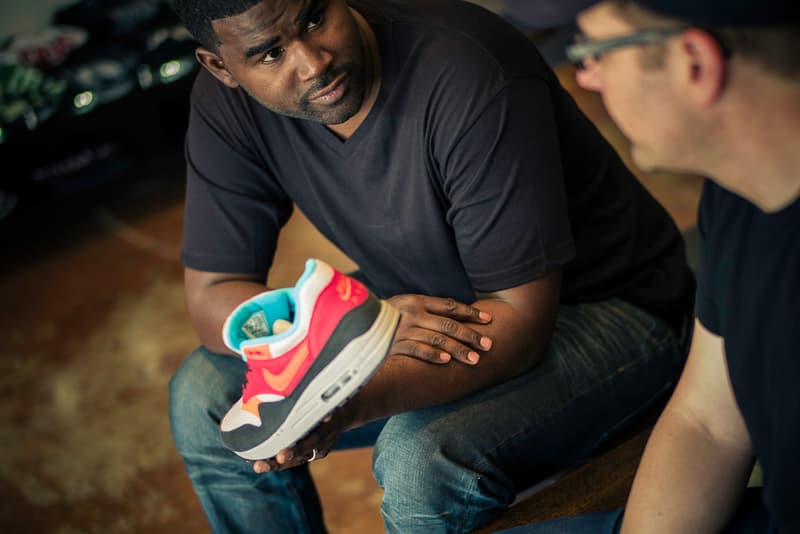 2 of 6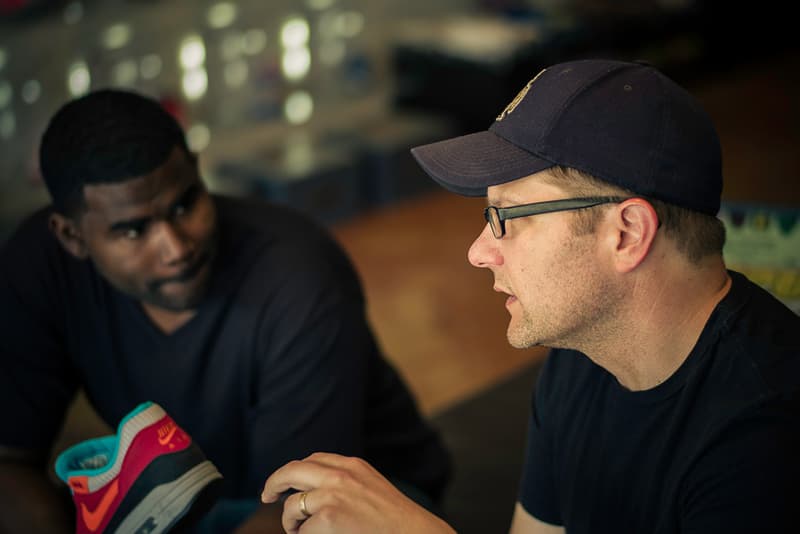 3 of 6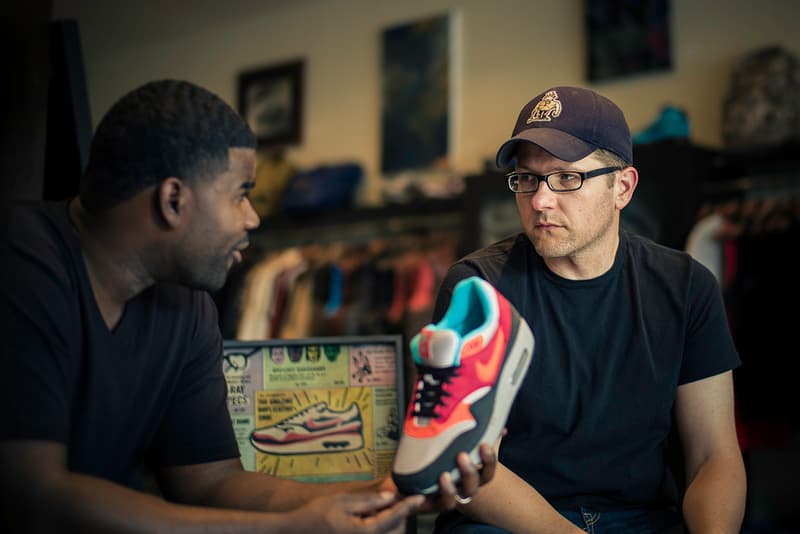 4 of 6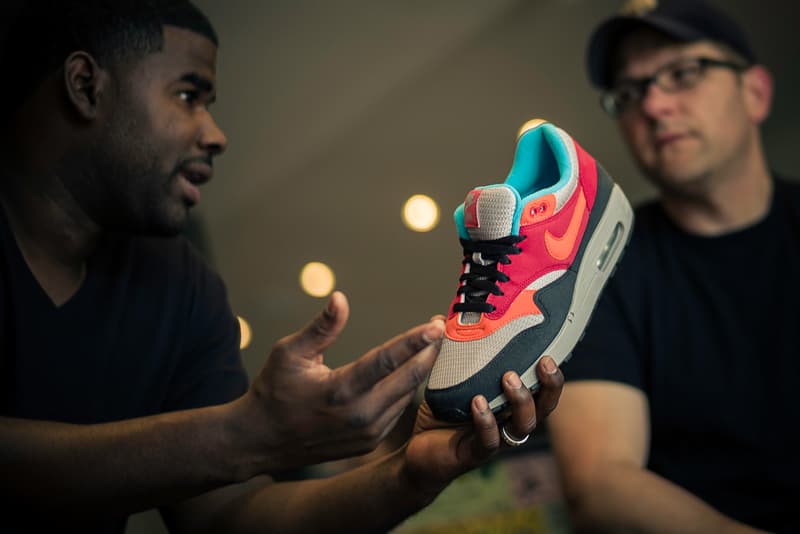 5 of 6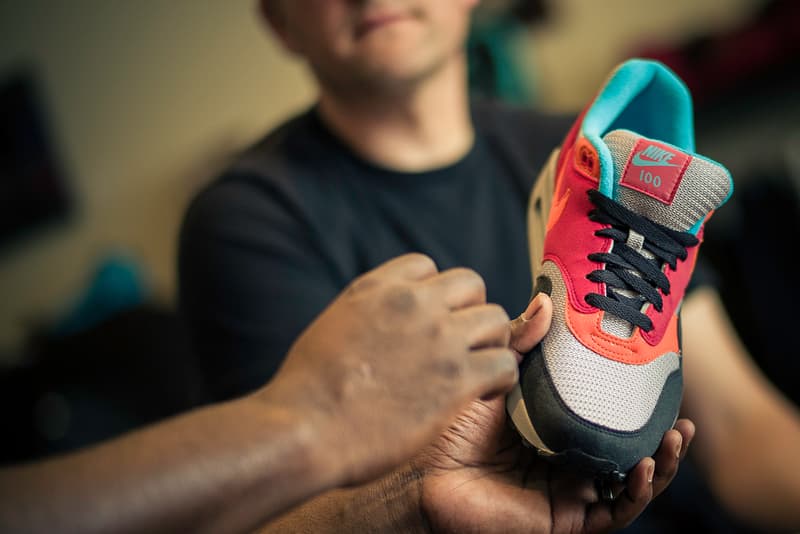 6 of 6
Don't forget the 10 limited edition 1 of 1's from the Social Status x MAX100 x Nike collab are going up for auction this Saturday, September 15. This will be your only chance to get one of these ultra limited pairs. Each pair comes in a custom signed box with a signed copy of the MAX100 book. Visit the Social Status site to get all the details. To see all 10 Air Max 1s, head over to our previous coverage. Below is a short interview with the two entities behind the whole project – James Whitner of Social Status and Matt Stevens of MAX100.
James Whitner of Social Status
Can you give us a little background about Social Status and your role at Social Status?
I am the owner of Social Status, I have a ton of roles, but my main role is to oversee and grow the brand and retail boutiques. Social Status came to life as a denim brand in 2006. I already owned another boutique, so I decided to open up flagship boutiques for Social Status in 2010. Social Status is a lifestyle brand/boutique, my vision for it has been to create boutiques that lend themselves to sneakers, streetwear and fashion. My goal is to build our brand vertically similar to Supreme and BAPE, but also offer other brands that fit under our umbrella. Along with our brand we offer sneakers from Nike, adidas, Vans, Reebok and Jordan. We also offer apparel and accessories from A.P.C., PRPS, COMME des GARCONS PLAY, 10.Deep, Play Cloths, Penfield, BBC, SUPER Sunglasses, Four Two Four, Rizzoli Books, Just Don, and for spring we are adding HUMAN MADE and BEDWIN & THE HEARTBREAKS. I am also working to offer an assortment of luxury brands including Givenchy, Balmain, MCM, Balenciaga and COMME des GARCONS SHIRT. There are currently four Social Status locations (two in Pittsburgh, Pennsylvania; one in Charlotte, North Carolina and one in Greensboro, North Carolina) and we plan to open additional locations in other cities in the Southeast over the next two years.
What gave you the idea for this project?
After looking through the book it was a no-brainer to attempt to try to get AM1's made to go along with each interpretation that Matt created in the book. Once I met with Matt, it was one of the first conversations we had.
How did you get connected with Matt?
Matt actually stopped in our Charlotte boutique to see if we were interested in carrying the book. It took forever for me to actually get his book because it got passed around my entire staff before it actually made it to me.
What's your favorite part of the whole project?
The entire process has been exciting. It almost took a year to come up with and execute all of the details that are in each shoe. The boxes alone were a process because we wanted to offer something different from what's being offered with normal sneakers. The art that inspired the actual shoe, the book, the nameplates for each box are things that make each shoe really special. I'm blessed to be a part of this and hope that the first series opens the door for us to do many more.
Matt Stevens of MAX100
How do you view the intersection of sneaker design and art?
I think the greatest thing about sneaker culture, design and art is all the ways there are to be a part of it. Whether you're the designer of the shoe itself, or the person wearing them that gets to choose what they wear and how they wear it. The kids seeing the retros hit the shelves and loving them or an old guy like me that was around when they first came out. And there are so many layers and possibilities that a guy like me gets to come along with some simple idea and people respond and support it because we're all speaking a common language. Everyone gets to enjoy the creative process somehow. At its best it's a very unifying thing.
How did the relationship between Social Status and MAX100 initially develop?
I was looking for retailers to carry the book. I actually live less than five minutes from the North Carolina location of Social Status and would drive by it every day. Once I had books in hand and was actually taking a huge shipment to the post office and thought I'd run over there and drop a book off at the store. The guy I handed the book to kind of looked at me like I was crazy. Can't blame him, some dude walks in off the street and says I made this book of 100 versions of the same shoe, probably not a conversation anyone is prepared for. I never heard back and guess I just thought it wasn't their thing. I was disappointed because they have a great shop and I was excited to have someplace local to carry it. A few months later I heard from James and he had been trying to contact me but somehow had the wrong email address. We finally connected and I was relieved he really liked the project and wanted to figure out a way for us to do something together with it.
Why the Air Max 1?
First of all I just love the design of the AM1. The thing has been around since 87 but still looks fresh and has endured to this day. I came across this video of Tinker Hatfield talking about his inspiration for creating the shoe. He saw the Pompidou Centre in France which has many of the functional parts typically hidden, intentionally on the outside of the building. He was inspired by that to reveal the functional air pocket. Somehow I thought if he can make a shoe from something that inspires him, maybe I can use the shoe as inspiration to make all kinds of things.
Originally how did you go about conceptualizing the different "art" Air Max 1s?
The project started out really simply. I was just going to do colorways. Over time though, I started exploring drastically different ways of using the form. Once it opened up in that way, I had all kinds of ideas. I would just keep a long running list and was constantly looking around me for ideas and possibilities. One thing about artists and designers (at least for me anyway) is that we can be impulsive and obsessive. It's a blessing and a curse. Once I'm excited to work on something, I'll keep pushing until it's done, but if that creative energy is not there, it's just tough to get going. By keeping this running list, there was always something I was excited to work on. It kept the energy going over such a long period of time and so many pieces.
What was it like seeing the illustrations come to life in tangible, wearable shoes?
It's very cool. It's wild to think that I was inspired by the AM1 and its creation to create art pieces, and now the art pieces are being interpreted back into the original object. It's been a really satisfying experience and if people like this first series, I'd love to explore more.
What originally prompted you to bring the book and project to Kickstarter?
I had originally done the project for fun. I didn't have a stopping point, but was enjoying it and it was opening doors, so I wanted to keep it going. I had seen a few design books do well on Kickstarter, so at that point I had 60 illustrations done and thought it was worth a shot. I thought it would be great to get to an even 100 and do a really high-end art book. Kickstarter allowed me to do the book the way I wanted to. Really good printing and fabrication. I could spend what I needed to because of how Kickstarter works. It also allowed me to connect with a much wider audience.