An Interview with Michael Bastian and GANT by Michael Bastian 2013 Spring/Summer Exclusive Preview
GANT is a quintessentially American label — by the 1960s it was the biggest shirting brand in the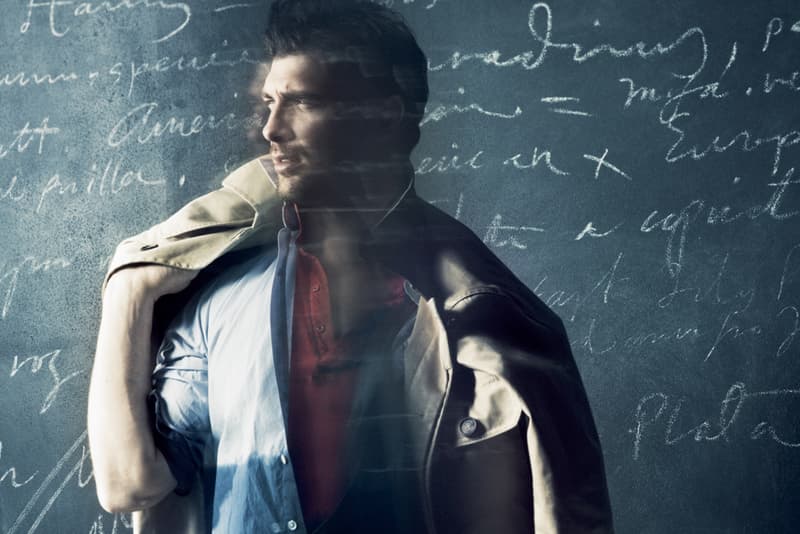 GANT is a quintessentially American label — by the 1960s it was the biggest shirting brand in the United States and along with Brooks Brothers, was a staple on Ivy League campuses. With a burgeoning interest in preppy style and menswear amongst the younger crowd, the brand has experienced a resurgence in recent years. Much of this revival may be attributed to the work of Michael Bastian — the designer who infamously declared his own line of clothing too expensive for him to afford — who has been collaborating with the New Haven-rooted company since 2009 for accessible, American prep-based clothing. Bastian, whose tendency to filter American sportswear through the lens of specific archetypes and locales — a Brady Bunch, Hawaiian-themed collection for instance, and a British mod-referencing offering for Fall 2012 — mines the Galapagos Islands this time for Spring/Summer 2013. Citing "the sense of exploration and discovery" that the islands inspire, the collection is a mix of American prep mainstays — think chino shorts, shawl-collared cardigans and windbreakers — along with functional, technical elements made necessary by an often unpredictable tropical environment. In our exclusive preview of the GANT by Michael Bastian Spring/Summer 2013 collection, the designer reveals the thought process behind the new offerings, his relationship with technical fabrics, and the one item every young man should have in his wardrobe.
As part of this exclusive preview, HYPEBEAST is giving away two tickets to the GANT by Michael Bastian Spring/Summer 2013 fashion show, to be held in New York on September 12. To enter, simply Tweet the following: "Michael Bastian Interviewed by HYPEBEAST for the 2013 Spring/Summer Collection Preview. Check it out: http://hypb.st/ROyi1A #hbgant" We'll select one winner for the two-pack of tickets on Friday, September 7 and announce the winner via Twitter.
Could you tell us a bit about your role and relationship with GANT?
Since 2009, I've been designing a collaboration line for GANT called GANT by Michael Bastian.
For our readers who might not be so familiar with the brand, how would you describe the overall aesthetic of GANT and how your line fits in with GANT and GANT Rugger?
Well, GANT is one of the few great authentic American heritage brands–it was founded in 1949 as a shirtmaker in New Haven, Connecticut. Right now they have three lines — GANT, which has great classic pieces that everyone can wear; GANT Rugger which is designed by my friend, the amazing Christopher Bastin, which explores more of the heritage side of GANT but in a cool modern way; and our collaboration, which is more of the designer interpretation of GANT.
What is it about the Galapagos Islands and the blue-footed boobie, in particular, that inspired the 2013 spring/summer collection?
It was more about the sense of exploration and discovery than the animals that inspired this one. It seems to me that the world is becoming a little bit smaller and more homogenous every day, but then you see these islands and you realize there still are a lot of unexplored corners of the world.
The new collection fuses a tropical vibe with tech. Can you tell us a little bit more about the role you feel technical materials have in a classic wardrobe and what your relationship has been with such materials in your past collections?
I wanted to add that tech element for a couple different reasons. One, I think it's just cool to mix in functional technical gear and two, the Galapagos is a seriously rugged place and you actually need protective gear to survive there, so I wanted that to be present. I've always had a bit of this element in every collection, whether it's a sports reference or a real survival reference — the one that comes to mind first was a scuba collection we did for my own line not too long ago. Translating neoprene into something luxurious that didn't feel like old Body Glove was a real challenge.
Where do you see the progression and use of technical fabrics and executions going forward?
It's all about the functionality with these fabrics — they need to do what they say they can do, whether it's keep you warm or cool, reflect the sun, or protect you from the weather, and they need to be able to do it in as light and packable a way as possible.
What is your favorite piece from the 2013 spring/summer collection?
I really love the T-shirt with the big, blue-footed boobie on it– he's looking right at you, almost challenging you in a way.
What are some of your thoughts on the proliferation of prints and tropical/Hawaiian prints in menswear?
Well, we really blew out this idea this past summer with our Brady Bunch-inspired collection for GANT by Michael Bastian, and it was a lot of fun, but I feel the page is turning and we're going back to something a little calmer. I still really like prints, I just think they need to be used judiciously.
Do you usually design with a concept/archetype in mind?
Every season it's something different — a mood, a place, a song, a movie — it's always got to be a response to what's happening right now.
How do you see menswear now and where do you see it going for the next couple of seasons?
Right now, we're just beginning to see young guys playing around with the idea of dressing up more and I think this is going to continue. To these guys who have never been forced to wear a suit, suddenly it's cool to wear one every now and then and shake things up. It's great seeing young guys play around and express themselves more this way.
What do you find yourself wearing most on a daily basis?
Right now, it's chopped off shorts, a wrinkled old oxford button-down, and these new adidas sneakers I found on 14th Street and am obsessed over.
What is one thing every young man should have in his wardrobe?
A great pair of sunglasses — they are the easiest way to change everything up and feel immediately cooler.