Materials and Patterns: Houndstooth
From a distance, houndstooth looks very much like its woolen cousin tweed, but a closer inspection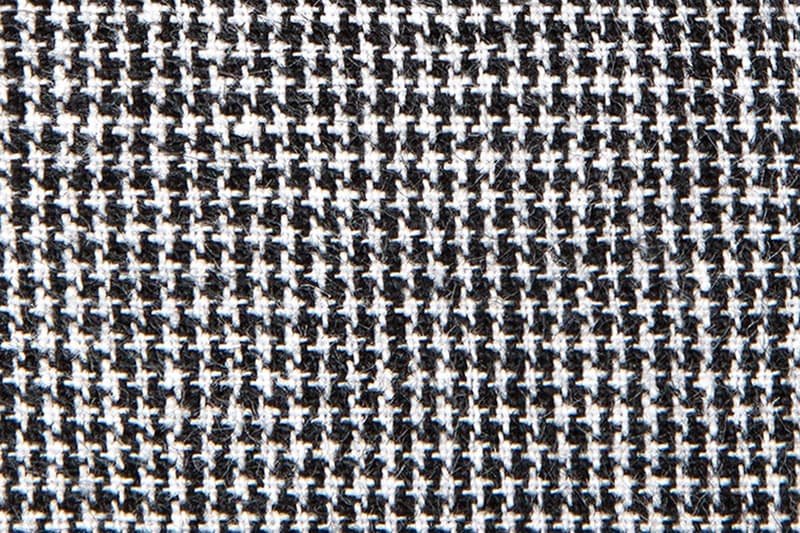 From a distance, houndstooth looks very much like its woolen cousin tweed, but a closer inspection reveals a significantly different pattern and fabric with its own unique history. Unlike tweed, which has a checkered pattern that is distinctly rough to the touch, a classical houndstooth motif is a smooth, two-toned pattern of broken or jagged checks. These checks are formed by alternating bands of vertical and horizontal black and white checks in a woven pattern. The motif enjoys many of the same fashion and cultural applications of tweed, and has also seen its prominence and popularity rise and fall in varying degrees over the course of the last century.
While the origins of houndstooth are somewhat lacking in absolute certainty, the most widely accepted theory is that the traditional pattern originated several hundred years ago in the Scottish Lowlands, where it was used to delineate the neutrality of a particular clan. Just as modern camouflage sends a militant message, houndstooth stood for the opposite, and thus was quickly embraced by the civilian populace as both a sartorial, and political message. Through the early 1800s, houndstooth trended in the cottons and silks used for both men's blazers, and women's dresses and scarves. Its popularity re-emerged after World War II, then found its way into many accessories, while still remaining true to its roots as a high-fashion motif. One such accessory was that of the alpine hat worn and made famous by legendary college football coach Paul "Bear" Bryant. Bryant would rarely be seen on the sidelines without his signature houndstooth hat, which brought the motif into into the hearts and general awareness of legions of American football fans.
However, Bryant's famous hat gave houndstooth a slightly different stigma — one that relegated the pattern to the wardrobes of older generations. It wouldn't be until the pattern's more recent comeback in the 21st century when haute fashion designers like Emporio Armani and Louis Vuitton brought houndstooth into a new echelon of luxury applications, and introduced it to an entirely new generation of application and appreciation. Since that high-fashion resurgence, we've seen houndstooth slowly make its way to the streets, like in the subtle accents on this Naked and Famous denim. Some brands have opted to use the pattern as the centerpiece instead, as with this Japan-exclusive North Face Purple Label Houndstooth Collection. Previous fashion cycles of houndstooth saw it used on more classic hat styles like cabbies or the iconic alpine worn by Bryant, but this new generation of the motif sees it in everyday streetwear staples like this handsome New Era 59Fifty cap for the New York Yankees. Like tweed, houndstooth sees very similar applications across the spectrum, especially in somewhat limited, albeit predominantly cool-weather collections like this impressive Moncler Gamme Bleu Vest, but always to great success.
In addition to its use as a fashion pattern, houndstooth is also recognized as a symbol of identification. In the culinary world, British chefs traditionally wore houndstooth, as it was a pattern that retained an elevated sense of refinement, while serving as a subtle camouflage for stains, smudges, and food particles. A more localized example of houndstooth 'branding' is how Australian department store David Jones has used the pattern as its own corporate logo. Its usage was intentional, as the store's founder opted out of using his own name for branding purposes, but rather allowing the motif to quietly speak for itself. To this day, it is still widely regarded as one of Australia's favorite trademarks.
Like paisley, tweed, or even camouflage, fashion history traditionally dictates that every bright, bold, or classic design always passes away before being replaced by the next big thing. These cycles of re-invention circle back every 20 to 30 years, so enjoy houndstooth while it's fresh all over again.