A Conversation with Mega
As a young sneakerhead with little disposable income, working at a sneaker boutique may be a dream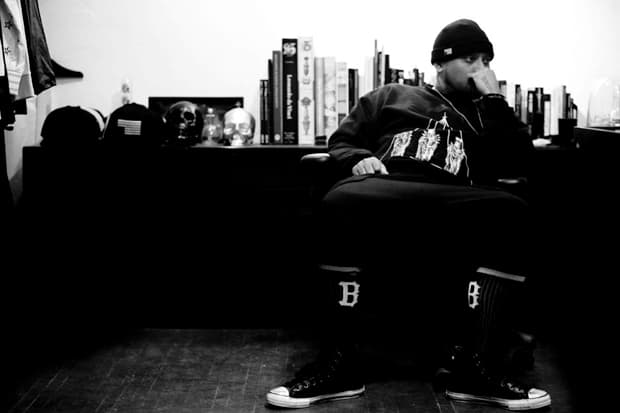 As a young sneakerhead with little disposable income, working at a sneaker boutique may be a dream career like no other. Not only do you get prime pickings and a generous discount, but your expanding network of like-minded individuals as well as the job satisfaction you achieve is priceless. Black Scale Co-Founder Mega began his fashion career as an avid sneakerhead who pleaded for an employee discount card at San Francisco retailer HUF. Building upon his warm and inviting personality, the Bay Area native studied the precise business mind of HUF Owner Keith Hufnagel, serving as a daily inspiration for his colleagues and friends. Lamping in the trenches of streetwear congestion for years now, it was natural for Mega to jump alongside his industry counterparts and start his own line. Carving out a unique niche with its distinctly dark aesthetic, Black Scale's designs and graphics reflect the philosophical views of both its founders on an array of subjects. Coming off a slew of recent drops including a Baseball Jersey Collection and a collaboration with the A$AP Mob, Mega sits down with Hypbeast to play our word association game that depicts his one-of-a-kind gratefulness and encompassing industry intelligence.
A balanced life… is to accept both sides and at all times. To accept when you are wrong and appreciate learning from people that know more than you do — black and white, good and evil, right and wrong, and most importantly, life and death.
Symbolism… can be traces from the past and hints for the future. It is an art that is looked at in so many different ways and is responsible for a great conversation or an ignorant outlook. Power from the people that invented the many tools we have today and use in our everyday lives.
The more things change… the more we will need to adapt and change with time.
Christianity… is a religion people follow to feel a sense of faith so they can try to live in peace when asking for forgiveness.
Perception vs. reality… is easy to differentiate. People can fake anything and make it look good; it's only when reality kicks in, that people have the hardest time facing it. It's easy to tell a lie, but it's harder to live an honest life.
Back in 2005… I was in San Francisco raging in the streets with a team that I wish still existed today.
Meaningful design… affects a person's vision and travels through their thought process. This determines what comes out of their mouth.
Working with other creatives… is an amazing experience. You get to see how someone else works and you can learn a tremendous amount from them.
Being  judged… is an everyday thing. You get numb to it. It triggers your sensitive side but can also strengthen your personality.
The road less traveled… is the only way to succeed. It's so you don't get in the way of anyone else. You have to find your lane and that really helps being in a industry with every lane occupied to the max. Good luck.