Woody of Sneaker Freaker Breaks Down Their New PUMA Bunyip Collaboration
A heavyweight in the realm of sneaker media, Sneaker Freaker unveils their latest footwear project: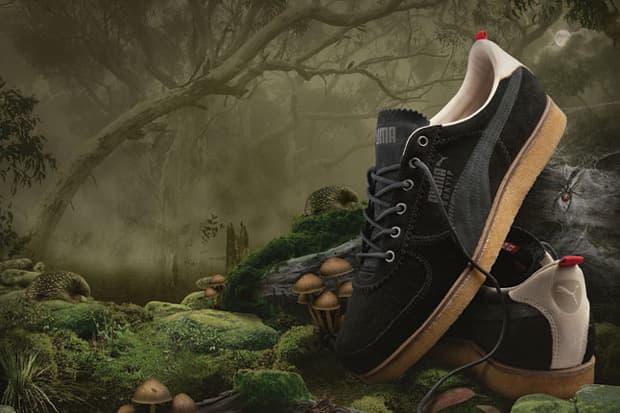 A heavyweight in the realm of sneaker media, Sneaker Freaker unveils their latest footwear project: the PUMA Bunyip. No strangers to PUMA, the Sneaker Freaker founder takes the opportunity to chop it up with HYPEBEAST regarding the mystical Bunyip, his favorite elements of the shoe, and the crew's approach to design. The Sneaker Freaker x PUMA Bunyip is set to hit select retailers starting next month.
Can you introduce yourself and what you do?
Sure thing. My name is Woody, I'm the editor and the founder of Sneaker Freaker Magazine. In November this year I'll have had this job for exactly 10 years. I still can't think of anything I'd rather be doing than talking and writing about shoes all day, every day.
Do you feel that based on your position as a media outlet and the extreme number of sneakers that enter your consciousness, that this makes design more difficult?
I don't think it makes things more difficult, but it does elevate the bar in terms of my own expectations and those of our audience. I put a lot of thought into each project we do and rather than just slap some colors around, I want them all to have a distinct personality that makes them worthwhile both for the brand and for Sneaker Freaker. Devising a new colorway is particularly important. I have to say we also turn down offers – if I don't feel we can do something interesting, we pass. The Bunyip is the first Sneaker Freaker shoe for more than 18 months, but that's a long story.
What do you mean?
The Bunyip design was actually done more than three years ago, so it has taken an inordinate time to get it right. The original launch date was the middle of 2010! I'm still trying to block it out of my memory. I only have one regret with this project and that is that it took such a long time. I know this might surprise people but it's incredibly frustrating to be so on time with your ideas then watch as that idea gets a little played out. I thought the shoe deserved a release, so here we are. Maybe we jinxed ourselves with the curse of the Bunyip!
Do you have a stockpile of ideas fit for sneakers or does each and every concept come depending on time and place?
All designers make mental notes of things they like as they go about their daily business and I'm no different. It might be colors or combinations of materials that I keep in the memory bank, but at the same time, I always approach each shoe with a blank slate and see what the basic shape is all about. From a practical point of view, there's usually a mad thrash on the computer, we print out all the ideas and then tear them apart to push the story forward with a few choice details. I've always felt that if you start with a theme and build a story, you usually end up with a very literal interpretation. I was definitely more interested in a subtle approach rather than trying to literally create a Bunyip in the form of a shoe with scales, lizard skin and gizzards. That kind of labored thematic design creates cornball shoes that no one wants to wear. What we wanted is exactly what we ended up with -– a superb looking PUMA with outstanding materials.
Describe the thought process behind the Bunyip's design.
When we sat down to start work on the project, the PUMA Dallas was about to be re-released and it seemed to fit pretty nicely. After some wild ideas, we totally reconstructed the Dallas to our own specs. You could say the element of sport has been eliminated. The black suede is top shelf, there's matte black nubuck on the Formstripe, and the shoes are lined with the softest natural calfskin. You can definitely wear these Bunyips with bare feet and be confident they'll not get the stank. We also added a little red webbing strap to the heel – a neat little link back to the Sneaker Freaker x PUMA Blaze of Glorys that came out a few years back. All in all, it's a determinedly simple looking shoe but I think the details speak for themselves. What we made is not revolutionary by any stretch but at least we actually introduced a new shoe into the world!
What is your favorite detail about the shoe?
This might sound strange, but it's the shape of the shoe that I dig the most. If you're into shoemaking, you'll know about the last, which is basically an artificial object shaped like a foot. Lasts can be all kinds of shapes and dimensions and this largely determines how the shoe feels on your foot. Think of an adidas Superstar and an Air Max 90 – not many can wear both with a perfect fit as they're built on totally different lasts. In the case of the Bunyip, PUMA's factory used a particularly elegant shape to work from, and it's this foundation that really makes the shoe such a classy statement. The toe area is just so lovely and round and smooth to look at. It's like Christina Hendricks' ass, and I mean that in the best possible way.
What is a Bunyip?
The Bunyip is a mythological creature that is deeply embedded within the Australian psyche. Clouded in layer upon layer of mystery and fog, this 'evil spirit' lurks in muddy billabongs. Survivors of Bunyip raids are rare but describe them as looking like a walrus crossed with a dingo. Others are sure they are six feet tall with beefy arms, bad breath and strange necklaces made from wombat bones. Whatever the truth, the original source of the legend is credited to ancient mythology. It's the antipodean equivalent to Bigfoot.
The implementation of a crepe sole certainly plays the shoe off as a more refined offering. What are your thoughts on the current performance-meets-lifestyle hybridization?
Almost every brand is experimenting with conceptual sub-brands and capsule collections to see how the market reacts. You could put Ransom in that category, even some of the NSW stuff has that dressed-up outdoor vibe. Even Etnies made leather boots with a Vibram sole, so I guess everyone has had a crack. I have definitely seen enough Vibram soles to last a lifetime.
How does this collaboration stack up versus your previous PUMA collabos?
In the past we worked with PUMA on a pair of Blaze of Glorys followed by the R698 model, two of PUMA's best known and loved 90s Trinomic runners. I guess we're more comfortable in this retro-runner domain, but I think with the Bunyip, we created something new, and that's the most important thing. I just wish it had come out in mid-2010 like we originally planned!