Essentials: Pierre Tzenkoff of Tzenkoff Creative Agency
Scarily elegant with a whip-sharp mind, an eye for the outstanding, and a talent for art direction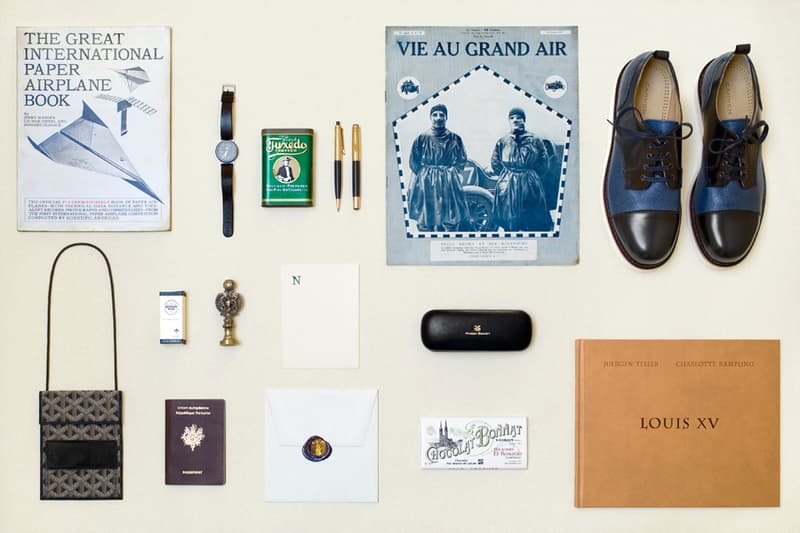 Scarily elegant with a whip-sharp mind, an eye for the outstanding, and a talent for art direction that has earned him the trust of several luxury brands, Pierre Tzenkoff moves deftly between the hyperactive world of contemporary fashion–his mother ran a modeling agency with Twiggy on its books and his grandfather was a skilled tailor and coupeur–and the rich palimpsest of its history. In this installment of Essentials, the man behind the impressive Tzenkoff Creative Agency provides a peek at some of the things he holds dear.
The background in this photo is bespoke paper from the Arches mill founded in 1492; Pierre used the same paper for the pages of the book he recently published with fine art publisher and paper purveyor Devambez on the illustrious history of trunk-maker Goyard. A limited edition of 233, presented in a custom-made Goyard mallette, this ultra-exclusive tome now joins the Uffizi Library's collections in Florence. The luxury Devambez stationery, Paper Airplane Book (1967), and Pelikan fountain pen and pencil all betray an enduring fascination with paper and traditional epistolary skills, but don't let that fool you! Pierre is a social media wizard and his recent digital work for the CIFF fashion fair in Copenhagen clearly demonstrates his flair for cutting-edge communication.
As creative director, his keen sense of what makes a great image–in all senses of the word–has led to work with major photographers like Patrick Demarchelier, Terry Richardson and Daniel Riera (the latter providing the pictures for the CIFF Gazette). The Maison Bonnat chocolate, the Knize Ten cologne (a heady leather-tobacco-amber masculine fragrance created in 1924), Dietrich Lubs watch, and Carven shoes leave no doubt as to Pierre's credentials, while Juergen Teller's decadently erotic photographs of Charlotte Rampling recall the steamier allure of creative work redolent with a whiff of scandal.